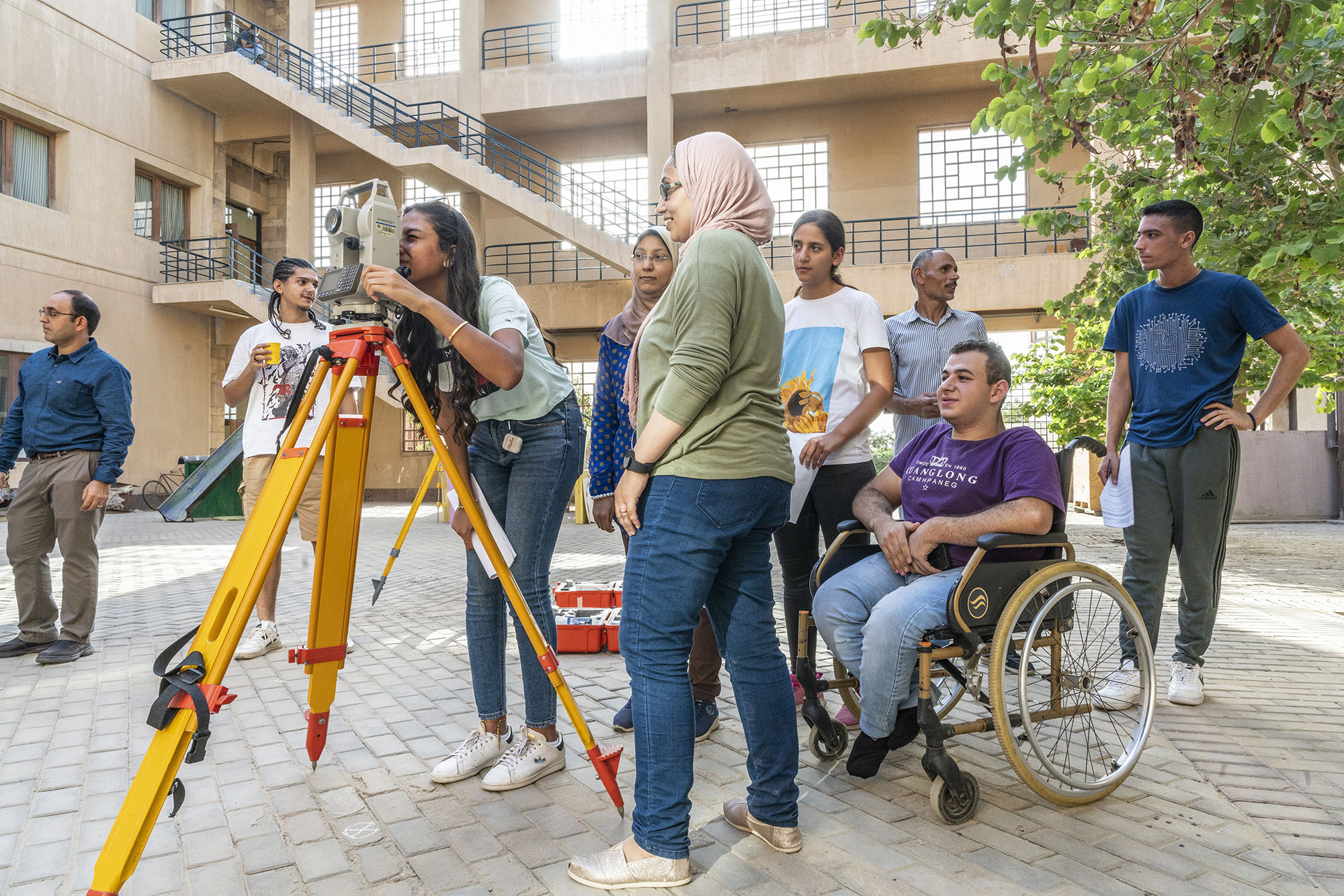 Student Accessibility Services
AUC is committed to creating an inclusive environment for all students. Student Accessibility Services partners with students, faculty and staff to promote self-advocacy and independence to advance student success for all students of all abilities.
About
Student Accessibility Services (SAS)

Unit

The Student Accessibility Services unit is dedicated to providing support and accommodations to students with disabilities, ensuring that they have equal access to all aspects of University life. Our team works closely with students to understand their unique needs and provides a range of services, including academic accommodations, assistive technology and disability-related counseling. We also collaborate with faculty and staff to promote disability awareness and ensure that all students receive the support they need to thrive on their academic journeys.
Mission
The Student Accessibility Services unit (SAS); located in the Center for Student Well-Being, provides services to students with disabilities to ensure that all activities and programs on campus are accessible to them. Through partnerships with students, faculty, and staff, SAS promotes self-awareness, self-determination, and self-advocacy to encourage independence and enhance opportunities for student success. SAS supports students with different types of disabilities including sensory impairments, motor impairments, learning disabilities, cognitive disorders, psychological disorders, and chronic health issues.
Vision
SAS endeavors to create a campus environment where all students are viewed on the basis of ability rather than disability.
Disability Policy
AUC implements a disability policy governing academic accommodations for students with disabilities. The objective of this policy is to provide and guarantee reasonable accommodations that will enable qualifying students with disabilities to perform at an equal level as compared to their peers.
To read more about AUC's disability policy, click here.
Academic Accommodations for Students
SAS facilitates reasonable accommodations for students with documented disabilities. Reasonable accommodations are legally mandated forms of assistance or changes to environments that will enable a qualifying student to perform with other students despite having a disability.
Academic accommodations enable qualifying students with disabilities to perform as equals with their peer students. Students must register with SAS so staff can determine their eligibility for accommodations.
Academic accommodations include:
Classroom Accommodations
Adjustments or modifications to the environment, curriculum presentation, or equipment that allow students with disabilities to gain access to content.
Assignment Accommodations
Adjustments or modifications to the assignment format and presentation that allow students with disabilities to complete assigned tasks.
Testing Accommodations
Adjustments or modifications to tests or testing conditions that allow students with disabilities to demonstrate their knowledge and skills in a testing situation.
To request academic accommodations, click here.
Facilities and Services
Campus Accessibility
All campus areas, including the University Residences, are accessible by wheelchair. Golf carts are also available for transportation around campus with prior arrangement.
Digital Accessibility
Digital accessibility refers to devices or products that are designed in such a way that individuals with disabilities can successfully use them. AUC is prepared to equip computers with JAWS (Windows screen reading software), Kurzweil 3000 (text to speech learning for Windows or Mac), and Dragon Naturally Speaking (speech to text voice recognition software).
Parking
AUC provides accessible, marked, reserved parking spaces in all parking lots, which are located close to entrances to the University. Only vehicles with issued disability parking permits may park in these reserved parking spaces on campus.
Transportation
AUC's Department of transportation offers a wheelchair accessible vehicle with lower reservation rates to all AUC community members.
For more details, email carpool@aucegypt.edu
Support Services
Additional support services are available to registered students with disabilities.
Support services include:
Note-taking services

Exam readers and scribes

Disability buddies

Disability assistant peers

Private testing area

Scheduling support
Workshops
CSW and SAS offer workshops throughout the year for the AUC community.
Contact Information and Working Hours
Campus Center, P001
t: +2.2.2615.3918/83
sds@aucegypt.edu
Sundays to Thursdays
8:30 am to 4:00 pm