Dining with an AUCian
About the Program
This program is designed to bring together AUC alumni from diverse career fields and provide a networking opportunity with current AUC senior and graduating senior students in a relaxed setting outside of campus while sharing a meal. This program is an opportunity for students to share their experiences at AUC and learn more about their host's journey as an alum and what happens after graduation. It also gives everyone a chance to expand their social circle by meeting new people.
How to Join the Program
We announce the event on AUC Connect and our alumni social media channels. We also send an email via the AUC Portal to all eligible students. It is easy and free to sign up. Since spaces are limited, make sure you reserve your place as soon as the event is announced. For more information about the program, check our Frequently Asked Questions page.
Recent Events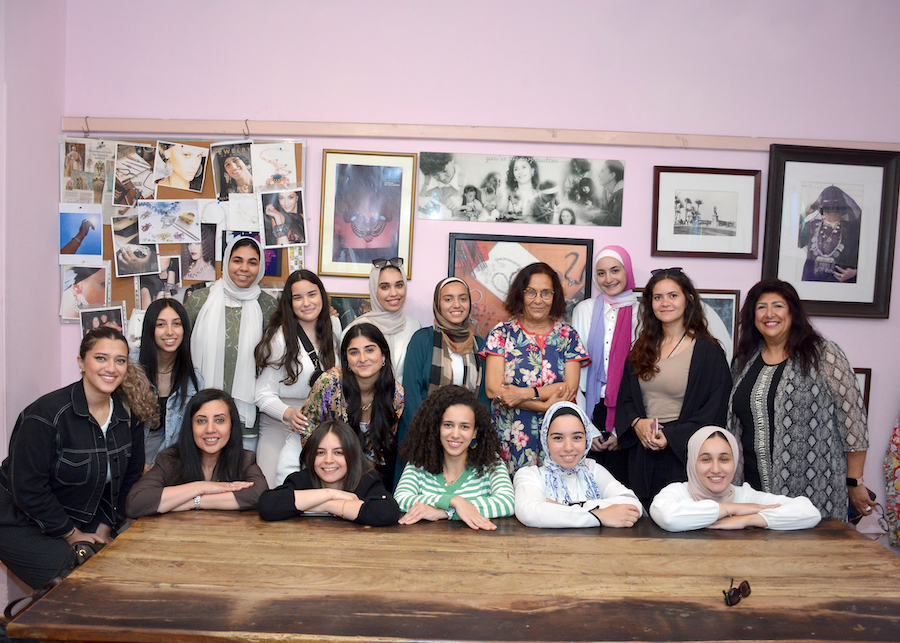 A group of graduating seniors had an exclusive tour of The Design Studio by Azza Fahmy and were hosted by the iconic Egyptian jewellery designer, Azza Fahmy. Fahmy spoke to the students about the difference between being an artist and a designer, and how she finds inspiration for her unique collections from poetry, music, and traveling.
"To succeed you must have a dream. Keep trying and trying, and you will reach your passion." Azza Fahmy, Chief Designer and Founder of Azza Fahmy Jewellery and Founder of The Design Studio by Azza Fahmy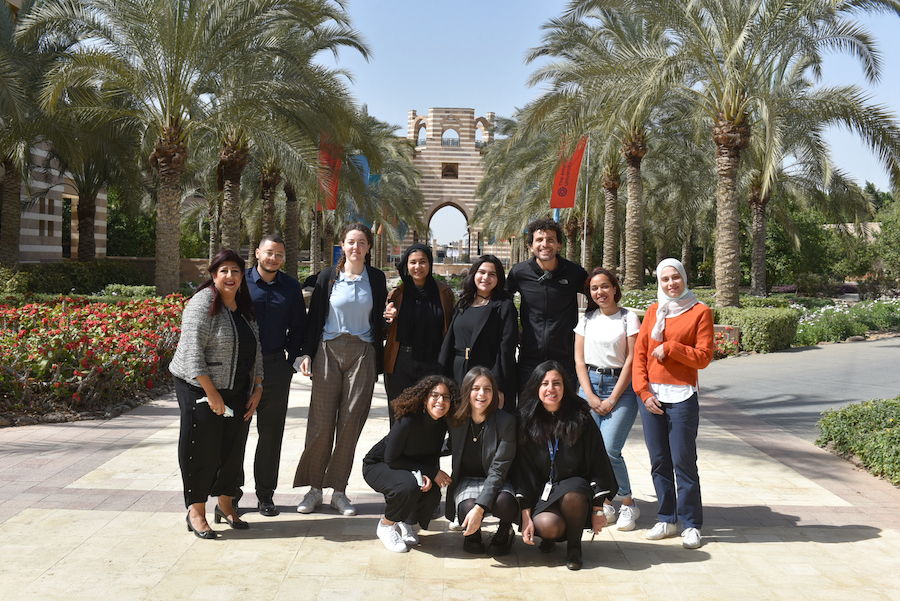 A lucky group of AUC students had a cozy lunch at the Alumni Lounge with Omar Samra '00. Samra took them through his journey of self-awareness, overcoming fear, doubt, and conflict. He spoke about the challenges, hardships, and successes he faced in his life, both personal and professional, and encouraged students to embrace uncertainty and opportunity.
"If you are embarking on a new venture, take the risk and give it your all. If it doesn't work, you now know that this is not the path for you. Then discover other options and give it your all again." Omar Samra '00, Founder and CEO, Wild Guanabana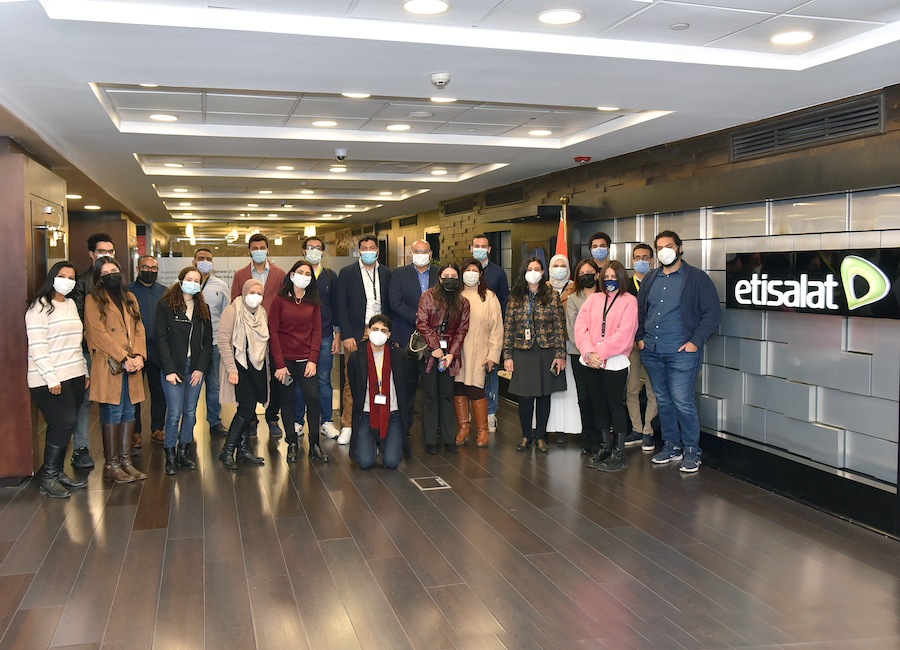 Khaled Hegazy '93, '98 hosted 14 AUC students at Etisalat Egypt's headquarters. Hegazy mentioned that AUC gave him an edge and provided him with a unique skill set to excel in his professional life. He invited eight staff members who are also AUC alumni to join the meeting and share their job functions, achievements, and journey with the students.
"The learning environment at AUC was totally different. Its liberal arts education enlightened my mindset. AUC made us always feel special, and I will always have a soft spot for AUC." Khaled Hegazy '93, '98, Chief Business Officer, Etisalat Egypt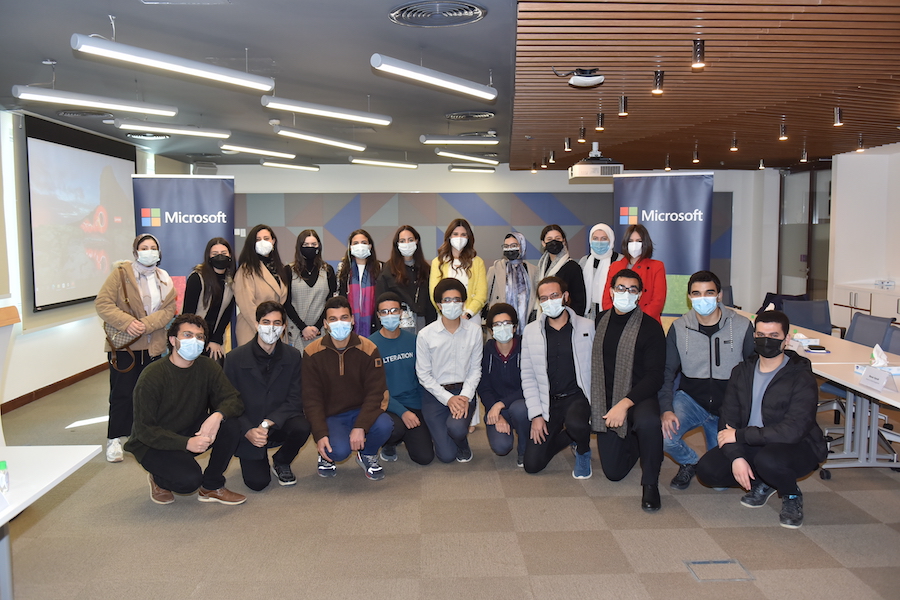 16 AUC senior students met with Mirna Arif '02, '07 at Microsoft Egypt's headquarters at the Smart Village. Arif took them through her career journey, which spans Egypt, Qatar, the United Arab Emirates, and the United Kingdom, and spoke to them about the importance of adopting a growth mindset and how a leader should be assertive while also being agile.
"AUC played a significant role and shaped who I am today. Its liberal art education showed me how to interact with different people. I would not have been a successful leader if I hadn't been taught this early." Mirna Arif '02, '07, Country General Manager, Microsoft Egypt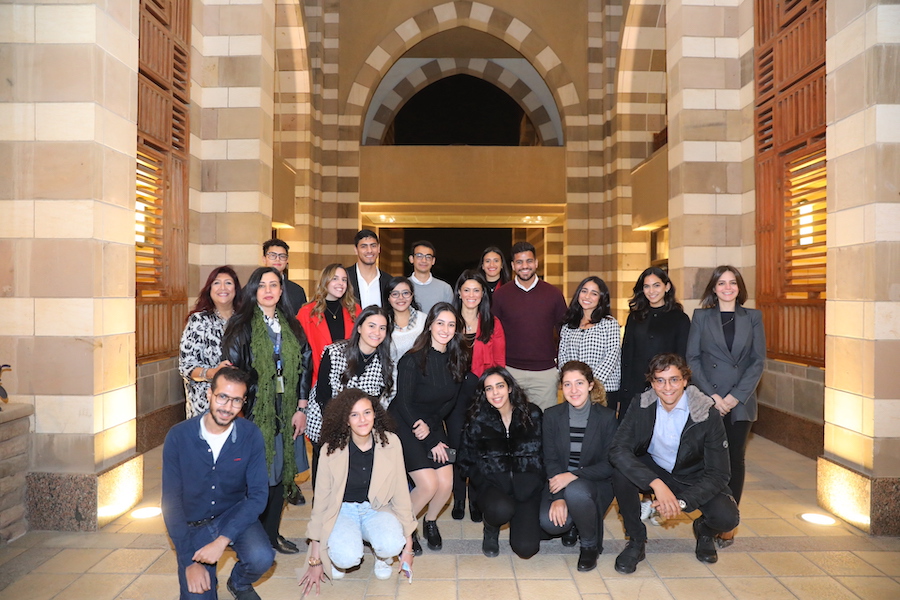 H.E. Rania Al-Mashat '95 met with senior students at the AUC alumni lounge and reflected on her assignment as Egypt's first female minister of tourism as well as her current role as minister of international cooperation amid global challenges.
"Don't be pressured if you embark on a new mission. Always be agile, stay away from discouragement, and look for your support group. Remember to put your ego on the side and always be your authentic self." Rania Al-Mashat '95, Minister of International Cooperation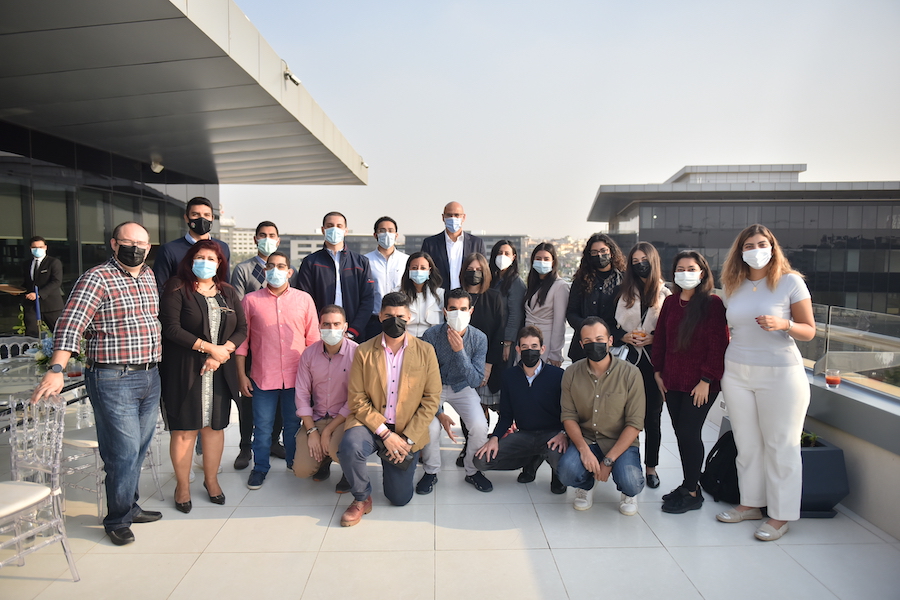 Mohamed Shelbaya '90 hosted 15 senior students at PepsiCo's new head office at Cairo Festival City, where he spoke to them about his journey with the company until he became its CEO. Shelbaya advised students to focus on their strengths, find a mentor and build their career foundation.
"Think of your career path not as a sprint but rather a marathon where you change your strategies along the way." Mohamed Shelbaya '90, Chairman and CEO, Pepsico - Egypt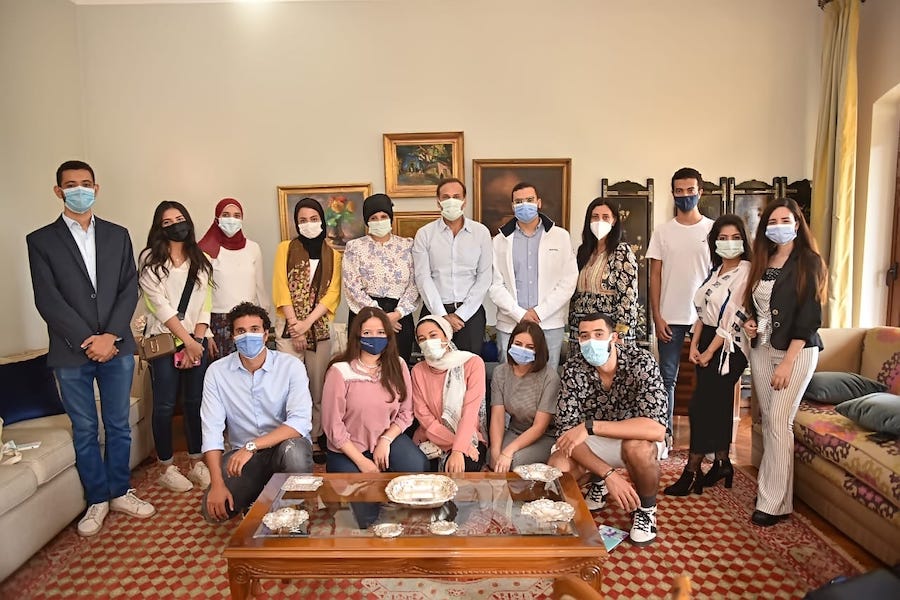 Twelve seniors were hosted by alumni Mohamed Elnawawy '92, '07, and his wife Randa Aboulmagd '92 at their residence in New Cairo. Since most of the students were sciences and engineering majors, the conversation steered towards topics such as telecommunications, big data, and computer engineering. Elnawawy reflected on his experience launching the first internet provider in Egypt, and he told the students to
"Challenge the status quo constantly....and remember that pressure turns coal into diamonds." Mohamed Elnawawy '92 '07, Computer Scientist, Lawyer and Former Managing Director and CEO, Telecom Egypt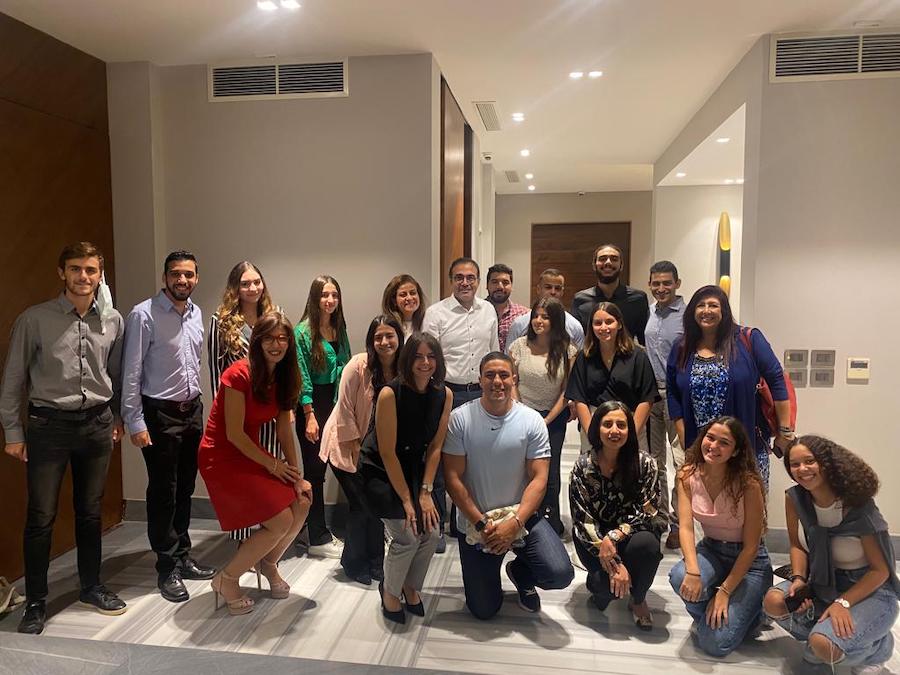 Nidal Asser '95 and his wife Heba Hashem generously hosted eleven students over dinner in their garden. Asser spoke to the students about his experience investing in the New York Stock Exchange and working for Morgan Stanley, the Central Bank of Egypt, and recently EG Bank. Asser is a committed supporter of AUC and sponsors a merit-based scholarship for a student.
"Don't check your payslip during your first three to five years of professional life; you are in it for the learning rather than the money." Nidal Asser '95, CEO, EG Bank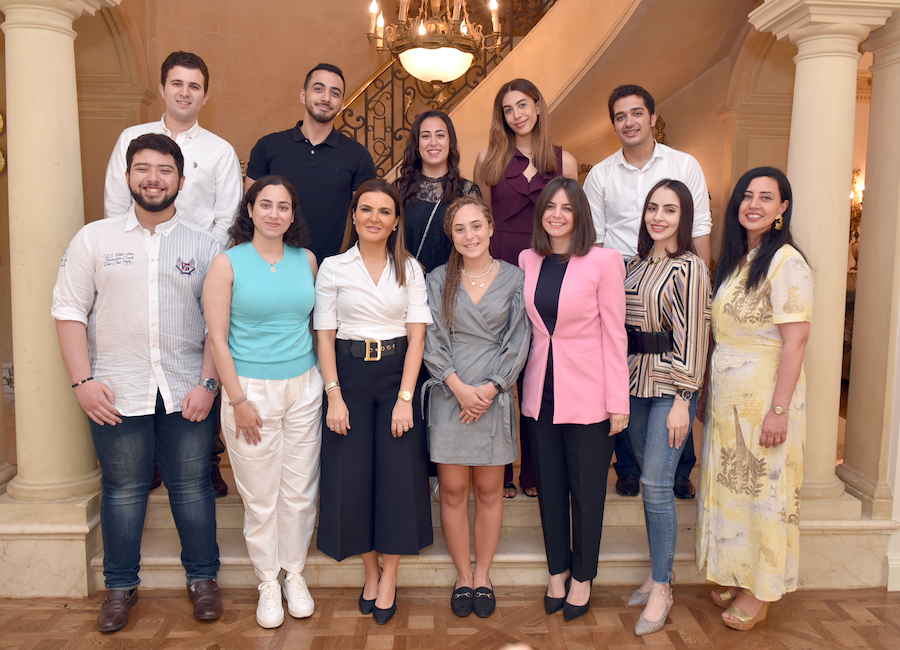 The setting offered by Sahar Nasr to the students was close to royal yet cozy and intimate. Nasr started by greeting the students into her house. She narrated her academic journey in acquiring her bachelor's and master's in Economics from AUC and then her Ph.D. from Cairo University. The students were invited over to see her office. It was full of graduation certificates from AUC and other international institutions and appreciation notes from prominent figures.
"Always be persistent, never give up, and deliver because hard work always pays off no matter what." Sahar Nasr '85 '90, Adjunct Faculty in AUC's Department of Economics and former Minister of International Cooperation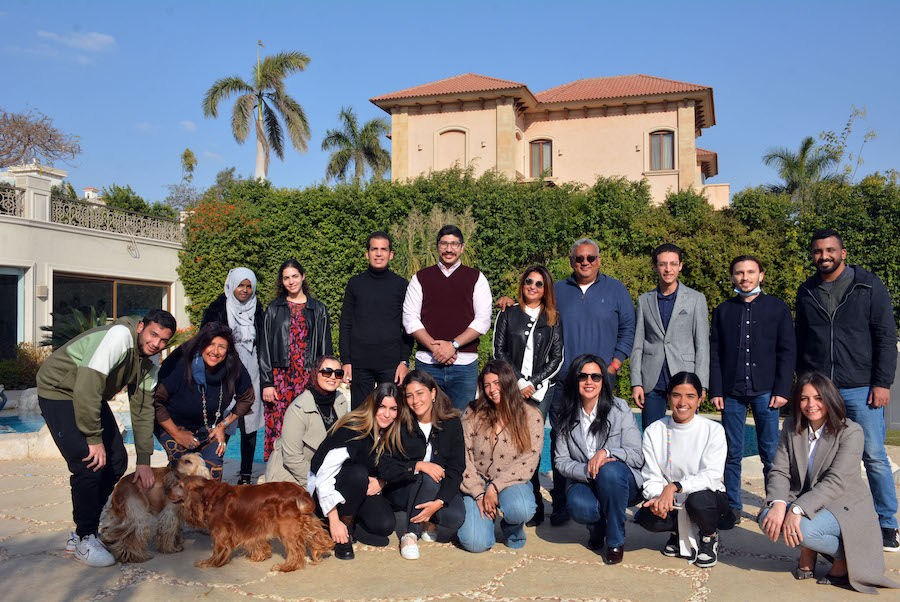 The first Dining with an AUCian event was hosted by AUC alumnus Ahmed El Bakry '87 '90 and his spouse, Randa Kamel '86. The setting offered by El Bakry was cozy and welcoming to the students. The group of students chosen for this intimate gathering was diverse and savvy. Bakry shared his pride in being a family of AUCians and mentioned how grateful he is to AUC several times. Kamel and Bakry offered lunch, and the students were easily mingling together and with the hosts.
"AUC shaped my whole life and has played an instrumental role in my social and career life." Ahmed Bakry '87 '90, President, AUC Alumni Council and Chairman, Electrolux Egypt