'Nothing Short of Fantastic' - AUC's CASA Welcomes U.S., International Students
"The activities we do are varied and genuinely engaging, the workload is intense enough to be challenging without overwhelming students, and everything we do is through the medium of Arabic. Even new or unknown words are never translated into English — only explained in Arabic."
This is how Samuel Owers described his experience at AUC's Center for Arabic Study Abroad, the world's premier, full-immersion Arabic-language program. 
Coming from his native England, Owers is one of the first non-American students to join CASA. While CASA is mainly tailored for U.S. students, this year's cohort also includes students hailing from the United Kingdom, Denmark and Hungary.
Two years ago, CASA celebrated its 50th anniversary — more than half a century of transforming lives through Arabic. When it was established in 1967, CASA introduced a groundbreaking change in the way Arabic was taught, and today, its more than 1,700 alumni occupy senior academic positions around the world, pursue careers at the U.S. Department of State and hold leading roles in international nongovernmental organizations.
Experiencing Egypt 
For CASA students, living in Cairo and practicing Arabic firsthand give them a chance to immerse themselves in the life of the city and delve into Egypt's history, culture and language.
Christian Maynes, a CASA student this year who had previously visited Egypt as a tourist, described his experience in Egypt as "nothing short of fantastic," adding, "We always say احسن ناس (the best people) as a way of complimenting other cultures or people from other places, but I have truly felt welcomed by the warmth and kindness of [Egyptians] I have had the opportunity to interact with so far."
Maynes chose to get the full "rewarding and interesting" experience at CASA, where he enjoys the opportunity to "interact with Egyptians in much more direct and meaningful ways."
"CASA is widely known in the United States to be the best program for serious Arabic students to improve their Arabic skills significantly," Maynes said. "It's clear that the legacy of the program and institutional knowledge of the instructional staff has created and refined a program distinguished from any other offering in the world."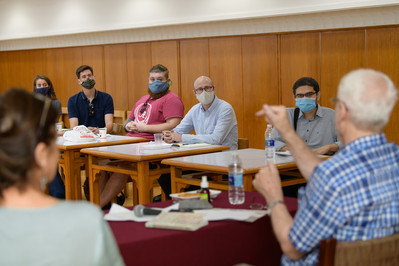 People who lived in Egypt before still find the CASA experience unique. Calvin Harrison has been residing in Egypt for three years, first joining AUC as a presidential associate and now working. "I really love my life and the community of friends I've built here," said Harrison. "Starting CASA as part of my fourth year living here has been a great way to deepen my understanding of Egypt through an even higher level of Arabic proficiency and more cultural knowledge through our readings and class discussions. … [It's] "a great opportunity to commit more time and energy to my study of the language and hopefully achieve a higher level of [Arabic] proficiency." 

Likewise, Caroline Benson lived in Egypt for a year and a half before applying to the program. "My experience in Egypt over the past two months has, of course, been much different than it was before because of COVID-19, but I feel extremely fortunate to be here pursuing something really meaningful to me this year, especially because 2020 has been such a struggle for many people," she said. "In general, I love Egypt. It is a super diverse place, rich in history, vibrant and cosmopolitan in unique ways. My experience with the program has been positive in every way — social and academically."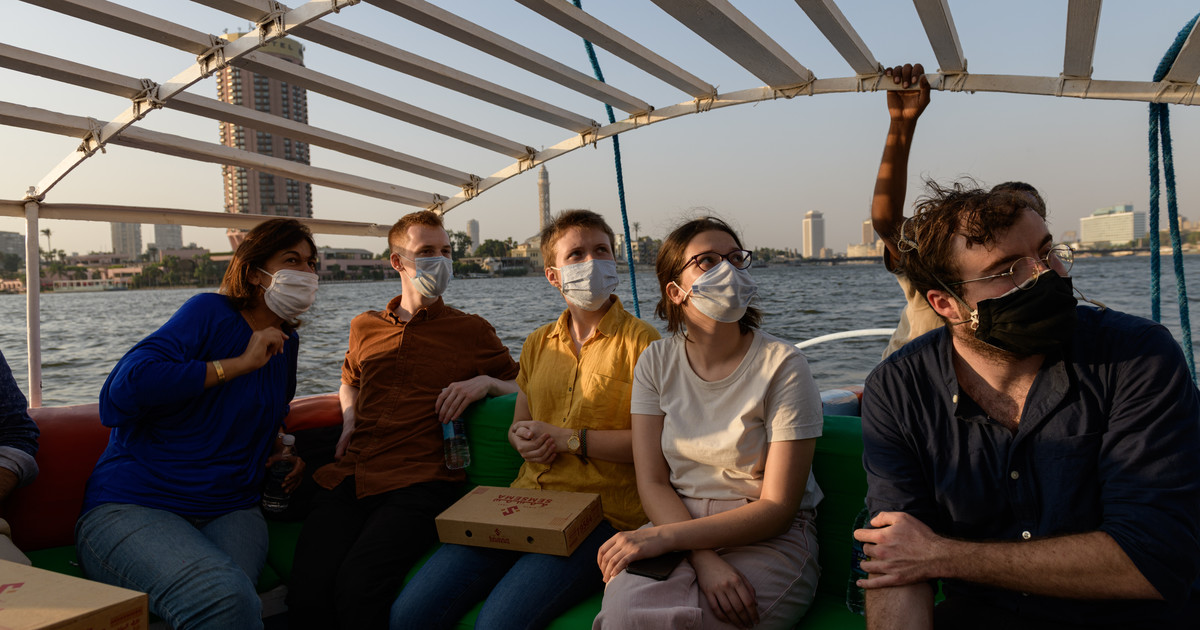 And there are those who are familiarizing themselves with Umm El Dunya. "I am loving the experience in Egypt and feel that I'm slowly getting to know the country -- though, at the same time, Egypt is so vast and varied that even if I spent 10 years here, I feel I would only have seen a tiny fraction of what Egypt has to offer," said Owers, adding that he applied to CASA because he "relished the chance to study in the heart of Cairo in an intensive language program and at one of the Arab world's best universities."
'Among Many Favorites'
The opportunity to learn from top-notch instructors and professors who have a passion and commitment for helping students advance in Arabic is what draws many students to CASA. "The program is very professionally run, and the administrative team at CASA has done a great job helping us get set up and navigate Egypt in the current challenging health climate," noted Maynes.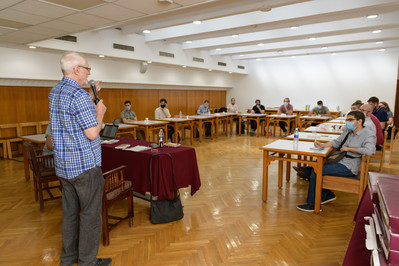 For Benson, originally a literature student, the collections of books she reads through CASA is the best part of the program, giving her a glimpse of different eras in Egypt and a better understanding of Egyptian culture. "My favorite part about CASA is the novels we read in class," she said. "The CASA teachers are global leaders in their fields, and each one of them is an expert in the subject they teach. They have been working in the field and the program for several years and have spent many years fine-tuning the program to its most effective state. Each of them also has their unique academic interests and perspectives."
She added, "One of my interests is Arabic literature, which is not an easy topic, so I truly need all the instruction and practice I can possibly get. CASA is the most intensive Arabic-study program that exists ... and also the only one that focuses on content-based, culturally grounded instruction, such as novels, films and media."
Harrison feels the same way.  "Each week, we read a book, play or short story collection, and I have really enjoyed all of them," he said. "It's also been a great opportunity to get a survey of different styles and periods of modern Arabic literature and to feel like I know more about some of Egypt's most famous writers."
CASA Takeaways
CASA is set to take advanced students of Arabic to near-fluency, and that's what many students appreciate about it.
Harrison, who has read Arabic for work and uses Egyptian dialect in everyday life, has witnessed significant improvement in his Arabic skills. "CASA has elevated those skills by giving me more hours of practice and addressing mistakes and weaknesses I had not even noticed before," he said. "I'm expecting most to improve my writing and speaking in fus-ha [Modern Standard Arabic and Classical Arabic], since I have not written or spoken in formal Arabic much since moving [to Egypt]."
Proficiency in written and spoken Arabic is not the sole takeaway that students are looking forward to after the program ends, but indulging in Egyptian culture, making new friends and learning about the region's history are also some of the things that students get to take back home. 
"I hope to leave CASA fluent in spoken Egyptian Arabic, and able to read and write Classical Arabic with ease. I hope to experience Egyptian culture in all its variety and contradictions and have a good grounding in the region's literature and history. I also look forward to making friends among my course mates and Egyptians from all backgrounds in life," said Owers.