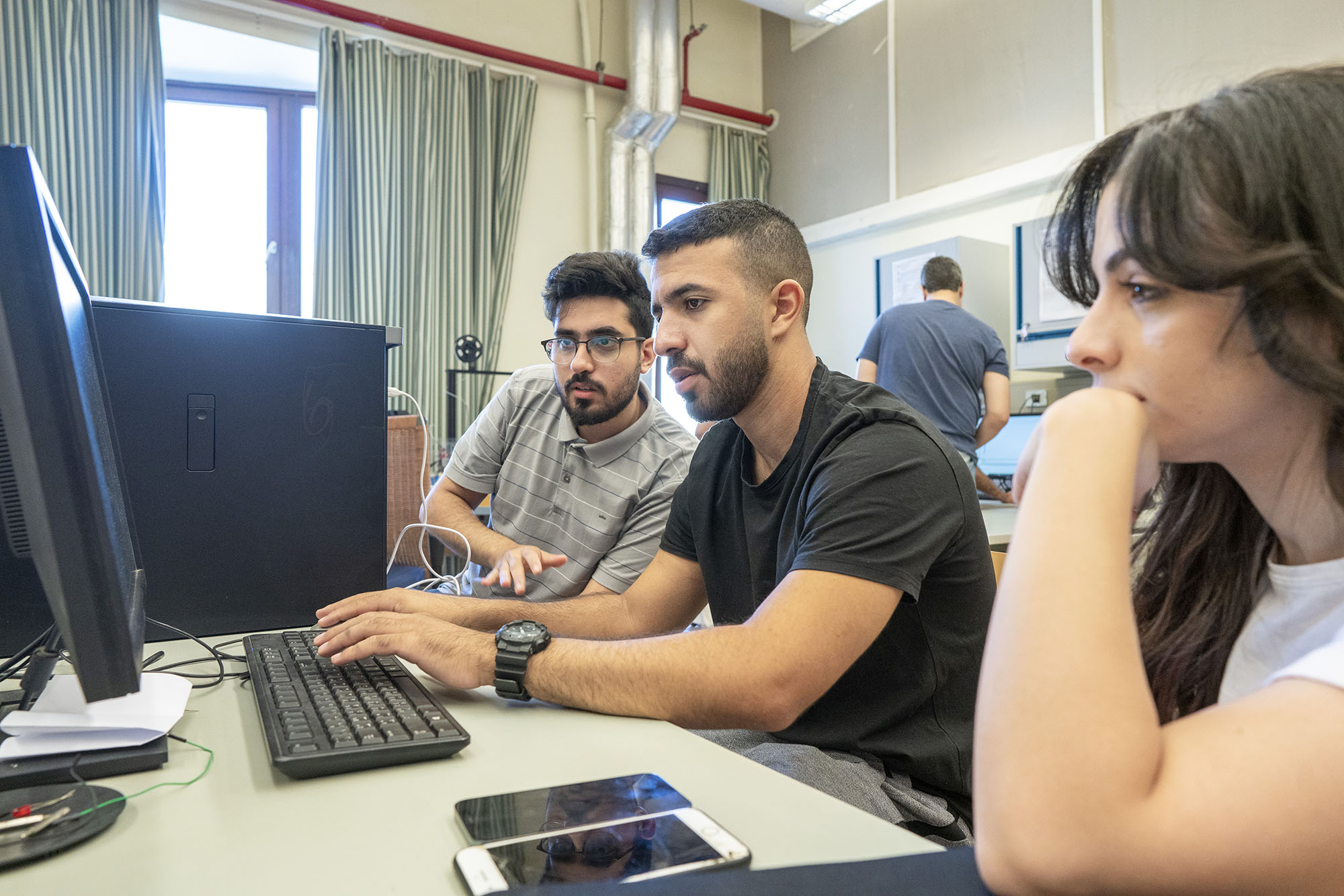 Extended Education
Life-long learning is one of the core values of AUC. Through the different extended education programs, AUC capitalizes on the employability of its students and transforms the lives of diverse, lifelong learners as the preeminent professional education provider in Egypt and beyond.
Employing AUC's liberal arts tradition and interdisciplinary studies, the School of Continuing Education equips modern professionals with the skills and knowledge they need to thrive in today's world. Programs are designed with a focus on the student, aiming to inspire a thirst for knowledge, facilitate professional growth and create real-world impact.
We offer a variety of certificate programs, noncredit term-length courses and customizable courses to fulfill the continuing education needs of individuals and organizations in Egypt and the Middle East. Our programs cover a range of topics, including career and skills development, language enhancement, IT and computer programs, teacher training, youth programs and translation diplomas. We also provide evaluation testing and assessments, as well as a Career Guidance Unit to help you make informed decisions about your career.
Programs are offered on both AUC campuses and tailor-made courses for companies and organizations may be conducted at their premises.
For more information on the School of Continuing Education, click here.
Established in 1966, the School of Business Executive Education has cemented its position as a pioneer in the area of management development, supporting the development needs of professionals and executives in private and public sector organizations. The programs are fueled by a commitment to excellence and a sense of responsibility towards developing the community's business leaders, entrepreneurs, policymakers, and society at large. Consecutively since 2013, the School of Business has been ranked by the Financial Times (FT) as one of the best 75 business schools worldwide offering open enrollment executive education programs. Ranking at 67 in 2020 and maintaining a leading position as a regional platform for world-class education, the School further imprints its international positioning on the world map as the only ranked school in the Arab region and one of only three in Africa.
The AUC School of Business Executive Education is also equipped with a full-fledged business solutions unit. With off-the-shelf and customized training programs, as well as coaching and assessment services, the unit works to facilitate, enable, and partner with businesses striving to achieve organizational excellence.
For more information on the School of Business Executive Education, click here.
The School of Global Affairs and Public Policy launched the GAPP Executive Education in summer 2010 with the goal of providing top-notch executive training to professionals in the different disciplines. The mission of the GAPP Executive Education is to reinforce and reinvigorate leadership capacities within government agencies and public institutions in a challenging global environment within Egypt and the region. Its' trainers are experts in their field and include local, regional and international expertise.
GAPP Executive Education offers customized programs tailored to the specific needs of clients and open enrollment programs offered in collaboration with other institutions according to current trends and needs. It boasts a diverse portfolio of partnerships with academic and funding institutions. Participants range from civil servants, members of civil society, media professionals, think tanks and decision support centers, young diplomats, members of parliament, the national council for women, the judiciary, and officials in government.
For more information on the School of Global Affairs and Public Policy Executive Education, click here.
The Engineering and Science Services (ESS) has been dedicated to serving and developing engineering and science related industrial communities for more than 30 years. We offer a wide variety of services designed to meet the current and future needs of engineers, scientists and the community as a whole.
Since its initiation, ESS has earned a reputation as one of the finest providers of training and services for practicing engineers in Egypt and the Middle East. More than 600 public and private sector companies and organizations, including banks and government agencies, are now regular recipients of our training programs and services.
We are proud of our high standards, well equipped laboratories, modern computer facilities, highly qualified professors and diverse body of trainees. We encourage you to make use of our training programs and services and become a part of the rich environment of The American University in Cairo.
For more information on Engineering and Science Services, click here.
The Professional Development Program offered by the Kamal Adham Center for Television and Digital Journalism is designed for those who are currently working in, or looking to work in, television journalism, advertising or another related profession. Program courses are offered in flexible formats to accommodate the requirements of working professionals. The five-week program meets two or three times each week, for a total of 30 teaching hours. The content of the courses is both theoretical and practical, with a concentration on hands-on workshops. Instructors have both academic and professional experience in the field of television journalism. The Adham center also arranges custom-designed courses, intensive workshops, and training to Arab news organizations — television, radio, online or print — on-site or at the university.
For more information about the Professional Development Program, click here.