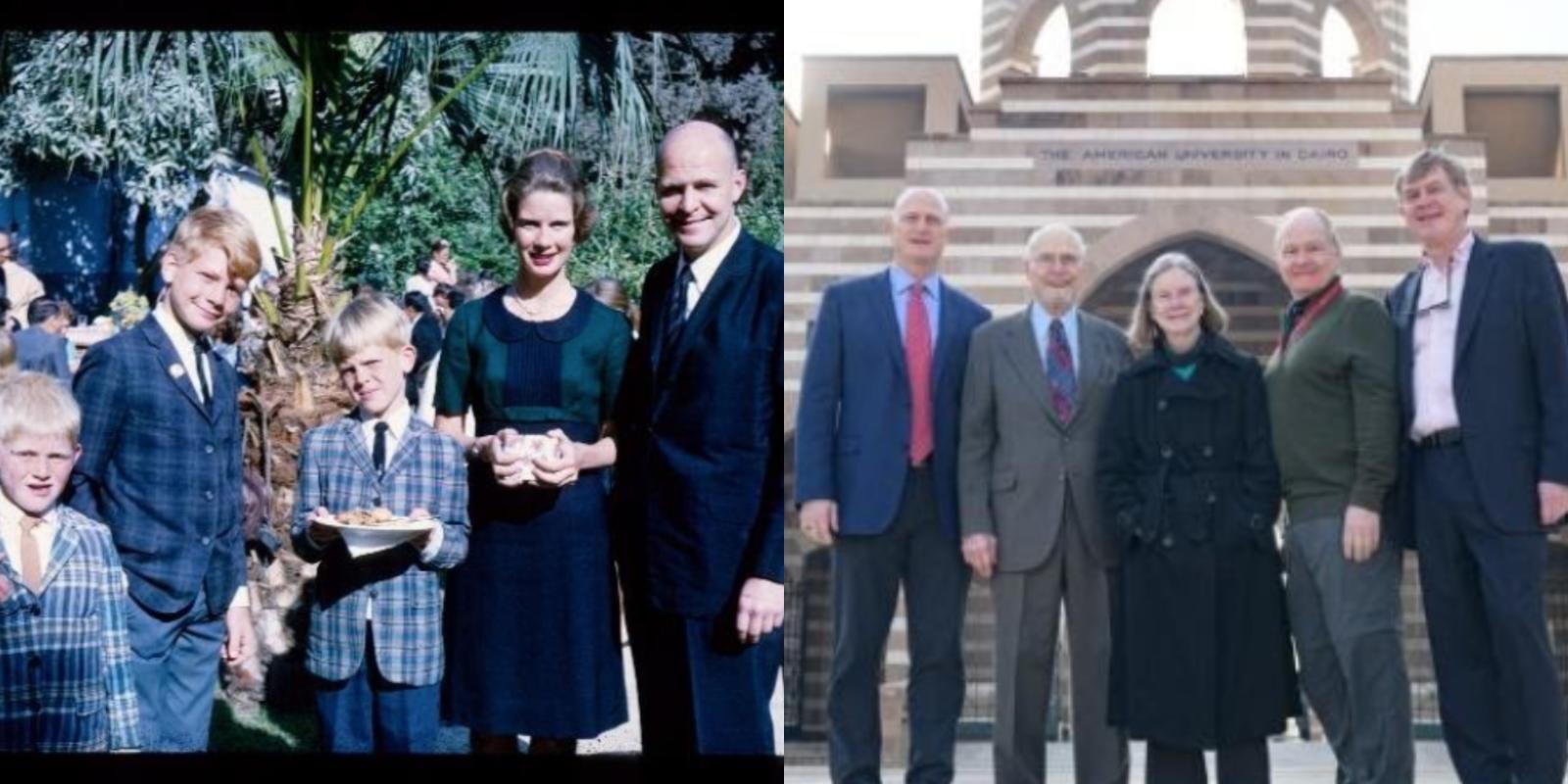 The Bartlett Family: A Longtime Affinity with AUC
The Bartlett Family: A Longtime Affinity with AUC
More than 50 years ago, Thomas A. Bartlett returned to the United States after serving as AUC's youngest president when he was in his mid-30s.
"He was the youngest American president ever. I don't mean here, the University, I mean in all of the United States of America," said his wife Molly Bartlett in a 2013 oral history interview with AUC's University Archives.
But Thomas Bartlett –– and his family –– never really left Egypt or AUC. He continues to serve as a dedicated member of AUC's Board of Trustees and led the University as its interim president at the turn of the century. His son, Richard Bartlett, served as three-time chair of the Board of Trustees and is the first and only chair emeritus in the University's history, and his wife Molly and son Paul are longtime supporters of the University. For the Bartletts, coming to Egypt and AUC was a turning point in their lives –– a time that helped shape who they are and established their affinity with this part of the world.
"My own childhood is filled with memories of speeches, movies and plays here [in Ewart Memorial Hall]. I always started the evening excited, but as a six year old, I often ended up asleep," said Richard Bartlett at AUC's centennial celebration launch about his long-term connection to the University.
It all started when a friend at the U.S. Mission to the United Nations offered a job to Thomas Bartlett, who had been serving at the time as a U.S. diplomat to the United Nations in New York for eight years. "Tom came home that evening, and I said, 'Well, what did he say? What job does he think you might take?'" reflected Molly, who had never traveled abroad back then. "And Tom said, 'Well, there's a nice college in Cairo, and they're looking for a president.' 'Cairo?' I said. 'Egypt?' 'Yes! Yes!' he said. He was all excited. I said, 'Oh, well we'll never go there.' By then, we had three little boys. And, of course, three months later, I was in Egypt.'"
Six years later, in 1969, when it was time to go back home, Molly had completely changed her mind. "I don't want to ever leave Egypt," she said to her husband. … "And we still feel that way," she told the University Archives.
As AUC president, Thomas Bartlett's forward-looking vision led AUC to double both its campus size and student body, expand and develop its faculty and academic programs, and modernize its facilities. Under his tenure, AUC bought the Greek Campus, which housed the library and other major buildings, was the hub of social activity for students and the largest addition to the University back then.
"It was apparent that more space was needed to accommodate the expansion in the student body and programs," said Thomas Bartlett in "The Day We Bought the Greek Campus." "Suddenly, the opportunity came to buy two Greek schools, where the Greek Campus is now located."
"On the day of the sale, Mr. Fayek Wissa, the accountant, and I had to carry several satchels containing the purchase money, since a check was not legal tender for the transaction," Bartlett continued. "About LE 409,500 in 10-pound denominations had to be counted and transferred in the presence of the official in the registration office. That was done, and the final papers for the purchase were signed on March 15, 1965. … That then became our first expansion area," after which the University bought the Falaki land and built the Falaki building, which was initially used as a student dormitory.
"It was the simplest, most basic building you could imagine, but in those days, it was wonderful to have. That gave us an instant dormitory facility, and it also gave us that rather good-sized piece of ground," Thomas Bartlett recounted.
In 1967, the Six-Day War took place. Though it was a tough time for both AUC and the country as a whole, the University continued to operate and students managed to sit for their exams, thanks to Thomas Bartlett's able leadership and the cohesiveness of the AUC community. Demonstrating his commitment to and passion for AUC, he returned to the University to serve as interim president from 2002 to 2003.
And throughout these years, Thomas Bartlett finds AUC to be the same as when it was first founded in 1919 — remaining true to its mission of service and excellence. "The thing that fascinates me is how much AUC has changed and how much it has remained the same," he said. Watch the full interview.
In a 2005 oral history interview with the University Archives, he noted, "One of the things that is important about AUC is that there's a remarkable amount of continuity … that is to say of defining principles. AUC has always seen itself as a servant and not an end in itself. It's always seen itself as an institution whose being is committed to serving Egypt and the region. … When [the trustees] talk about AUC and what we ought to be doing and why we ought to be doing it, the hidden premise always is, this is an institution with a soul. … That has not changed. … So I see more continuity of purpose."
The AUC community is also one of the University's strong pillars since its establishment, he added. "One of the things that is a challenge in universities is the development of culture. A community needs a character, and it needs a culture. And I think that's happened at AUC long since, and there's continuity in that culture," he said.
For the Bartlett sons, spending their childhood years in Egypt carried unforgettable memories, from horseback riding by the pyramids and riding a donkey cart in their Maadi neighborhood to playing tennis in the Maadi sports club and attending events in Ewart Memorial Hall. "As a child in the 1960s, I remember coming to this hall and struggling to read the words of Tennyson that crown this stage' 'Let knowledge grow from more to more, but more of reverence in us dwell,'" recalled Richard Bartlett at the centennial celebration launch in Ewart hall. "The first time I read them, I asked my older brother what 'reverence' meant. He wasn't sure, but he said it was clearly a good thing."
Both Paul and Richard Bartlett have maintained their affinity to the University by serving as AUC trustees. "Egypt changed their lives when they were little boys, and so I think they feel very pleased to be doing something here," said Molly Bartlett. "It was very important for our children to have had that experience. When we went back to the United States, they were very aware of the differences of different areas in the world that when normally you're a 12 year-old, you wouldn't have a clue. But they knew that there were indeed differences in the world."
As a testament to their love of AUC, the Bartlett family members have been longtime philanthropic supporters of AUC, funding scholarships that support outstanding public school students. "In many ways for me, [public school scholarships go] right back to the sort of thing that the founders would have wanted to see the University doing and would have done had they been able to afford it: bringing … students [in need] with ability and drive and giving them an opportunity," Thomas Bartlett told the University Archives in 2005.
The Bartletts also contributed significantly to building the New Cairo campus and establishing named spaces such as Bartlett Plaza — the centerpiece of activities and events in AUC New Cairo, including commencement and alumni homecoming — in addition to the Bartlett Room and Sullivan Lounge. In AUC Tahrir Square, there is the Bartlett Fountain in the Fountain Area outside Ewart and Oriental halls. The areat has been a prime hangout for students and serves as a gathering point for outdoor receptions and events.
In fact, it was at the Tahrir Square campus that the family gathered for AUC events and special occasions when Thomas Bartlett was University president. Decades later, the family gathered again on campus, but this time at AUC New Cairo, celebrating the University turning 100.

"I guess one consequence of operating in Egypt is that AUC may never truly seem old. So tonight, let's revel in the fact that AUC is 100 years young," said Richard Bartlett at AUC's Centennial Benefit Dinner.
For the Bartletts, AUC is more than an institution of higher learning. It's a core part of who they are. "Part of me will always be here, and AUC will always be in my thoughts," said Thomas Bartlett.
Most of the information and quotes in the story are courtesy of University Archives oral history interviews conducted with Thomas and Molly Bartlett.