AUC Hosts Higher Education Minister, University Presidents to Discuss Pandemic Measures
COVID-19 has highlighted the significance of enacting policies to ensure safe study and work environments in light of the increasing health challenges, and AUC remains committed to providing a safe campus while simultaneously maintaining educational excellence.
With that in mind, AUC recently hosted Egypt's Minister of Higher Education and Scientific Research Khaled Abdel Ghaffar as well as presidents of public, private and International Branch Campus universities in Egypt for an open discussion to share information and evolving best practices on mitigating the impact of the pandemic in education and work.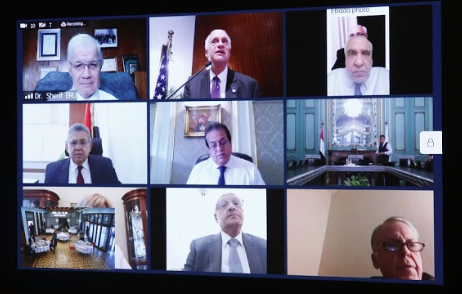 Lessons from the Pandemic
During the meeting, Minister Abdel Ghaffar emphasized that COVID-19 underscored the role of education in evidence-based decision making, emphasizing that the Egyptian government has taken legislative and policy measures to confront the challenges facing the ministry following the closure of universities last year.
Most importantly, he stressed the role of remote and distance learning and its effectiveness in overcoming the situation, highlighting that electronic platforms and learning management systems were utilized on a large scale, along with the Egyptian Knowledge Bank, a digital library consolidating a range of international content, which has proven successful during the pandemic. Egypt's plan moving forward post-pandemic is to implement blended learning modes, with an increased reliance on online learning while maintaining a degree of traditional face-to-face education.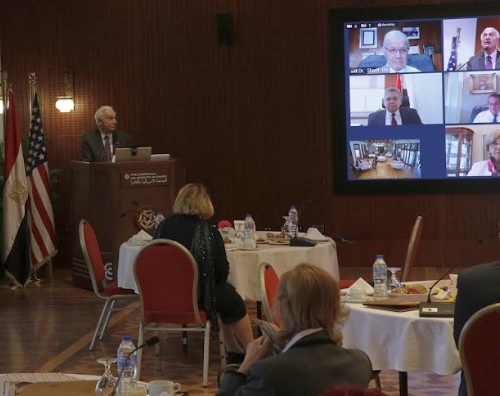 AUC is not new to blended and online learning techniques. In the past several years before the pandemic, the University has made great strides toward incorporating blended learning approaches into course curricula and integrating them into the academic experience for students. These include projects in collaboration with the Massachusetts Institute of Technology and the Abdulla Al Ghurair Foundation for Education, enabling AUC to become a regional hub in digital learning and education through its international partnerships and pioneering initiatives.
Real Life Global Competition
The event also witnessed the launch of the Student Union (SU) Real Life Global Competition on Smart Applications for Sustainable Cities and Communities. In light of the pandemic, the SU team believes it's of utmost importance to engage the student body in a competition that targets the development of Egyptian cities and communities in a smart and sustainable manner.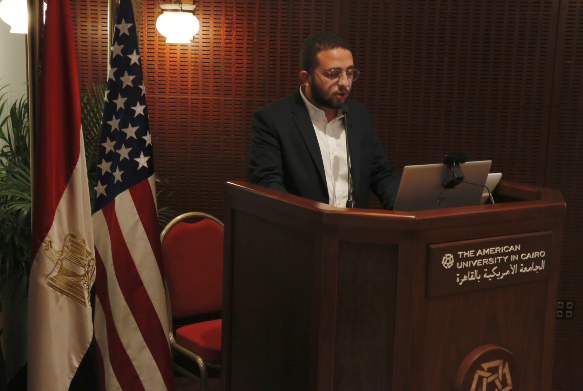 "For 100 years now, AUC's Student Union has been serving, entertaining and representing the AUC student body through various initiatives, projects and events. Nevertheless, as these projects kept on expanding and reaching sky-rocketing levels, we started to grasp the extent of undergraduate students' indispensable potential," said Ahmed Saeed, SU president.
"The potential to leave an actual impact on their society and become active leaders of change. The potential to reach levels of innovation that have never been reached before, and most importantly, the potential to shape their own future."
Considering that COVID-19 has affected all populations globally, the SU hopes the experience will serve as an inspiration for youth to develop innovative solutions to both enhance and reform Egyptian communities, and that's precisely what the competition aims to achieve. By providing the younger generations of students with an opportunity to share their input and ideas on building smart, sustainable cities and communities with an emphasis on digital transformation, the aspiration is to build a better Egypt.
This year's competition is under the auspices of the Ministry of Communications and Information Technology, the Ministry of Environment and the United Nations Development Programme. "Having such prominent figures as our main partners ensures elevating this year's competition to its maximum potential," said Lobna Aboudoma and Nadeen Soliman, co-general managers of SU Real Life. "This is, accordingly, done by utilizing their professional and wide expertise, both nationally and internationally, to deliver a well-structured competition that aims to solve a real-life problem, as well as develop all participants greatly and place them on the right path to continue redefining their sustainable future."
They added: "We hope to be able to provide students at AUC, all Egyptian universities, and universities around the world with the opportunity to bring their innovative ideas to life and provide them with the opportunity to showcase and implement their smart, sustainable solutions within their communities through the aid of our partnered entities.
"[We hope] to recognize the immense potential of our future generations. It is about how we envision our future, how we envision the communities we will reside in and how we will maintain them. It has become increasingly important to think long term, think sustainably – and this is essentially what we hope to get out of this competition."
Students can apply to the competition here and find out more by visiting this link.