The Impact of Digitization on the Publishing Sector: How Nahdet Misr Is Coping
Fast-evolving technology and digitization have left companies with no choice other than digital transformation. Taking the publishing industry as an example, users are currently consuming more content than ever on their digital devices. Where does this leave publishing houses, particularly with the onset of COVID-19?
For Dalia Ibrahim '93, '99, '14, chairperson and CEO of Nahdet Misr, one of Egypt's leading publishing companies, and recipient of the 2020 Arab Women and Social Responsibility Award, it means being always on your feet. When COVID-19 spikes hit the world, Nahdet Masr wasn't exempt from their impact.
"Preparation is one thing, but the acceleration and sudden disruption is an entirely different thing. If today you have a digital plan for the next three years, you suddenly had to cram it in one year," said Ibrahim, explaining that Nahdet Misr has been anticipating the digital revolution and planning to move away from the traditional business model to a more agile one for a long time. "We were always keen on going digital, and people considered us crazy."
Going Digital
Providing content for all segments of society, Nahdet Misr works to raise public awareness and knowledge, developing creative and intellectual potential in society. The company produces thousands of cultural and educational books for adults and children, including fully integrated educational solutions for students, teachers and parents. That's in addition to being an exclusive provider of localized versions of children's publications, like Disney and National Geographic.
Two companies under Nahdet Misr Group are Nahdet Misr for Digital Solutions and Nahdet Misr for Advertising, both taking the group forward with digital transformation. Today, Nahdet Misr owns its own licensed software and provides educational digital solutions, animations, infographics, interactive curricula for grades one through 12, learning objects, interactive e-books, curricula and more.
Under the mother company also comes EdVentures, the sole venture capital company supporting educational technology startups in the MENA region founded by Ibrahim. To date, EdVentures has supported 45 startups through training and mentorship, provided dedicated incubation programs for 38 startups, accelerated 13 and invested in seven in just three years.
"Yet digitization is much bigger than interactive books, e-books and education technology," Ibrahim asserted. "Digitizing the work environment itself is the challenge. Digitization entails a digital transformation for the company at large, and that's a whole different story."
Four years ago, Ibrahim had implemented "change management" in the literal sense of the word by introducing SAP solutions to the company. Adapting to that change wasn't easy. Yet today, she describes the system as one that "manages the whole company," from raw material acquisition to printing. Indeed, the streamlined processes are what kept Nahdet Misr running and going strong during COVID-19 challenges.
Presently, Nahdet Misr is coping and adapting to the latest digital technologies to cater to educational needs, from curricula to general knowledge. For example, the well-known educational book, Al Adwaa, transitioned from coming with a CD to now having a mobile application featuring videos, resources, question banks and more to adjust to online learning and digital transformation Moreover, Al Adwaa books come with a "Smart Code" that students scan to access a library of educational resources and additional features on Al Adwaa app. 
The company also recently joined forces with Egypt's Ministry of Education and Technical Education to provide digital, interactive learning solutions and innovative curricula for school students of all ages, including developing the new curricula (2.0) for Arabic language and Religious studies. This started with KG1-G1 in 2018, and this year witnessed the release of G3 curricula and a new curriculum covering "Morals ​​and Respecting Others," introduced by the ministry for the first time in Egyptian schools.
"Our collaboration with the Minister of Education and Technical Education Tarek Shawki is our biggest achievement to date," said Ibrahim. "We're working with a very unique vision of developing Egypt's educational curricula with a unified theme of maintaining engaging, top-notch quality to ultimately develop Egyptian students and foster cultural awareness within them."
A Global Presence
Moving forward, Ibrahim strives to drive Nahdet Misr's presence globally, starting with the MENA region. In fact, the company is well on its way to do so. "We dedicated our first global project to Egypt through the Ministry of Immigration. We launched an initiative, named "Etkalem Masry (Speak Egyptian)," under the guidance of Minister Nabila Makram, to teach young Egyptians living abroad to speak Egyptian Arabic as their second language, if not first," said Ibrahim. "That's one step ahead in our journey to becoming an educational producer that fits everywhere."
Ibrahim wholeheartedly believes that the publishing industry, especially on the educational front, has boundless potential when it comes to people's development and creating a better society. "When you have a true purpose, faith in what you're doing, people who believe in your cause and a team that shares your vision, the result is a relentless drive to achieve your mission."
Nahdet Misr is a family business, where Ibrahim directly manages several family members and relatives. When she first joined the company, she didn't start her career ladder as a manager or in a top-management position. Instead, she started from scratch and faced resistance, especially from men in the family. Despite that, she was guided by focus and a clear vision. "Being firm, straightforward and honest are key; no sugar-coating or complimenting. I learned to say, 'This is what I want, and this is how it's done' -- all with respect." Today, the very same people believe Ibrahim has raised the bar high for them and carry the utmost respect for her.
Ibrahim has earned several prestigious awards, including the Top 50 Women Performing in the Egyptian economy, the Arab Woman Award for Social Responsibility from the Arab League and more. Despite that, the awards closest to her heart are those she was granted internally, especially by her father, founder of Nahdet Misr Group. "My first award was back in 2006, when I was very young and the award was entirely unexpected," she reflected. "It meant the most to me and left the biggest impact. He gave it to me in front of everyone – although he traditionally doesn't award family members."
Right after that, the 2017 AUC School of Business Alumni award is her favorite.
"It's special to me because it came from home. I loved that because I belong to AUC to a great extent. AUC is my house – even my two daughters are currently undergraduate students. That award was truly deep to my heart."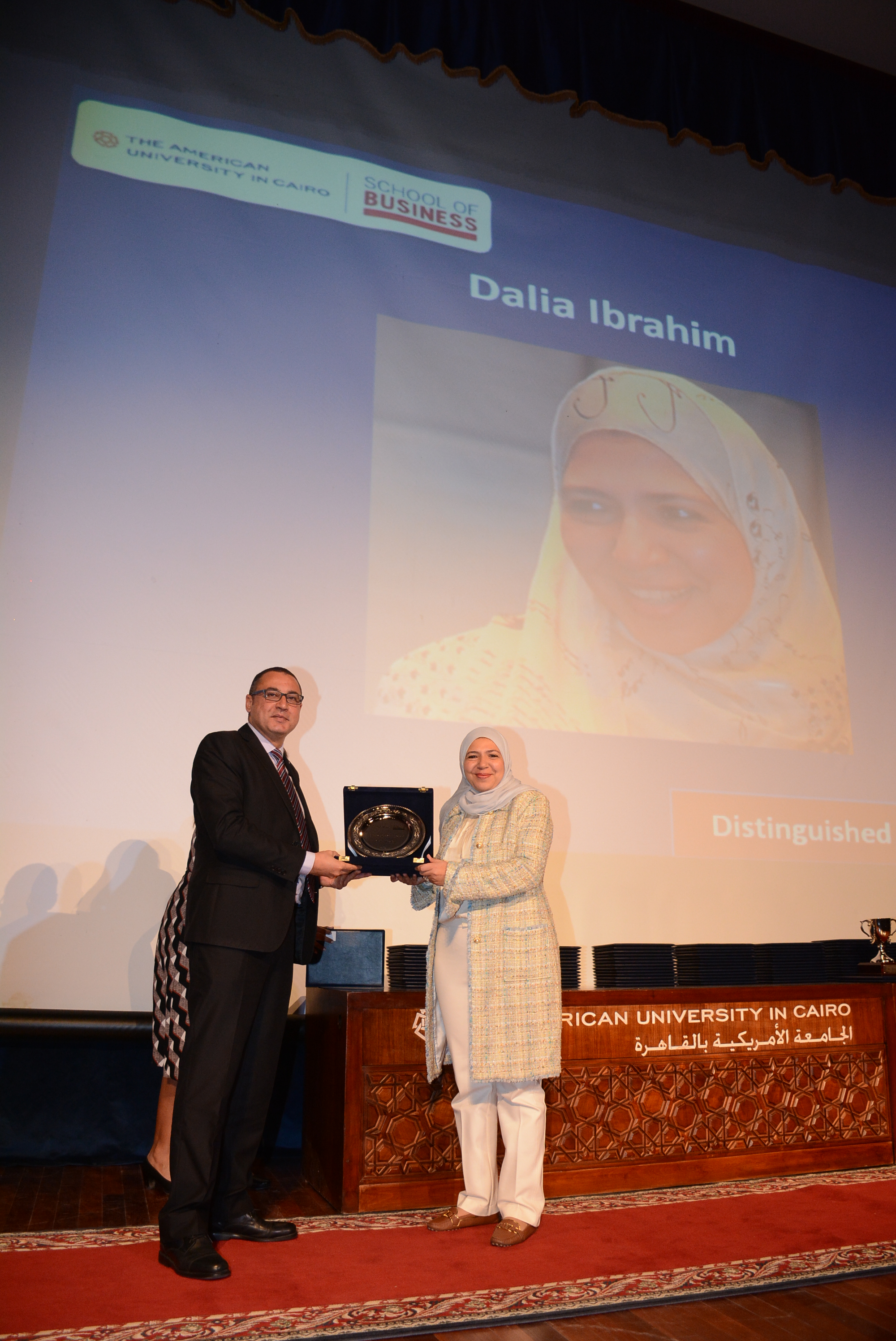 Ibrahim recounts that her undergraduate and graduate journeys at AUC are major contributors to her success.
"Once I graduated, I followed AUC's ABC mindset: I need to do something different," she narrated. "AUC taught me to create my own space instead of trying fitting into one. That mindset, along with negotiation and leadership skills, went a long way with me."
She proceeded to recollect the first time she heard about AUC introducing the EMBA program. "I was the first to apply! I believe in AUC and its education, and I needed to study executive management and change management," she said. "The program made all the difference for me and tremendously accelerated my development. It truly added insane value to my career." 
Ibrahim holds a bachelor's degree in business administration with honors, a master's degree in public administration with honors, and was among the first cohort of graduates from AUC's EMBA program.
"Overall, living with a purpose that has an impact is my motto for life," concluded Ibrahim. "When you live with a purpose, it echoes in all aspects of your life, whether it's choosing your husband, raising your kids, delivering quality work, maintaining relationships with friends, having a meaningful relationship with your parents and much more. It truly makes a difference."