DePauw University Comes to AUC: A Trip Full of 'Pleasant Surprises'
For some students from DePauw University, coming to Egypt was a once-in-a-lifetime opportunity, and with no idea of what to expect coming here, it was the "pleasant surprises" that made the visit worthwhile. 
"I came in with not a lot of expectations," said Meghan Wallace, a senior majoring in global health. "There are a lot of misconceptions around coming here, but I didn't expect to feel this comfortable and this much at home."
Wallace was among 27 students from DePauw University, who were at AUC for 10 days taking the course, Leading Change: A Design-Thinking Challenge in Cairo, Egypt, and attending lectures about Egyptian culture and history. This is DePauw's first collaboration with AUC and the first time its students take part in the Faculty-Led Program. 
"I've studied abroad in different colleges in Europe and Asia, but this campus definitely stood out to me," said Edward Kim, a senior majoring in political science. "Seeing the photos of the campus online was amazing. I am amazed every day I wake up and go outside. I don't think I'll ever get the chance to come to a rich country with a beautiful culture and history again. It was a no-brainer. I didn't hesitate to apply." 
The course presents students with an issue in Egyptian society and requires that they come up with a solution. It aims to promote creativity and leadership among the students and expand their awareness of the world around them by introducing them to the multifaceted culture and history of Egypt. 
"Our challenge was related to the 17 UN Sustainable Development Goals for 2030," said Eduardo Garcia, a junior majoring in global health. "We had to identify solutions and initiatives we saw in Egypt that we could take back to the United States and implement in our own society." 
"I really enjoyed this new idea of experiential learning, of learning in the classroom and then actually experiencing it outside," Wallace said.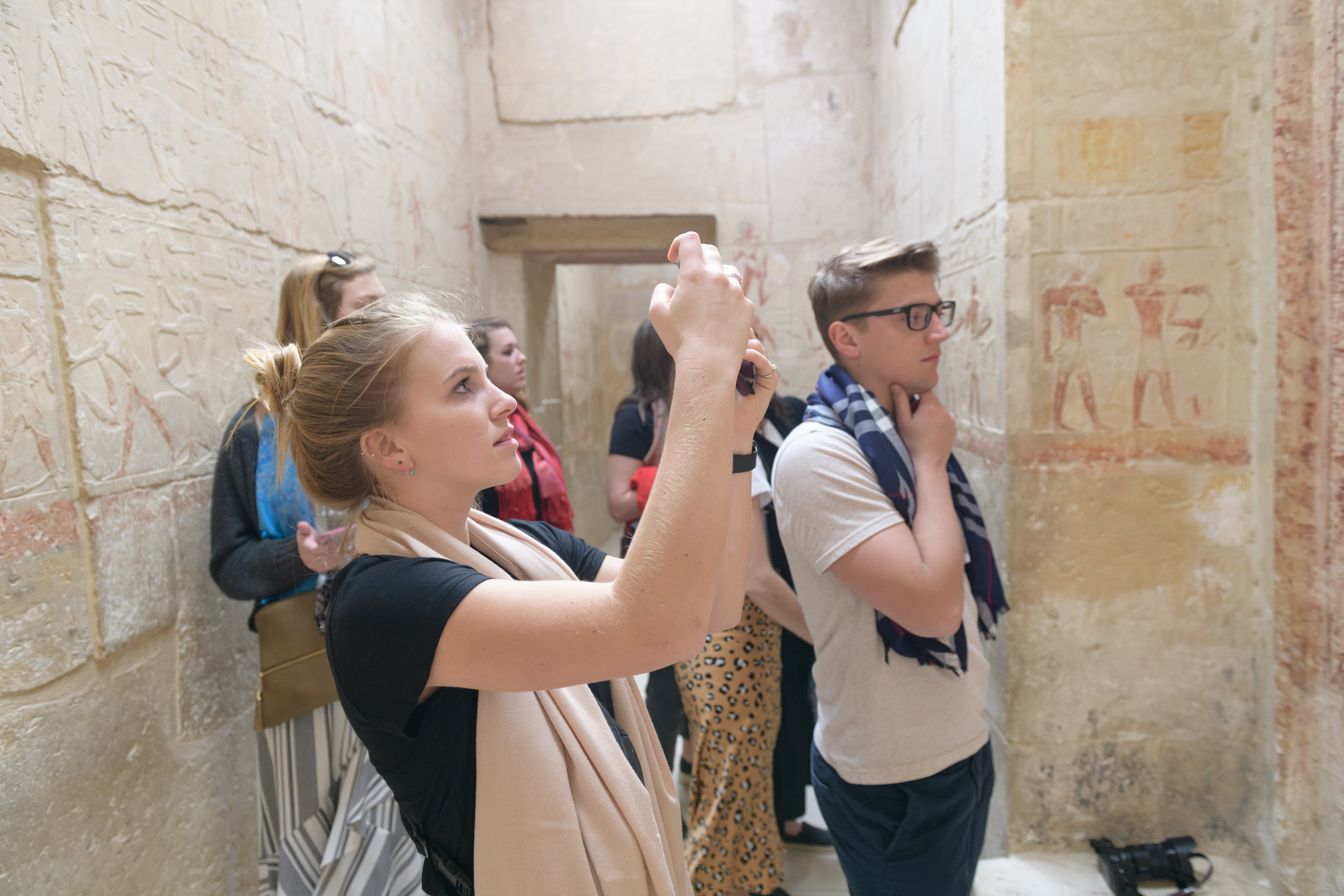 DePauw University in Greencastle, Indiana, is a small private liberal arts college with an enrollment of 1,972 students. The institution is a top national liberal arts university, ranked number one  in Indiana, where professional success is the outcome for nearly 100% of graduates. 
"One thing that stood out about AUC was how similar it was to studying at my own university," Kim said. "The class sizes were small, I felt pretty at home and the professors were awesome. They provided so much new information and knowledge that I didn't even consider before." 
Giselle Villegas, a senior majoring in computer science and Spanish, added that the class, in addition to the experience as a whole, succeeded in reshaping any prior knowledge and misconceptions about Egypt that stem from misrepresentation in the media.
"I just really enjoyed the fact that the professors provided us with information and were receptive to our questions, even if our questions were tied to preconceived notions we had because of where we came from," Villegas said. 
Garcia mentioned that John Swanson's lecture about Islam helped foster a clear understanding of the religion and how it is interconnected with Christianity. 
"It was one of the best lectures I've had in a long time," Wallace said. "The amount of engagement and knowledge that he had to share with us was phenomenal. Every single lecture was phenomenal and really interesting."
Similarities aside, all the students noted that their favorite part about Egypt has been the one thing that makes it different from the rest of the world: the people. 
"The idea of community is something that I found unique about Cairo," Villegas said. "Back in the States the concept of individualism is very present, and that's something I found very different here, whether it was out in the markets or even here at the University. There have been a lot of instances when people help us out, and they won't leave you behind." 
Echoing the same sentiment, Garcia said, "I really love the people here. They're so sweet and genuine and always willing to help with whatever issues you may have. Meeting new people and interacting with the students was great; they're awesome." 
"Meeting people was the highlight of my visit," Kim said. "Walking in the streets, the mosques, the synagogue, the Citadel — just being around people was the best part. Everyone felt welcomed; I had no thought of worry or danger, and I've felt safe since I got here."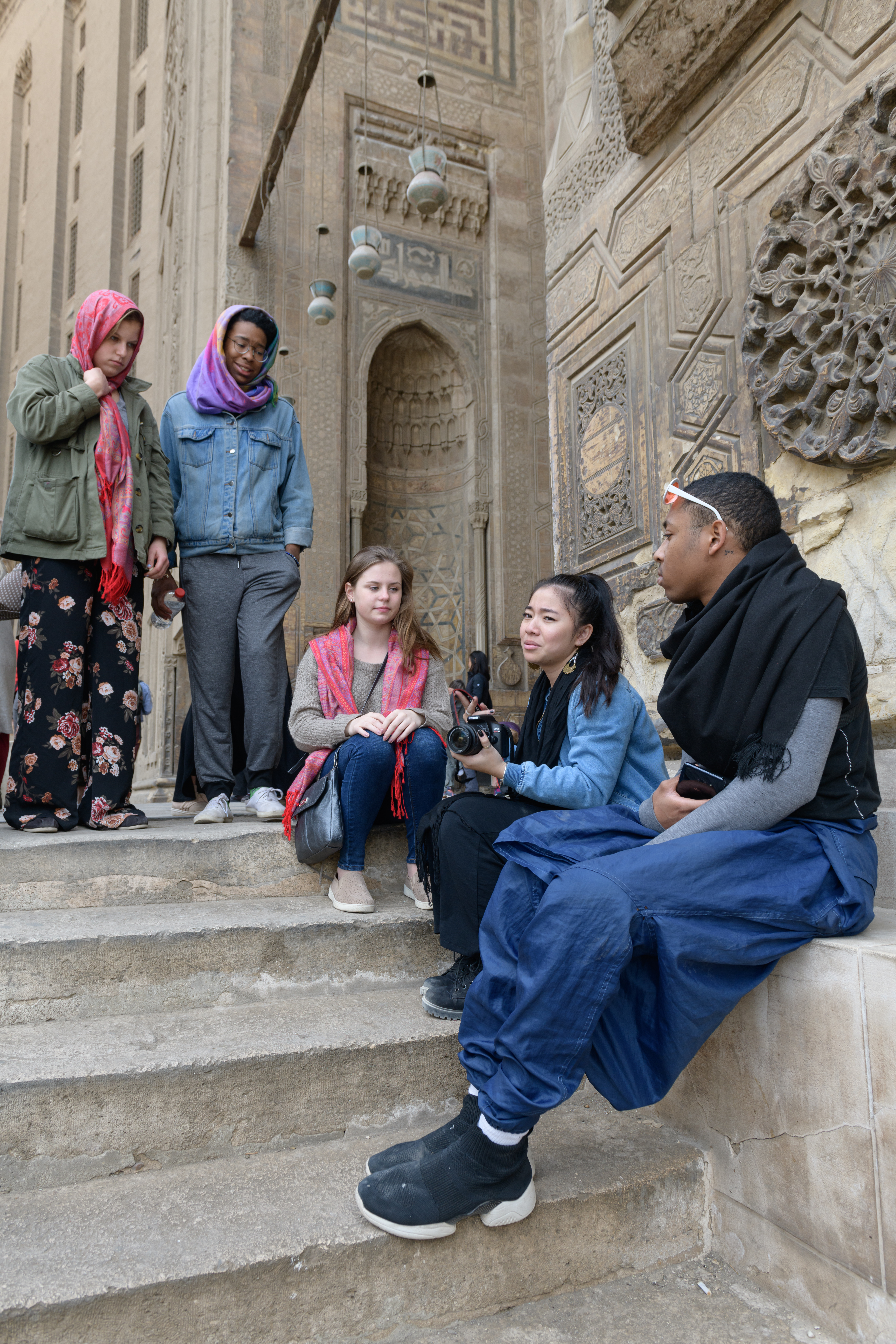 And while they all agree that their time in Egypt was life-changing, they said they believe that it is what they'll take back with them to the United States that will have the greatest impact. 
"When you travel you learn that everyone has so many different problems and solutions, and being able to know that and understand it is such a big thing," Kim said. "There's so many things to see, do and experience."
"I'm taking it all back," joked Garcia, as he mentioned how much he loved molokhiya and riding camels at the Pyramids. But on a more serious note, he said he was inspired by the country's "consciousness around sustainability, especially recycling," something he says is lacking in efforts in the United States.  
As for the others, what they're taking back with them is not so much a call on others, but an effort to reshape their own lives and decisions. 
"A lot of learning on how to be a better leader comes from making connections with people and talking to them and getting to know them," Wallace said. "That's how you make change, and I'd like to implement that in my life." 
And what stuck with Villegas the most was the sense of community she felt both on campus and in the city. "Being here gave me a refresher of going back to this idea of community," she said.