Students Establish Sustainable Rooftop Community Garden in Informal Cairo Neighborhood
Students in the Institute of Global Health and Human Ecology established a sustainable rooftop community garden in the informal Hattaba neighborhood of Cairo, near the Citadel.
.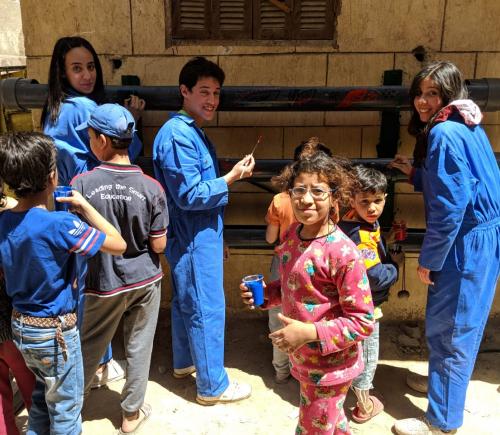 This project was the focus of the course, Contemporary Issues in Environment, Sustainable Development and Health, led by Tina Jaskolski, assistant professor in the School of Sciences and Engineering. The goal of the class was to teach students how to use design-thinking skills to implement a sustainable rooftop garden for an informal community near the Citadel.
"This is the first time my students were able to go through a whole process of project design, implementation and assessment in a community setting within the time frame of only one semester," Jaskolski explained. "Working with people shows you that projects can be messy, that project management has to be flexible, and that every step of the way, you have to ensure the project is tailored to the needs of the community members who become active participants in the project."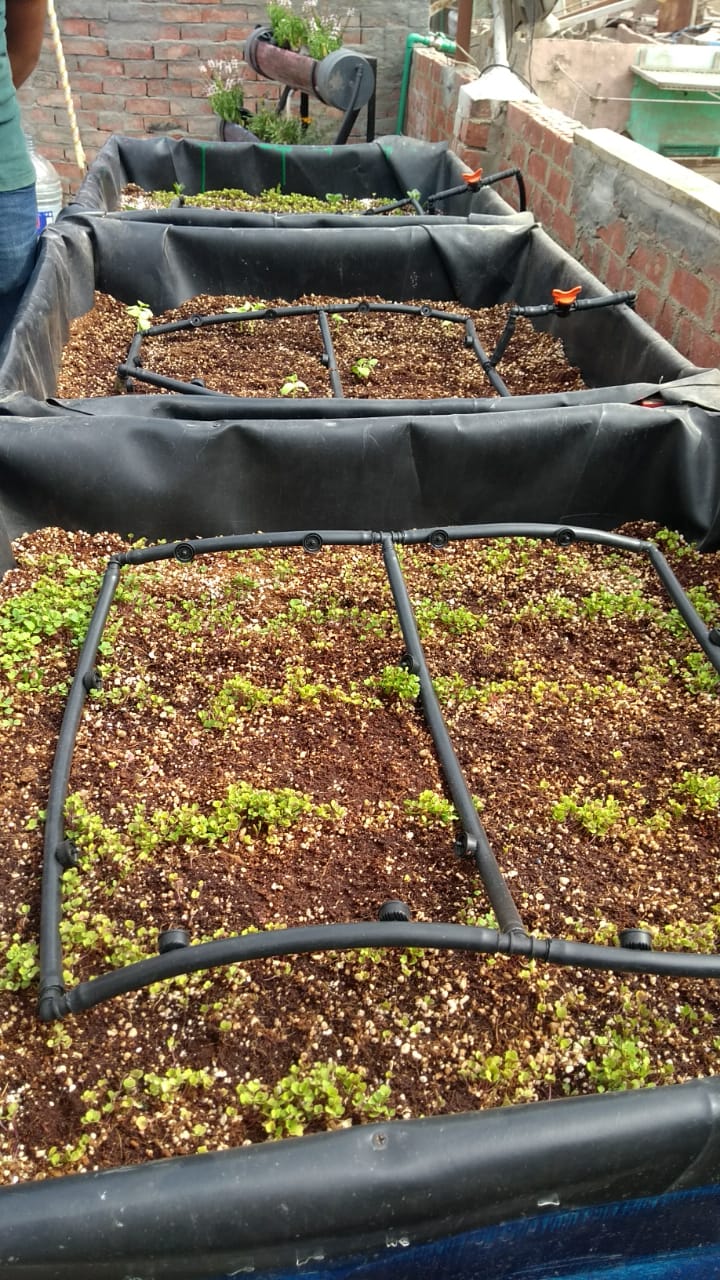 This class was conducted as part of an ongoing partnership with the US Forest Service to establish and promote rooftop agricultural systems that are maintainable and affordable for residents of informal neighborhoods in Egypt.
"The project was so informative; it was an astonishing experience," exclaimed Omar Abdelkader '16, one of the students in the class.
"It was an authentic learning experience where I got to apply my sustainability studies; connect to a community, a local NGO and an international donor; and get my hands dirty!" Melissa Smith, another student in the class, affirmed. "Through the course, I came to believe in the transformative potential of rooftop gardening, and I hope our project will help it spread through the community and Egypt — contributing to the progressive global urban agriculture trend."
When planning the project, the students visited previous rooftop gardens that the Center for Applied Research on the Environment and Sustainability (CARES) had established, evaluating their strengths and weaknesses. Partnering with Megawra, a heritage conservation NGO, the class then focused on picking a space for the garden.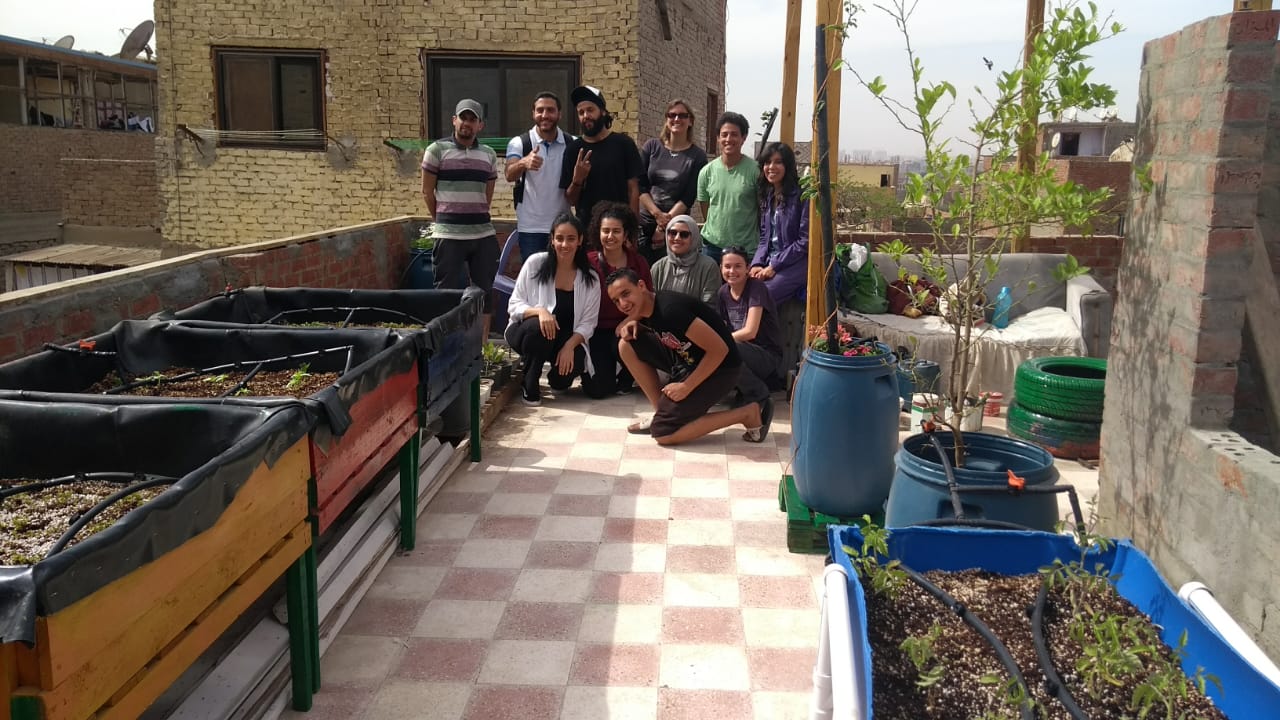 Considering a Megawra office space and youth center, they ultimately settled on the residential rooftop of a local community leader, Khalifa.
Kara Hoving, presidential associate at CARES, explained, "He wanted to make his rooftop into a green space in which the community can gather, and he wants to have all the buildings in his neighborhood to have gardens in order to beautify the area and protect it from government officials who wanted to demolish the neighborhood because it was an unsightly view from the Citadel."
The students used inventive techniques to best fit the needs of Khalifa and the community. The garden was built mainly of recycled materials such as tires, barrels and old doors. The garden's plants include a mix of flowers and herbs, such as mint, basil, gargeer (arugula) and tomatoes. The final space included tires as movable seats, a pergola, bathroom, old doors transformed into a table, room for a pigeon coop and, of course, all the flowers and plants.
The class also trained Khalifa and his family so they could properly care for the garden moving forward. Now, the class is working on creating a training manual illustrated with cartoons so the model can be easily replicated by locals.
This course promoted a new type of experiential learning at AUC, giving students hands-on exposure to the planning, design, implementation and assessment stages of a community development project.
"It was astonishing to watch how underprivileged communities strive for better lives. Children were so eager to learn about the process. They put so much effort in the implementation phase, and they worked so hard to make this garden come to life," Salma Khalil, a student in the class, stated. "The rooftop owners helped with all the resources they could get their hands on and showed passion and enthusiasm for the rooftop garden during both the implementation and training phases."
Indeed, many members of the project called Khalifa "the rooftop champion," referencing his willingness to work with the class and promote the project within his community.
As Khalil explained, community ownership of the project is important, so it can be cared for and replicated. "We learned that sustainability is an ongoing process and does not have a one-formula-fits-all. In order to make a project sustainable, it has to satisfy all stakeholders' needs and be implemented in a safe environment with good quality material," she stated.
"The experience of dealing with the community was exceptional. You get to learn a lot from the locals," said Abdelkader.
Jaskolski was hoping students would get these takeaways from her class. "I believe that development initiatives have to be participatory in order to be sustainable. Unless you have buy-in from the community and are able to generate a feeling of ownership, projects will not be able to run successfully in the long term," she explained. 
Mariam Dawoud, the project manager, "enjoyed working on this project because it had an impact on the local community," she noted. "The rooftop garden made some changes in their daily routine and connected them to nature even if it's a small area. I hope the students learn that a small fingerprint can make a huge difference in someone's life."   
This class is just one example of how development projects can engage a community and create innovative solutions for challenges Cairo faces, including issues such as food security and urban development.
"The urban fabric of the capital is getting too dense with minimal green spaces. Also, informal settlements are growing rapidly over time. Rooftop gardening could be an effective solution for increasing the green element in our city," Abdelkader noted.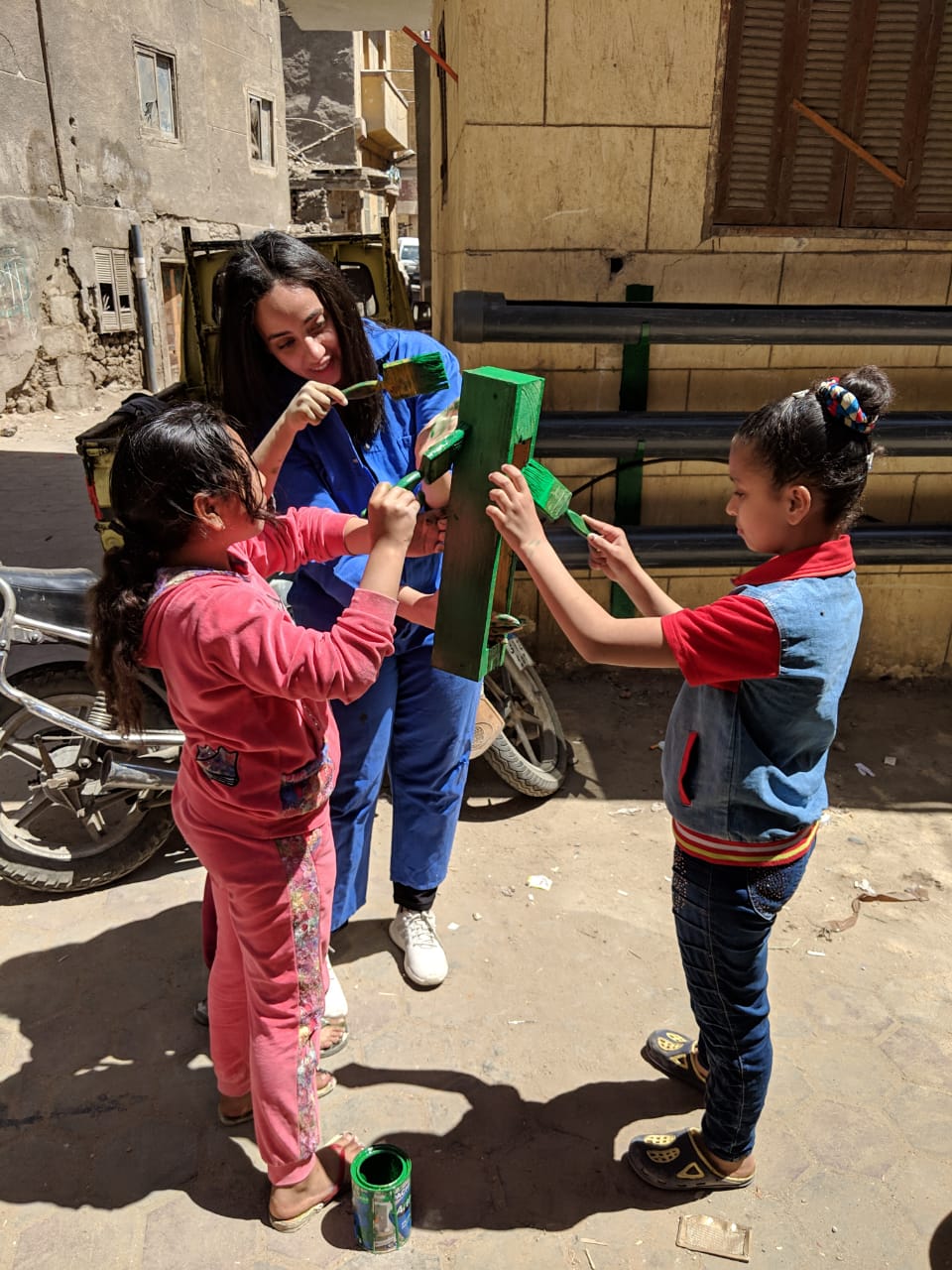 "I learned that a participatory design process is the best way for giving your users what they need and not what you think they need," said Mansour. "I can't wait to see how our designs flourish sustainably and stand the test of time."