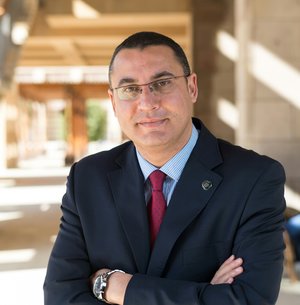 Nizar
Becheikh
Building
Abdul Latif Jameel Hall
Position
Associate Professor
Department
Department of Management
Profile
Brief Biography
Nizar Becheikh received a Bachelor's of Business Administration in International Business from Ecole Superieure de Commerce de Tunis (Tunisia). He earned an MBA in international management and a PhD in business administration from Laval University (Canada). During his time in Canada, Becheikh worked closely, as part of R&D and consulting projects, with managers and policy makers from several Canadian SMEs, public organizations and governmental agencies intended to foster innovation and regional economic development in Canada. He published his research in top-tier academic journals and prestigious conferences such as Technovation, the Canadian Journal of Administrative Sciences, the Academy of Management meeting, the International Association for management of Technology (IAMOT) and the Danish Research Unit for Industrial Dynamics (DRUID).
Upon joining The American University in Cairo in 2011, Becheikh served as advisor to the MBA programs' director. In 2012, he was appointed associate chair of the Department of Management and since 2013 he has been acting as associate dean for Graduate Studies and Research. During his tenure as associate dean, Becheikh reshaped the research environment in the School of Business by adopting a proactive research strategy that led to a significant increase in both the volume and the quality of publications. The external research funding has also tremendously increased to cross in 2016, for the first time in the history of the School of Business, the level of $1 million. Becheikh has also contributed to several major initiatives such as the AACSB, EQUIS, and AMBA accreditations and the development of the School of Business strategic plan 2015-2019.
Becheikh teaches strategy, innovation management and entrepreneurship at the undergraduate and the executive MBA programs. His current research interests focus on (open) innovation in manufacturing and service sectors, (open) innovation paths and best practices in LDCs, entrepreneurship in developing countries and managing growth and innovation in SMEs.
Book Chapter

"Virtual Organization: Attributes and Challenges," in Management of Technology: The Key to Prosperity in the Third Millennium, (Khalil, T. M., Lefebvre, L. A. Mason, R. M. (Eds.)) Ed(s), Pergamon, Elsevier Science Ltd., 31-43

Articles

"The Impact of Knowledge Acquisition and Absorptive Capacity on Technological Innovations in Developing Countries: Evidence from Egyptian SMEs," Journal of African Business,14(3),1-14
"Evidence on Innovation Failures in Manufacturing Industries," International Journal of Business Strategy,12(2),16-35
"Evidence on Innovation Failures in Manufacturing Industries," International Journal of Business Strategy
"How to Improve Knowledge Transfer Strategies and Practices in Education? Answers from a Systematic Literature Review," Research in Higher Education Journal,2010-05-01,7(May 2010)
"Towards a Conceptualization of Innovation in the Public Sector (in French)," Economies et Sociétés,2009-04-01,4579-614
"Learning and Novelty of Innovation in Established Manufacturing SMEs," Technovation - International Journal of Technical Innovation and Entrepreneurship,2008-01-01,28(7),450-463
"An Integrated Approach to the Control of Virtual Organizations (in French)," Revue Algerienne de Gestion,2008-01-01,310-34
"Strategic Determinants of Technological Innovation in Manufacturing SMEs (in French)," Canadian Journal of Administrative Sciences,2006-01-01,23(4),275-300
"Lessons from Innovation Empirical Studies in the Manufacturing Sector: A Systematic Review of the Literature from 1993-2003," Technovation -International Journal of Technical Innovation and Entrepreneurship,2006-05-01,26(5/6),644-664
"The Virtual Organization: a Future in the Making (in French)," Revue Française de Gestion,2005-01-01,31(154),93-110

Research and Teaching Material

Development of a Knowledge Transfer Tool for Managers in the Education Field: The Systematic Review's Report., Quebec: CHSRF/CIHR Chair on Knowledge Transfer and Innovation, Department of Management, Faculty of Business Administration, Laval University
Innovations in Public Services: The Systematic Review's Report, Quebec: CHSRF/CIHR Chair on Knowledge Transfer and Innovation, Department of Management, Faculty of Business Administration, Laval University
Technological and innovation assessment of the Côte-Nord region, Quebec: CHSRF/CIHR Chair on Knowledge Transfer and Innovation, Department of Management, Faculty of Business Administration, Laval University
Technological and innovation assessment of the Bas-Saint-Laurent region, Quebec: CHSRF/CIHR Chair on Knowledge Transfer and Innovation, Department of Management, Faculty of Business Administration, Laval University
Towards a Better Understanding of Virtual Organizations, Quebec: School of Business, Laval University

Technical Writing

A Knowledge Transfer Tool for Managers in the Education Field, Quebec: CHSRF/CIHR Chair on Knowledge Transfer and Innovation, Department of Management, Faculty of Business Administration, Laval University
Innovations in Public Services: A Dashboard for the Follow-up of Innovation and its Determinants, Quebec: CHSRF/CIHR Chair on Knowledge Transfer and Innovation, Department of Management, Faculty of Business Administration, Laval University
Knowledge Transfer in Education: A Best-practices' Guide for Managers, Quebec: CHSRF/CIHR Chair on Knowledge Transfer and Innovation, Department of Management, Faculty of Business Administration, Laval University

Monograph

"Promoting Open Innovation in LDCs: Evidence from Egyptian SMEs," 22nd International Conference on Management of Technology, IAMOT 2013 on Science, Technology and Innovation in the Emerging Market Economies
"Evidence on Innovation Failures in Manufacturing Industries," IABE-2012 Venice-Summer Conference
"How do Egyptian Service SMEs Innovate?," 2012 AUC Research Conference on Entrepreneurship and Innovation: Shaping the Future of Egypt
"How to Promote Open Innovation in Egypt? Answers from the Egyptian National Innovation Survey," 2012 AUC Research Conference on Entrepreneurship and Innovation: Shaping the Future of Egypt
"Determinants of Technological Innovations in Egyptian Service SMEs," 21th International Conference on Management of Technology, IAMOT 2012 on Managing Technology-Service Convergences in the Post-Industrialized Society
"Technological Innovations in Developing Countries: Evidence from Egyptian Manufacturing SMEs," 20th International Conference on Management of Technology, IAMOT 2011 on Technology and the Global Challenges: Security, Energy, Water and the Environment
Development of teaching materials for and delivery of the course BSAD 606 – Competitive Strategy, Cairo: Executive MBA, Nile University
Development of teaching materials for and delivery of the course MGMT 609 – Entrepreneurship, Cairo: Executive MBA, Nile University
"Evidence on Innovation Failures in Manufacturing Firms," 4th European Conference on Management of Technology EuroMOT 2009 on "Closing the Innovation Gap: Theory and Practice"
"Evidence on Innovation Failures in Manufacturing Firms," 10th International CINet Conference on "Enhancing the Innovation Environment"
"How to Improve Knowledge Transfer Strategies and Practices in Education? Answers From a Systematic Literature Review," 7th Annual Hawaii International Conference on Education
Development of teaching materials for and delivery of the course MGMT 601 – Organizational Behavior (1 module), Cairo: Executive MBA, Nile University
"Absorptive Capacity and Innovation Performance of Low and Medium Technology Manufacturing SMEs in a Region of Canada: a Cross-sectional Study," 9th International CINet (Continuous Innovation Network) conference on Radical Challenges on Innovation Management
"Exploring Innovation Failures in Manufacturing Industries," DRUID (Danish Research Unit for Industrial Dynamics) 25th Celebration Conference 2008 on Entrepreneurship and Innovation
"Towards an Effective Control of Virtual Networks (in French)," XVIIe International Conference of Strategic Management AIMS 2008
"What Factors Lead to Innovation Failure? Evidence from a Large Dataset," 17th International Conference on Management of Technology, IAMOT 2008 on Creating and Managing a Knowledge Economy
"Conceptualization and Determinants of Innovation in the Public Sector: a Systematic Review," 14th RESER International Conference on Service Competitiveness and Cohesion - Balancing Dynamics in the Knowledge Society
"Managing the Protection of Inventions and Technological Innovations in Canadian Manufacturing SMEs," DRUID (Danish Research Unit for Industrial Dynamics) summer conference on Knowledge, Innovation and Competitiveness: Dynamics of Firms, Networks, Regions and Institutions
"Technological Innovations in the Manufacturing Sector: A Systematic Review of Empirical Studies," Annual meeting of the Academy of Management: A New Vision of Management In The 21st Century, Session: Technology and Innovation Management
"Conceptualization of a Control System for Virtual Networks (in French)," ASAC conference (Administrative Sciences Association of Canada)
"Radical Innovations in Traditional Manufacturing Industries," DRUID (Danish Research Unit for Industrial Dynamics) summer conference on Industrial Dynamics, Innovation and Development
"The Control of International Joint-ventures: State of the Art and Perspectives (in French)," Xth AIMS conference (International Association of Strategic Management)
" Technology and Change within Hierarchic Organizations," ASAC-IFSAM Congress
"Towards a Better Understanding of Virtual Organizations," IXth AIMS conference (International Association of Strategic Management).
"Virtual Organization: Attributes and Challenges," IXth IAMOT International conference (International Association for Management of Technology)

PhD, 2004, Laval University, Quebec (Canada)
MBA, 1997, Laval University, Quebec (Canada)
BBA, 1995, École Supérieure de Commerce , Tunis (Tunisia)

Strategic Management
Management Fundamentals
Business Planning and Strategy
Entrepreneur and Small Business Management
Strategic Management of Innovation
Strategic Management of Innovation
Research Interest
Innovation in manufacturing and services
Innovation paths and practices in LDCs
Managing growth and innovation in SMEs
Entrepreneurship in developing countries
Strategic management in SMEs