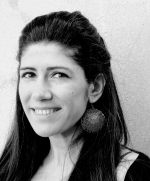 Ghalia
Elsrakbi
Position
Associate Professor of Practice Director of the Graphic Design Program
Department
Department of the Arts
Profile
Brief Biography
Ghalia Elsrakbi is a design professional, researcher, and design educator. After obtaining her a Master's degree in Design at the Sandberg Institute, Gerrit Rietveld Academie in Amsterdam, she joined the post-academic interdisciplinary program " Design Negation" at Jan van Eyck Academy in Maastricht where her research was dedicated to the investigation of populist politics from the perspective of design and theory.
In 2009, she co-founded with South African designer Lauren Alexander Foundland Collective, an art, and design practice based in Amsterdam. Foundland's projects explore under-represented political and historical narratives by working with archives via art, design, writing, educational formats, video making, and storytelling. It aims to critically reflect upon what it means to produce politically engaged work from the position of non-Western artists working between Europe and the Middle East.
She is a co-founder and the Artistic Director of Cairotronica, Electronic and New Media arts festival in Cairo, a jury member for the Hybrid Art category for Prix Ars Electronica in Linz, Austria. Ghalia  has lectured and exhibited widely in Europe, the United States and the Middle East including Centre Pompidou (FR), The Rotterdam International Film Festival(NL), ISPC (NYC), Ars Electronica, Linz (AT), IMPAKT Festival (NL), London Art Fair (UK), Beursschouwburg, Brussels, Fikra Design Biennial (UAE), Porto Design Biennial (PT), Amman Design week (JOR)
Elsrakbi was awarded the Smithsonian Artist Research Fellowship in 2015/2016 for research in the Faris and Yamna Naff Arab American Collection at the Smithsonian's National Museum of American History in Washington DC, and was shortlisted for the Dutch Prix de Rome prize in 2015 as well as the Dutch Design Awards in 2016.
Selected Topic in Information Design

Selected Topic in Information Design ( Mapping Citizenship ) Co-taught with

Yasmine 

Moataz Ahmed

( Department of Sociology, Anthropology, Psychology, and Egyptology

PORTO DESIGN BIENNIAL 2019: Millennials — New Millennium Design: "Real-time History" Group Show, Galeria Municipal, Porto.

AMMAN DESIGN WEEK 2019: Possibilities

"

Ground plan Drawings" Group Show, Hangar exhibition curated by architect Noura Al Sayeh-Holtrop, Amman Jordan. More info
FIKRA DESIGN BIENNIAL 2018: Department of Flying Saucers, Group Show, Sharjah, UAE
IMPAKT FESTIVAL 2018: Algorithmic Superstructures,

"

Real-time History", 

Group Show, Utrecht, The Netherlands

WERKLEITZ FESTIVAL: " The New World, Episode One " Group Show, Halle (Saale), Germany
ARS ELECTRONICA 2018: Error in Progress,

"

Real-time History", Group Show, POSTCITY, Bunker, Linz, Austria
PEER-TO-PEER: Collective Practices In Contemporary Art, Group Show, Muzeum Sztuki for Modern Art, Łódz, Poland
ROTTERDAM INTERNATIONAL FILM FESTIVAL:  The Bight Future Shorts screening program, Border Crossings at IFFR. Screaming of " The New World, Episode One".
RESOLUTION IS NOT THE POINT Group Show, Photo50 London Art Fair, London, UK. More info
COSMOPOLIS #1:  Group Show, " The New World, Episode One" project premier, Centre Pompidou, Paris
MY FUTURE IS IN MY PAST AND MY PAST IS IN MY PRESENT, Group Show, Arti et Amicitiae, Amsterdam.
A BASEMENT IN THE ATTIC, Group Show, Harlan Levey Projects Gallery, Brussels, Belgium
STATE OF EXCEPTION GAMES: Performance at How Assemblies Matter? Symposium in Athens, as part of the Athens Biennial 2016.
BUREAU FOR PUBLIC INSECURITIES: Group Show, Sao Paulo Art Biennial, Sao Paulo, Brazil. The show is Curated by Avenir Institute.
VOICES OUTSIDE THE ECHO CHAMBER: Myth, Fact and the Framing of Migration, Group Show,

"

Framer Framed" Platform and Exhibition space for Transcultural Contemporary Art and Critical Theory & Practice, Amsterdam, the Netherlands
OLIA LIALINA - 20 YEARS OF MY BOYFRIEND CAME BACK FROM THE WAR, Group show, MU, Eindhoven, The Netherlands

MA.(DES) Graphic Design and Visual Communication,

Sandberg Institute, Gerrit Rietveld Academy, Amsterdam,The Netherland, 2008

BA.

Graphic Design and Visual Communication, ArtEZ Academy for visual Art,

Arnhem, The Netherland, 2006
Research Interest
Data Visualization and Information Design

Editorial Design and Digital Publishing

Design Education and Curriculum Development

Cross-Cultural Design

Speculative Design