Kim Jackson, Associate Vice President for Student Life
Kim Jackson, Associate Vice President for Student Life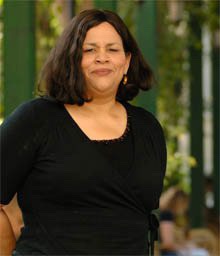 Currently serving as the associate vice president for student life at AUC, Kim Jackson has enjoyed a 30+ year career in higher education. In this role, Jackson leads the office of student life, the office of residential life, and new student orientation. Jackson returned to her alma mater in August 2017 to serve as the associate vice president for advancement overseeing the development, donor relations, alumni engagement, and the Annual Fund, advancement services, and database management. Her focus was on increasing alumni participation and giving, building an efficient team of professionals to drive and support the University's fundraising efforts, assisting in the execution of centennial Year-long programs and activities, and developing tools to enhance the AUC alumni experience.
Jackson, an alumna of the American University in Cairo, returned to AUC in 2007 to accept the position of associate vice president for International Student Affairs. Overseeing the international student services office and student housing, Jackson introduced coordinated services and streamlined processes to enhance programs and activities to AUC's growing and increasingly diverse international student population. The following year, Jackson received a title change to associate vice president for student life-expanding her scope to include the LEAD Program, Counseling Center, Student Conduct, Disability Services, Mentoring Unit, and Student Development. Jackson established the vision and direction for the student life team through an inclusive process of planning, professional development and recognition, and identifying trends and challenges to implement strategies to meet the needs of today's ever-changing college student.
Jackson has over 25 years of experience in student affairs and international education serving in some of the most prestigious institutions in the United States. She began her career at The Pennsylvania State University in University College, Pennsylvania as a Residence Hall Director overseeing the co-curricular activities and conduct of 1,000 first-year students. At Johns Hopkins University Km directed a living-learning center at the famous Peabody Music Conservatory and acted as the international student advisor to talented artists from around the globe. At Emory University, Jackson became a seasoned professional in international education as the advisor to international post-doctoral fellows, physicians and researchers at the Medical School, Humphrey Fellows, and all international scientists and their families. Jackson established programs, developed publications, and planned activities for accompanying spouses and families, and filed all immigration petitions to maintain legal status in the U.S. At Albright College in Pennsylvania, Jackson directed the office of multicultural affairs and served as acting dean of students while restructuring student affairs and its cornerstone programs and services. Moving on to the University of California, San Diego, Jackson directed the office of international student and scholar programs of the International center overseeing all cross-cultural and co-curricular programs and immigration status for over 6,000 students and scholars.
An active member of NAFSA: Association of International Educators and NASPA, a national association of student personnel professionals, Jackson holds a BA in Middle East Studies from AUC and a master's in counseling from Penn State. Jackson loves dogs, NPR, U.S. politics, and most genres of music. She lives in New Cairo faculty housing with her labrador, Ripley. Her son, Che, is a junior at Kansas State University studying aviation.