AUC Logos
AUC Logos
The AUC logo features intersecting pentagons as a key component of its design. The historic pentagons represent a remarkable point in AUC's history when President Christopher Thoron and illustrator Naim Fahmi introduced AUC's first emblem, which contained the pentagons that shaped our first logo in 1970.
When AUC celebrated its 100th anniversary, a centennial logo was created to be used on all celebration print and digital material. The design featured the intersecting pentagons in the heart of the number 100, signifying motion that goes beyond the first century of our history. These thoughts of motion reflect the very reason why Thoron and Fahmi first chose the pentagons.
---
General Guidelines
Modifications to the AUC logo are not permitted.

The primary AUC logo is the blue two-line logo.

Usage of the one-line logo is very limited to certain publications.

The AUC logo may appear in its specified color or in black or white. Other colors may not be used.

Rearranging the various elements of the AUC logo is not allowed.

The alignment of any element of the AUC logo may not be changed.

The AUC logo may not be tilted or rotated. It should be in the same direction as the text, horizontal.

Usage of the 1919 seal is restricted.

Using the AUC star alone is only permitted in very limited situations. If needed, share a draft version of the design using the star alone for the approval of the Office of Marketing Communication and Public Affairs prior to execution.
---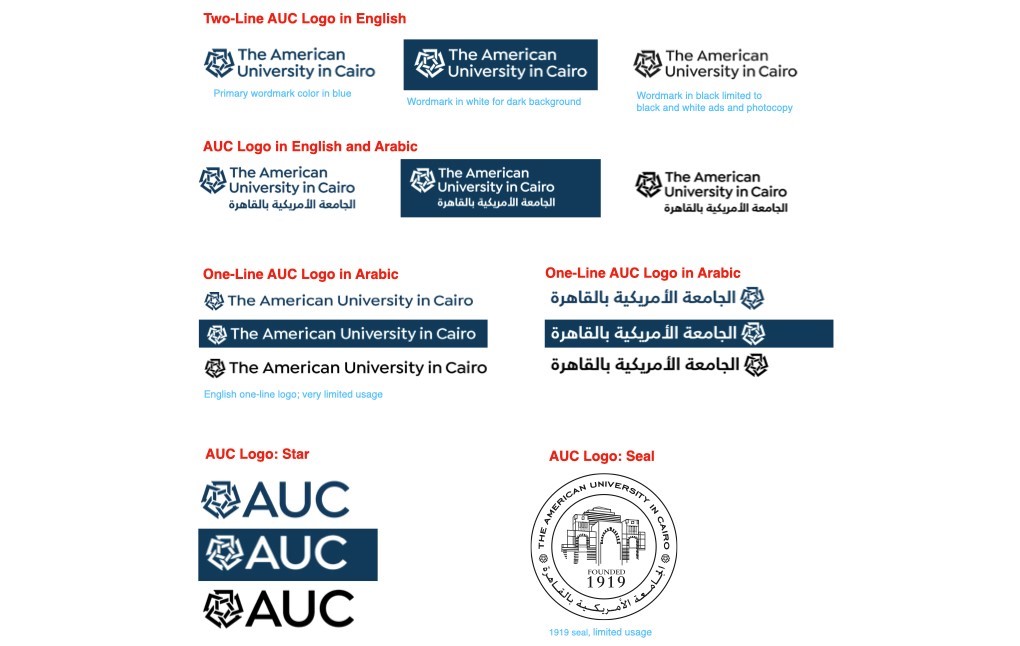 ---
Wordmark: AUC Logo with Signatures
Logos are only permitted for schools and some nonacademic, revenue-generating centers. Any permissible logos must either be designed or approved by the Office of Marketing Communication and Public Affairs. Any logo modifications are done through the Office Marketing Communication and Public Affairs.
---