This website provides the latest information about AUC's actions to respond to the spread of COVID-19, also called novel Coronavirus. The University is actively monitoring the local and global health situation and is taking precautionary measures in an effort to help limit the spread of infection.
Mandatory Online Health Self-Check (For Those Who Are Coming to Campus)
Effective September 1, all members of the community must perform a health self-check and answer a 30-second questionnaire on each day they plan to come to campus (New Cairo and Tahrir Square). You will not be admitted from the gate unless you present the results of the self-check to the security at the gates.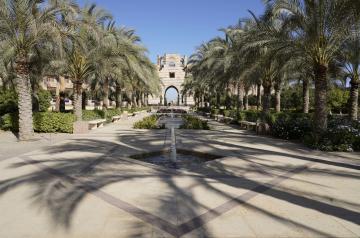 Messages to the Community
January 16, 2021, Update on Spring 2021 Teaching Modalities
As you know, our plans for Spring 2021 include a mix of partial face-to-face classes and online classes. Due to the ongoing spread of COVID-19 cases in Egypt and within the AUC Community, the first month of the Spring semester will be fully online. 
January 11, 2021, 

Reminder: COVID-19 Safety Measures
With the rise of COVID-19 infection rates around the world and in Egypt, we must remain diligent in adhering to all safety precautions recommended by local and international health authorities. Every member of our community must do his or her part. 
January 1, 2021, Winter 2021 Fully Online
The Government of Egypt has recently announced that all schools and universities will be fully online in January. In recognition of the recent government announcement and in order to help prevent the further spread of COVID-19, AUC will be offering our Winter 2021 term fully online. The Winter 2021 term begins on Sunday, January 3 and continues through Thursday, January 21.