Mr. Philip F. ("Flip") Maritz
Mr. Philip F. ("Flip") Maritz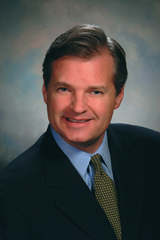 Co-Founder and President
Maritz, Wolff & Co.
United States
Mr. Philip F. ("Flip") Maritz (elected in 2011) received a BA from Princeton University in 1983, majoring in Art and Archaeology, and an MBA from Stanford University Graduate School of Business in 1987. Mr. Maritz's work experience includes periods and positions with AT&T in San Francisco; real estate finance with Morgan Stanley & Co. in New York; and several years with Spieker Properties, a San Francisco/Silicon Valley real estate development and investment company. 
In 1992, Mr. Maritz and Lewis N. Wolff founded Maritz, Wolff & Co., a private lodging investment fund headquartered in St. Louis. Under Mr. Maritz's direction Maritz, Wolff has made investments in a luxury hotel, resort and manage assets in the US, Canada, Mexico, the West Indies, the UK, Switzerland, the Middle East, Japan, and Australia with aggregate gross market values of nearly $3 billion. The properties operated under Four Seasons, Ritz-Carlton, Rosewood, Fairmont, and Park Hyatt brand names. Besides, Maritz Wolff acquired (in partnership with the Caroline Hunt family of Dallas, Prince Alwaleed bin Talal of Saudi Arabia, and Canadian Pacific Hotels, Ltd., respectively) Rosewood Hotels & Resorts and Fairmont Hotels & Resorts, Inc. Mr. Maritz served/serves on the board of Rosewood Hotels and Dolce Hotels and is also a corporate director of Asbury Automotive Group, a $5 billion sales NYSE-listed automobile retailer. 
In 2006, Mr. Maritz rejoined his former partners at Spieker Properties (since sold) to cosponsor a real estate investment fund with $2 billion of assets under management. Mr. Maritz has served on numerous not-for-profit boards, including the St. Louis chapter of The Salvation Army, The Saint Louis Art Museum, The Contemporary Art Museum St. Louis, and the Stanford's Management Board Business School. He currently serves on the Advisory Council of the Princeton University Art Museum. He is a Visiting Committee for Photography at the Metropolitan Museum of Art in New York City.