Mrs. Hosna Mohamed Rachid
Mrs. Hosna Mohamed Rachid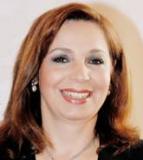 Chairperson
Rachid Masheq Group, Unilever Mashreq
United Kingdom
Mrs. Hosna Mohamed Rachid (elected in 2010) is Chairperson of Rachid Mashreq Group and Honorary Consul of Mexico in Alexandria. She heads a leading fast-moving consumer goods group in the Middle East region.  The group includes Unilever Mashreq, Dream S.A.E, and Mashreq for Commercial Investment.  She is also the President of Mohamed Rachid Foundation for Cultural and Social Development, a family-funded association that focuses on the social and educational development of people in 27 rural villages and the cultural development of the young generation in the city. 
Mrs. Rachid also serves as a board member of various organizations, including the Alexandria Development Center, which helps bring back Alexandria on the map of investors not only commercially but also culturally, the Magdy Yacoub Foundation. She is one of the founders of the "I, the Egyptian" Foundation, which tackles and resolves street children's problems.  Further on the cultural side, among the various cultural organizations, Mrs. Rachid presides over ECUME (Echanges Culturels en Méditerranée), which enhances the cultural exchange in the Mediterranean region, and she is a board member of the Alexandria Opera House and the Faculty of Fine Arts at the Alexandria University. 
On the health side, she is a big supporter and board member of the Children's Cancer Hospital "Ayadi El Moustaqbal," She supports many other health centers such as the Mohamed Rachid Cancer Center and the Children's Dentistry Center, both at the Alexandria University. On the civil and commercial side, Mrs. Rachid is active in various associations; most importantly, she is the president of the Confederation of Egyptian European Business Associations Alexandria (CEEBA), a board member of the French Chamber of Commerce, and also a Member of the World Economic Forum and the Arab International Women's Forum. She has been decorated for her services by France with the 'La Legion d'Honneur, Garde de Chevalier,' by Belgium with the Order of the Crown rank Officer and Mexico with the Order of Aztec Eagle with the rank Insignia, which is the highest presidential award in Mexico. Mrs. Rachid is a graduate of the Faculty of Economics, Alexandria University, and the Deutsche Schule der Borromäerinnen in Alexandria.