Dr. Atef Eltoukhy '74
Dr. Atef Eltoukhy '74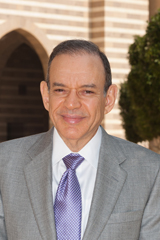 Chairman
Aurum Capital Management
United States
Elected to the board in 2012, Dr. Atef Eltoukhy is the chairman of Aurum Capital Management, a family office in Woodside, California. Formerly, he was a professor at the University of Southern California in Los Angeles, a scientist at IBM, and an entrepreneur in Silicon Valley. He co-founded two companies in the digital storage industry and took them public.
Eltoukhy authored many patents and publications in semiconductor and magnetic thin-film technology. In the early 1990s, he launched a new career in investment management, co-founding two registered entities in San Francisco: a broker-dealer and an investment adviser. He holds a PhD from the University of Illinois at Urbana- Champaign, where he received the Distinguished Merit Award for alumni in 2015.
Eltoukhy received his master's and bachelor's degrees from Cairo University and was a graduate student and an instructor at AUC's Department of Material Science in the 1970s. His current philanthropic activities under the Eltoukhy Family Foundation include building a school in Sharqiya, Egypt, and sponsoring endowed fellowships for the benefit of Egyptian and Middle Eastern students at Stanford University and the University of California, Berkeley. Besides, the Eltoukhy family established the Atef and Fofa Eltoukhy Family Endowed Scholarship at AUC to benefit talented and deserving Egyptian students.