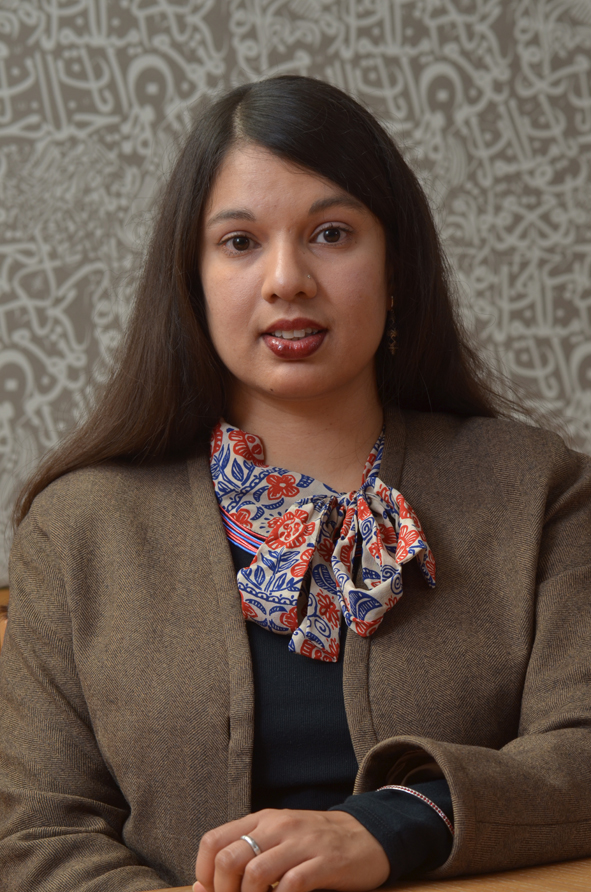 Usha
Natarajan
Position
Associate Professor
Department
Department of Law
Profile
Brief Biography
Usha Natarajan is an associate professor in the Department of Law and associate director of the Center for Migration and Refugee Studies. Her research and publications are interdisciplinary, utilizing postcolonial and third world approaches to international law. in order to provide an interrelated understanding of the relationship between international law and issues of development, migration, environment and conflict. In 2016, Natarajan's work on pioneering new approaches to law and the environment was recognized by an award from the International Union for Conservation of Nature Academy of Environmental Law, the leading global institution in her field. In 2015, she led the convening of the Third World Approaches to International Law Conference at AUC. Natarajan currently leads various international collaborative research projects on law and the environment, refugee entitlements in Egypt and statelessness in the Arab region. Prior to joining AUC in 2010, she worked with various international organizations, including UNDP, UNESCO and the World Bank on law reform initiatives in Asia and the Pacific.
Education
Doctor of Philosophy (PhD) in international law, Australian National University, 2009.
Master of Arts (MA) in international law, United Nations University for Peace, 2003.
Bachelor of Laws (LLB), Monash University, 2000.
Bachelor of Arts (BA), Monash University, 2000.
Teaching
Law and Development
International Refugee Law
Migration in International Law
Migration and Development
International Law, Environment and Development
International Law
International Law in the Middle East
Imperialism and International Law
Selected Contributions
Articles
'Conspiring in Cairo and Canada: Placing TWAIL Scholarship and Praxis' (with S Xavier, A Bhatia & J Reynolds) (2016) 33(3) Windsor Yearbook of Access to Justice v.
'Introduction – TWAIL: On Praxis and the Intellectual' (with S Xavier, A Bhatia & J Reynolds) (2016) 31(11) Third World Quarterly 1946-1956.
'Introduction to the Locating Nature Symposium' (with K Khoday, V Lamb, T McCreary, K Mickelson, and I Porras) (2014) 27 Leiden Journal of International Law 573.
'Locating Nature: Making and Unmaking International Law' (with K Khoday) (2014) 27 Leiden Journal of International Law 573.
'(Post)Revolutionary Interlinkages: Labour, Environment and Accumulation' (with L Eslava and R Parfitt) (2013) 4 Transnational Legal Theory 108.
'TWAIL & the Environment: The State of Nature, The Nature of the State and the Arab Spring' (2012) 14 Oregon Review of International Law 177.
'Fairness and International Environmental Law from Below: Social Movements and Legal Transformation in India' (with K Khoday) (2012) 25 Leiden Journal of International Law 415.
'Creating and Recreating Iraq: Legacies of the Mandate System for Contemporary Understandings of Third World Sovereignty' (2011) 24 Leiden Journal of International Law 799.
Book Chapters
'Reflections on Rhetoric and Rage: Bandung and Environmental Injustice' (with K Mickelson) in L Eslava, M Fakhri & V Nesiah, Bandung, Global History and International Law: Critical Pasts and Pending Futures (CUP forthcoming 2017).
'TWAIL and the Environment' in Andreas Philippopoulos-Mihalopoulos & Victoria Brooks (eds), Handbook of Research Methods in Environmental Law (Edward Elgar forthcoming 2017).
'Accounting for the Absence of Rule of Law: History, Culture and Causality' in H Charlesworth & J Farrall (eds), Strengthening the Rule of Law through the UN Security Council (Routledge 2016).
'International Environmental Law' in Rom Bhandari (ed), International Law and Africa Course (Think Africa Press 2012) Ch 8.
'Democratization and Constitutional Reform in Egypt and Indonesia: The Role of the Military' (with J Maswood) in B Korany & R El-Mahdi (eds), The Arab Spring: Egypt in Revolution and Beyond (AUC Press 2012).
Edited Volumes
TWAIL: On Praxis and the Intellectual (with S Xavier, A Bhatia & J Reynolds) (Routledge forthcoming 2018).
Commentaries, Blogs, and Media