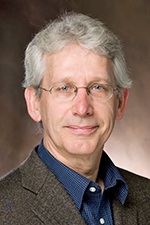 Stephen
Nimis
Department
Department of English and Comparative Literature
Profile
Brief Biography
Stephen Nimis returned in 2014 as professor of the Department of English and Comparative Literature after an 11-year hiatus. He is an emeritus professor of classics at Miami University, where he taught for over 30 years. His research interests are in the semiotics of major narrative forms. He has published a book on the epic tradition and many articles on the ancient novel. In addition, he has published a number of editions and translations of Greek and Latin works, most recently producing a series of intermediate readers of Greek and Latin literature.
Selected Publications
"The Novel," in Oxford Handbook of Hellenic Studies, ed. G. Boys-Stones, B. Graziosi and P. Vasunia.  Oxford University Press, 2009.
"Cite and Sound: The Prosaics of Quotation in the Ancient Novel," in ed. M.Paschalis, Readers and Writers in the Ancient Novel (Barkhuis, 2009), 79-90.
"WANTED:  Languages: Dead or Alive," (with Sara Nimis) ALIF 29 (2009), 149-171.
John Ray's Methodus Plantarum, tr. S. Nimis, K. Tschantz, M. Vincent. Ray Society: London, 2016.
"Perspective and Perception: The Limits of Narratology in the Ancient Novel," in Proceedings of the International Conference on the Ancient Novel. Vol 11 (Walter de Gruyter, forthcoming).
"Theban Autochthony and Athenian Ideology in the Phoenissae of Euripides," Mediterranean Studies (forthcoming).
With a former Miami student, he is also the editor of a series of intermediate readers in Greek and Latin, available at faenumpublishing.com, of which the following are representative:
Lucian, A True Story (2011)
Plutarch, Dialogue on Love (2012)
Hippocrates, Airs, Waters, Places and the Hippocratic Oath (2013)
Galen, Three Treaties (2014), 
Apuleius, The Story Cupid and Psyche (2015)
Lucian, Dialogues of the Courtesans (2016)
Aesop's Fables: The Elegaic Romulus (2016)
Pripea: Songs for a Phallic God (2017)
The Gospel of John: Greek and Latin on Facing Pages (2017)