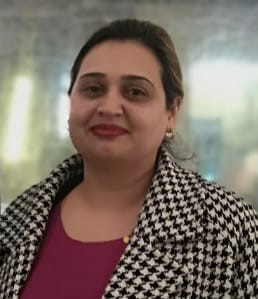 Sonia
Zulfiqar
Department
Department of Chemistry
Profile
Brief Biography
Sonia Zulfiqar is a professor of chemistry at The American University in Cairo (AUC). She joined AUC as an associate professor in 2017 and was promoted to the rank of full professor in 2021. She earned her PhD in the field of polymer/materials chemistry. She has vast teaching and research experience at renowned international universities/institutes such as:
Max Planck Institute for Polymer Research (Germany)
University of Delaware (United States)
Korea Advanced Institute of Science and Technology (South Korea)
University of Nizwa (Oman)
Bulgarian Academy of Sciences (Bulgaria)
King Abdullah University of Science and Technology (Kingdom of Saudi Arabia)
POLYMAT, University of Basque Country (Spain)
Quaid-i-Azam University, CIIT and NUST (Pakistan)
Zulfiqar served as an affiliate member of the International Union of Pure and Applied Chemistry in the United States. She has received many prizes and medals in her career. In recognition of her outstanding contribution in the field of chemistry, she was conferred the Civil Award "Tamgha-e-Imtiaz" by the President of Pakistan in 2012. She has also been awarded the prestigious and highly competitive Marie-Curie grant from the European Commission under the 7th Framework Programme (FP7). Zulfiqar was nominated by the European Commission as a Marie Curie Fellow and selected by the Council for Lindau Nobel Laureate Meetings to participate as a visiting scientist to the 65th Lindau Nobel Laureate Meeting, 2015, Germany.
Zulfiqar, S., Shabbir, S., Ishaq, M., Shaukat, M. S. and Sarwar, M.I., 'Metal Distribution in Pakistani and Foreign Brands of Cigarette Tobacco,' Bulletin of Environmental Contamination and Toxicology, 77 (5), 671-678, 2006.

Zulfiqar, S., Shabbir, S., Ishaq, M., Shaukat, M. S. and Sarwar, M.I., 'Metal Distribution in Pakistani and Foreign Brands of Cigarette Ash,' Bulletin of Environmental Contamination and Toxicology, 77 (5), 679-686, 2006.

Zulfiqar, S., Ahmad, Z., Ishaq, M., Saeed, S. and Sarwar, M.I., 'Thermal and Mechanical Properties of SEBS-g-MA Based Inorganic Composite Materials', Journal of Materials Science, 42 (1), 93-100, 2007.

Kausar, A., Zulfiqar, S., Shabbir, S., Ishaq, M. and Sarwar, M.I., 'Mechanical Properties of Functionalized SEBS Based Inorganic Hybrid Materials', Polymer Bulletin, 59(4), 457-468, 2007.

Sarwar, M.I., Zulfiqar, S. and Ahmad, Z., 'Preparation and Properties of Polyamide-Titania Nanocomposites,' Journal of Sol-Gel Science and Technology, 44(1), 41-46, 2007.

Sarwar, M.I., Zulfiqar, S. and Ahmad, Z., 'Organic-Inorganic Nanocomposites Prepared from Fluoro-Aramid and Silica,' Colloid and Polymer Science, 285(15), 1733-1739, 2007.

Zulfiqar, S., Ahmad, Z. and Sarwar, M.I., 'Soluble Aromatic Polyamide Bearing Ether Linkages: Synthesis and Characterization,' Colloid and Polymer Science, 285(15), 1749-1754, 2007.

Sarwar, M.I., Zulfiqar, S. and Ahmad, Z., 'Polyamide-Silica Nanocomposites: Mechanical, Morphological and Thermomechanical Investigations,' Polymer International, 57(2), 292-296, 2008.

Sarwar, M.I., Zulfiqar, S. and Ahmad, Z., 'Poly (ether amide) and Silica Nanocomposites Derived from Sol-gel Process,' Journal of Sol-Gel Science and Technology, 45(1), 89-95, 2008.

Zulfiqar, S., Lieberwirth, I. and Sarwar, M.I., 'Soluble Aramid Containing Ether Linkages: Synthesis, Static and Dynamic Light Scattering Studies,' Chemical Physics, 344(1-2), 202-208, 2008.

Shabbir, S., Zulfiqar, S., Lieberwirth, I., Kausar, A. and Sarwar, M.I., 'Compatibilizing Effect of Functionalized Polystyrene Blends: A Study of Morphology, Thermal and Mechanical Properties,' Surface and Interface Analysis, 40(5), 906-913, 2008.

Shabbir, S., Zulfiqar, S., Ishaq, M. and Sarwar, M.I., 'Miscibility Studies of PVC/ Aramid Blends,' Colloid and Polymer Science, 286(6-7), 673-681, 2008.

Zulfiqar, S. and Sarwar, M.I., 'Mechanical and Thermal Behavior of Clay Reinforced Aramid Nanocomposite Materials' Scripta Materialia, 59(4), 436-439, 2008.

Zulfiqar, S., Lieberwirth, I., Ahmad, Z. and Sarwar, M.I., 'New Aramid Based Nanocomposites: Synthesis and Characterization,' Polymer Engineering and Science, 48(8), 1624-1633, 2008.

Zulfiqar, S., Ishaq, M. and Sarwar, M.I., 'Effect of Surface Modification of Montmorillonite on the Properties of Aromatic Polyamide /Clay Nanocomposites.', Surface and Interface Analysis, 40(8), 1195-1201, 2008.

Shabbir, S., Zulfiqar, S., Ahmad, Z. and Sarwar, M.I., 'In-situ Reactive Compatibilization of Aramid/ Polystyrene Blends using Amine Functionalized Polystyrene.', Polymer Engineering and Science, 48(9), 1793-1800, 2008

Zulfiqar, S., Ishaq, M., Ahmad, Z. and Sarwar, M.I., 'Synthesis, Static and Dynamic Light Scattering Studies of Soluble Aromatic Polyamide,' Polymers for Advanced Technologies, 19(9), 1250-1255, 2008.

Zulfiqar, S., Lieberwirth, I., Ahmad, Z. and Sarwar, M.I., 'Morphology, Mechanical and Thermal Properties of Aramid/Layered Silicate Nanocomposite Materials', Journal of Materials Research, 23(9), 2296-2304, 2008.

Zulfiqar, S., Lieberwirth, I., Ahmad, Z. and Sarwar, M.I., 'Influence of Oligomerically Modified Reactive Montmorillonite on Thermal and Mechanical Properties of Aromatic Polyamide/Clay Nanocomposites,' Acta Materialia, 56 (17), 4905- 4912, 2008.

Zulfiqar, S., Kausar, A., Rizwan, M. and Sarwar, M.I., 'Probing the Role of surface-treated Montmorillonite on the Properties of Semi-aromatic Polyamide/Clay Nanocomposites' Applied Surface Science, 255(5), Part 1, 2080-2086, 2008.

Zulfiqar, S., Ahmad, Z. and Sarwar, M.I., 'Preparation and Properties of Aramid / Layered Silicate Nanocomposites by Solution Intercalation Technique,' Polymers for Advanced Technologies, 19(12), 1720-1728, 2008.

Zulfiqar, S. and Sarwar, M.I., 'Effect of Thermally Stable Oligomerically Modified Clay on the Properties of Aramid Based Nanocomposite Materials.' Journal of Materials Research, 23(12), 3330-3338, 2008.

Zulfiqar, S. and Sarwar, M.I., 'Inclusion of Aramid Chains into the Layered Silicates through Solution Intercalation Route' Journal of Inclusion Phenomena and Macrocyclic Chemistry, 62(3-4), 353-361, 2008.

Sarwar, M.I., Zulfiqar, S. and Ahmad, Z., 'Properties of Polyamide-Zirconia Nanocomposites Prepared from Sol-gel Technique,' Polymer Composites, 30(1), 95-100, 2009.

Rafique, M., Zulfiqar, S., Yap, G. P.A., Shah, S. I. and Sarwar, M.I., 'Synthesis and Crystal Structure of 1, 3-Bis (p-nitrophenoxy) propane' Journal of Chemical Crystallography, 39(1), 83-86, 2009.

Zulfiqar, S. and Sarwar, M.I., 'Soluble Aromatic Polyamide Bearing Sulfone Linkages: Synthesis and Characterization,' High-Performance Polymers, 21(1), 3-15, 2009.

Zulfiqar, S., Shabbir, S., Ishaq, M. and Sarwar, M.I., 'Investigation of Nanostructure and Properties of Aromatic-Aliphatic Polyamide based Nanocomposites with Clay Additives' Journal of Applied Polymer Science, 112(5), 3141-3148, 2009.

Zulfiqar, S. and Sarwar, M.I., 'Synthesis and Characterization of Aromatic-Aliphatic Polyamide Nanocomposite Films Incorporating a Thermally Stable Organoclay' Nanoscale Research Letters, 4(5), 391-399, 2009.

Sarwar, M.I., Zulfiqar, S. and Ahmad, Z., 'Investigating the Property Profile of Polyamide-Alumina Nanocomposite Materials', Scripta Materialia, 60 (11), 988-991, 2009.

Zulfiqar, S., Rafique, M., Shaukat, M. S., Ishaq, M. and Sarwar, M.I., 'Influence of Clay Modification on the Properties of Aramid/Layered Silicate Nanocomposites,' Colloid and Polymer Science, 287(6), 715-723, 2009.

Zulfiqar, S., Ahmad, Z and Sarwar, M.I., 'Probing the Properties of Nanocomposites Synthesized from Aramid and Surface Modified Clay,' Australian Journal of Chemistry, 62(5), 441-447, 2009.

Zulfiqar, S. and Sarwar, M.I., 'Investigating the Structure-Property Relationship of Aromatic-Aliphatic Polyamide/ Layered Silicate Hybrid Films' Solid State Sciences, 11(7), 1246-1251, 2009

Zulfiqar, S., Ahmad, Z., Ishaq, M. and Sarwar, M.I., 'Aromatic-Aliphatic Polyamide/ Montmorillonite Clay Nanocomposite Materials: Synthesis, Nanostructure and Properties' Materials Science and Engineering A-Structural Materials Properties Microstructure and Processing, 525(1-2), 30-36, 2009.

Shabbir, S., Zulfiqar, S. Ahmad, Z and Sarwar, M.I., 'Synthesis and Properties of Hyperbranched Polyamide-Esters Derived from 1,3,5-tris(4'-hydroxyphenyl carbamoyl) benzene", Tetrahedron, 66(6), 1389-1398, 2010.

Shabbir, S., Zulfiqar, S. Ahmad, Z and Sarwar, M.I., 'Synthesis, Characterization, and Functionalization of thermally stable Hyperbranched Polyamide-Ethers Based on 6-hydroxy-2,4-bis(4′-nitro benzamide) Pyrimidine', Polymer Degradation and Stability, 95(4) 500-507, 2010.

Shabbir, S., Zulfiqar, S. Ahmad, Z. and Sarwar, M.I., 'Synthesis and characterization of hyperbranched aromatic polyester-imides with good thermal properties based on 1,3,5-tris(3',4'-carboxyphenyl)benzene trianhydride,' Polymer Degradation and Stability, 95(7), 1251-1259, 2010.

Yassitepe, E., Khalifa, Z., Jaffari, G. H., Chou, C-S., Zulfiqar, S., Sarwar, M. I., and Shah, S. I, 'A new route for the synthesis of CuIn0.5Ga0.5Se2 powder for solar cell applications' Powder Technology, 201(1), 27-31, 2010.

Shabbir, S., Zulfiqar, S. Ahmad, Z and Sarwar, M.I., 'Pyrimidine Based Carboxylic Acid-Terminated Aromatic and Semiaromatic Hyperbranched Polyamide-esters: Synthesis and Characterization", Tetrahedron, 66(35), 7204-7212, 2010.

Kausar, A., Zulfiqar, S., Ahmad, Z. and Sarwar, M.I., "Novel Processable and Heat Resistant Poly(phenylthiourea azomethine imide)s: Synthesis and characterization," Polymer Degradation and Stability, 95(9), 1826-1833, 2010.

Shabbir, S., Zulfiqar, S., Shah, S.I., Ahmad, Z. and Sarwar, M.I., 'Synthesis, morphology, and properties of self-assembled nanostructured aramid and polystyrene blends,' Journal of Physical Chemistry B, 114(41), 13241-13248, 2010.

Kausar, A., Zulfiqar, S., Ahmad, Z. and Sarwar, M.I., "Facile synthesis and properties of a new generation of soluble and thermally stable polyimides', Polymer Degradation and Stability, 95(12), 2603-2610, 2010.

Kausar, A., Zulfiqar, S., Ahmad, Z. and Sarwar, M.I., "Studies on novel thermally stable segmented polyurethanes based on thiourea-derivative diols', Polymer Degradation and Stability, 95(12), 2281-2288, 2010.

Kausar, A., Zulfiqar, S., Ahmad, Z. and Sarwar, M.I., "Novel thermally stable poly(thiourea-amide-imide)s bearing C=S moieties and pyridine units in the backbone: Synthesis and properties," Polymer Degradation and Stability, 95(12), 2611-2618, 2010.

Ishaq, M. and Sarwar, M.I., 'Synthesis and Characterization of Soluble Aromatic-Aliphatic Polyamide,' Advances in Polymer Technology, 29(4), 300-308, 2010.

Kausar, A., Zulfiqar, S., Ali, L. and Sarwar, M.I., 'Synthesis and Characterization of Novel Thermally Stable Aromatic and Semi-aromatic Polyamides Derived from Thiourea Based Flexible Diacid Chlorides,' Monatshefte für Chemie - Chemical Monthly, 142(2), 201–209, 2011.

Kausar, A., Zulfiqar, S. Ali, L., Ishaq, M. and Sarwar, M.I., "Novel Poly(thiourea-ether-imide)s derived from 4,4'-oxydiphenyl bis(thiourea): Probing the liability for high-temperature applications", Polymer International, 60(4), 564 –570, 2011.

Kausar, A., Zulfiqar, S., Yavuz, C.T. and Sarwar, M.I., "Investigation on novel thermoplastic poly(urethane-thiourea-imide)s with enhanced chemical and heat resistance," Polymer Degradation and Stability, 96(7), 1333–1341, 2011.

Karadas, F., Yavuz, C.T., Zulfiqar, S., Aparicio, S., Stucky, G.D. and Atilhan, M. "CO2 Adsorption Studies on Hydroxy Metal Carbonates, M(CO3)x(OH)y (M= Zn, Zn-Mg, Mg, Mg-Cu, Cu, Ni, and Pb) at High Pressures up to 175 bar", Langmuir, 27(17), 10642–10647, 2011.

Kausar, A., Zulfiqar, S., Ishaq, M., Ahmad, Z. and Sarwar, M.I., 'Synthesis and thermal behavior of novel poly(thiourea-amide)s derived from 1-(4-aminobenzoyl)-3-(3-aminophenyl) thiourea', High-Performance Polymers, 23(6), 424 – 433, 2011.

Zulfiqar, S., Karadas, F., Park, J., Deniz, E., Stucky, G.D., Jung, Y., Atilhan, M. and Yavuz, C.T.' Amidoximes: Promising Candidates for CO2 Capture", Energy & Environmental Science, 4(11), 4528 - 4531, 2011.

Shabbir, S., Zulfiqar, S. and Sarwar, M.I., 'Amine-terminated aromatic and semi-aromatic hyperbranched polyamides: Synthesis and characterization,' Journal of Polymer Research, 18(6), 1919 - 1929, 2011.

Kausar, A., Zulfiqar, S. and Sarwar, M.I., "New heat resistant poly(thiourea-amide-imide)s derived from 1-(1,3-dioxo-2-(4-aminophenyl) isoindoline-5-yl)carbonyl-3-(4-aminophenyl) thiourea for high-performance applications', High-Performance Polymers, 23(8) 610–619, 2011.

Kausar, A., Zulfiqar, S. Ahmad, Z., Ishaq, M. and Sarwar, M.I., "Novel aromatic and aromatic-aliphatic poly(thiourea-amide)s for the extraction of toxic heavy metal ions," Journal of Applied Polymer Science, 124(1), 373–385, 2012.

Kausar, A., Zulfiqar, S. Ishaq, M. and Sarwar, M.I., "An investigation on new high-performance Schiff base polyurethanes', High-Performance Polymers, 24(2), 125–134, 2012.

Nadeem, U., Ahmad, Z., Zulfiqar, S. and Sarwar, M. I.' Co-poly(vinyl chloride-vinyl acetate-vinyl alcohol)-Silica Nanocomposites from Sol-Gel Process: Morphological, Mechanical, and Thermal Investigations', Journal of Applied Polymer Science, 126(6), 1814-1821, 2012.

Kausar, A., Zulfiqar, S. and Sarwar, M.I., "High-performance segmented polyurethanes derived from a new aromatic diisocyanate and polyol" Polymer Degradation and Stability, 98 (1), 368-376, 2013.

Kausar, A., Zulfiqar, S. and Sarwar, M.I., "High performance new heteroaromatic poly(thiourea-imide-ester)s Synthesis and characterization," High-Performance Polymers, 25(2), 205–213, 2013.

Kausar, A., Zulfiqar, S. and Sarwar, M.I., "Nanoporous membranes by co-operative self-assembly of functionalized SEBS and titania," Surface and Interface Analysis, 45(8), 1252–1260, 2013.

Alvi, M.U., Zulfiqar, S., Yavuz, C.T., Kweon, Hee-Seok and Sarwar, M.I., "Influence of amino silane coupling agent on aromatic polyamide/intercalated clay nanocomposites," Industrial & Engineering Chemistry Research, 52 (21), 6908–6915, 2013.

Kausar, A., Zulfiqar, S and Sarwar, M.I., "Nano blends of PMMA/Aramid: A study on morphological and physical properties," Solid State Sciences, 24, 36– 43, 2013.

Jung, J.Y., Karadas, F., Zulfiqar, S., Deniz, E., Aparicio, S., Atilhan, M., Yavuz, C.T., Han, S. M. "Limitations and high-pressure behavior of MOF-5 for CO2 capture", Physical Chemistry Chemical Physics, 15 (34), 14319–14327, 2013.

Zulfiqar, S., Yassitepe, E., Sarwar, M.I., and Shah, S.I. 'Cu(In, Ga)Se2 Crystals Synthesis by Selenization of Cu-In-Ga Alloy in H2Se Atmosphere for Solar Cell Applications, Journal of Materials Science- Materials in Electronics, 24(9), 3226–3230, 2013.

Zulfiqar, S., Shah, S.I., and Sarwar, M.I., "High Clarity, Thermally Stable and Mechanically Robust Titania Nanocomposites: Probing the Role of Binding Agent," Industrial & Engineering Chemistry Research, 52 (32), 11050–11060, 2013.

Zulfiqar, S., Awan, S., Karadas, F., Atilhan, M., Yavuz, C.T and Sarwar, M.I., "Amidoxime Porous Polymers for CO2 Capture", RSC Advances, 3 (38), 17203 – 17213, 2013.

Shabbir, S., Zulfiqar, S., Al-Amri, I. S. and Sarwar, M.I., "Enhancement of Thermal Stability, Processability and Morphology of Polystyrene Blends," Thermochimica Acta, 573, 213– 219, 2013.

Kausar, A., Zulfiqar, S., and Sarwar, M.I., "Self-assembled nano-blends of functional polystyrene and a reactive aramid: Morphological and thermomechanical profile," Journal of Applied Polymer Science, 131(7), Article Number: 39954 (1-10), 2014.

Kausar, A., Zulfiqar, S and Sarwar, M.I., "Nano-structured PMMA/Aramid blends: Self-assembly via competitive interactions" Polymer Bulletin, 71(1), 227–242, 2014.

Kausar, A., Zulfiqar, S and Sarwar, M.I., "Effect of Miscibility and Interaction on the properties of Poly(methyl methacrylate)/Aramid Nano blends," Polymers for Advanced Technologies, 25(2), 196–203, 2014.

Kausar, A., Zulfiqar, S. and Sarwar, M.I., "Recent developments in Sulfur-Containing Polymers," Polymer Reviews, 54 (2), 185–267, 2014.

Zulfiqar, S. and Sarwar, M.I., "Probing the potential of polyester for CO2 capture", Journal of Environmental Sciences, 26 (7), 1423–1427, 2014.

Zahra, M., Zulfiqar, S., Yavuz, C.T., Kweon, Hee-Seok and Sarwar, M.I., "Conductive nanocomposite materials derived from SEBS-g-PPy and surface-modified clay," Composites Science and Technology, 100, 44–52, 2014.

Alvi, M.U., Zulfiqar, S., Yavuz, C.T., Kweon, Hee-Seok and Sarwar, M.I., "Nanostructure and mechanical properties of aromatic polyamide and reactive organoclay nanocomposites," Materials Chemistry and Physics, 147 (3), 636–643, 2014.

Zulfiqar, S., Sarwar, M.I and Yavuz, C.T., "Melamine based porous organic amide polymers for CO2 capture", RSC Advances, 4 (94), 52263–52269, 2014.

Zulfiqar, S. and Sarwar, M.I., "Effect of Solvent on the CO2 Capture Ability of Polyester: A Comparative Study", Journal of Industrial and Engineering Chemistry, 21, 1373-1378, 2015.

Zulfiqar, S., Fatima, I and Sarwar, M.I., "Property profile of nanostructured blends of amine-functionalized elastomer with epoxy," Korean Journal of Chemical Engineering, 32(1) 191-198, 2015.

Zulfiqar, S., Sarwar, M.I., Rasheed, N. and Yavuz, C.T., "Influence of interlayer functionalization of kaolinite on property profile of copolymer nanocomposites," Applied Clay Science, 112– 113, 25–31, 2015.

Shaukat, M.S., Zulfiqar, S. and Sarwar, M.I., "Incorporation of palladium nanoparticles into aromatic polyamide/clay nanocomposites through facile dry route," Polymer Science Series B, 57(4), 380–386, 2015.

Zulfiqar, S., Sarwar, M.I. and Mecerreyes, D. "Polymeric ionic liquids for CO2 capture and separation: Potential, progress and challenges" (Review), Polymer Chemistry, 6 (36), 6435–6451, 2015.

Zulfiqar, S and Sarwar, M.I. "Aramid as Potential Solid Sorbent for CO2 Capture", Polymer Science Series B, 57(6), 702–709, 2015.

Alvi, M.U., Zulfiqar, S., Sarwar, M.I. and Kidwai, A. A., "Preparation and Properties of Nanocomposites Derived from Aromatic Polyamide and Surface Functionalized Nanoclay," Chemical Engineering Communications, 203(2), 242–250, 2016.

Isik, M., Ruipérez, F., Sardon, H., Gonzalez, A., Zulfiqar, S. and Mecerreyes, D., "Innovative Poly (ionic liquid)s by the Polymerization of Deep Eutectic Monomers," Macromolecular Rapid Communications, 37(14), 1135–1142, 2016.

Zulfiqar, S. and Sarwar, M.I., "Exploring Aramid as Emerging Contender for CO2 Capture", Chinese Journal of Chemical Engineering, 24(7), 850-855, 2016.

Zulfiqar, S., Mantione, D., El Tall, O., Sarwar, M. I. Ruipérez, F., Rothenberger, A. and Mecerreyes, D., "Nanoporous Amide Networks Based on Tetraphenyladamantane for Selective CO2 Capture", Journal of Materials Chemistry A, 4 (21), 8190 – 8197, 2016.

Isik, M., Zulfiqar, S., Edhaim, F., Ruipérez, F., Rothenberger, A. and Mecerreyes, D., "Sustainable Poly (ionic liquid)s for CO2 Capture based on Deep Eutectic Monomers", ACS Sustainable Chemistry & Engineering, 4 (12), 7200–7208, 2016.

Ali, S. I., Rizwan, S., Shen, Y., Tomovska, R., Zulfiqar, S., Sarwar, M. I. and Nan, C., "Mesoporous template-free gyroid-like nanostructures based on La and Mn co-doped bismuth ferrites with improved photocatalytic activity," RSC Advances, 6, 114183–114189, 2016.

Morozova, S. M., Shaplov, A. S., Lozinskaya, E. I., Mecerreyes, D., Sardon, H., Zulfiqar, S., García, F. S. and Vygodskii, Y.S., "Ionic polyurethanes as new family of poly(ionic liquid)s for efficient CO2 capture", Macromolecules, 50 (7), 2814–2824, 2017.

Salman, S. S., Riaz, A., Iqbal, A., Zulfiqar, S., Sarwar, M. I., and Shabbir, S., "Design and fabrication of covalently linked PEGylated nanohybrids of ZnO quantum dots with preserved and tunable fluorescence," Materials & Design, 131, 156–166, 2017.

Zulfiqar, S., Wahab, M. F., Sarwar, M. I. and Lieberwirth, I. "Is Machine Translation a Reliable Tool for Reading German Scientific Databases and Research Articles?", Journal of Chemical Information and Modeling, 58 (11), 2214–2223, 2018.

Zahra, M., Zulfiqar, S., Skene, W. G. and Sarwar, M. I. "Efficient Uptake of Cd (II) and Pb (II) Ions by Novel Aromatic Polyamidoximes" Industrial & Engineering Chemistry Research, 57 (45), 15243–15253, 2018.

Nawaz, T., Iqbal, M., Zulfiqar, S. and Sarwar, M. I. "Trimellitic acid-functionalized magnetite nanoparticles for the efficient removal of Pb(II) and Cr(VI) from wastewater streams," Korean Journal of Chemical Engineering, 36(6), 860–868, 2019.

Zahra, M., Zulfiqar, S., Yavuz, C.T., Kweon, Hee-Seok and Sarwar, M.I., "Polypyrrole decorated mechanically robust conductive nanocomposites via solution blending and in-situ polymerization techniques," Industrial & Engineering Chemistry Research, 58(25), 10886–10893, 2019.

Zulfiqar, S., Mantione, D., El Tall, O., Sarwar, M. I., Ruipérez, F., Rothenberger, A. and Mecerreyes, D., "Pyridinium containing amide based polymeric ionic liquids for CO2 /CH4 separation", ACS Sustainable Chemistry & Engineering, 7(12), 10241– 10247, 2019.

Maamoun, A.A., Mahmoud, A. A., Nasr, E. A. Soliman, E. A., Sarwar, M. I. and Zulfiqar, S. "Fabrication of Novel Formulations from Rigid Polyurethane Foams and Mortar for Potential Applications in Building Industry," Journal of Polymer Research, 26(11) Article 259 (Pages 1-10), 2019.

Zahra, M., Zulfiqar, S., Skene, W. G.and Sarwar, M. I.A Cross-linking of Polyamides using Dianhydrides, Diacid chloride and Dialdehyde: A Promising Approach for Water Treatment Polymer International, 69(1), 50-60, 2020.

Rahman, A., Sabeeh, H., Zulfiqar, S., Agboola, P.O., Shakir, I. and Warsi, M. F. "Structural, Optical and Photocatalytic Studies of Trimetallic Oxides Nanostructures Prepared via Wet Chemical Approach", Synthetic Metals, 259, Article number: 116228 (Pages 1-13), 2020.

Yousaf, S., Zulfiqar, S., Shahi, M. N., Warsi, M. F., Al-Khalli, N. F., Aly Aboud, M. F., Shakir, I. "Tuning the Structural, Optical and Electrical properties of NiO Nanoparticles Prepared by Wet Chemical Route", Ceramics International, 46(3), 3750-3758, 2020.

Shaheen, N., Yousuf, M. A., Shakir, I., Zulfiqar, S., Agboola, P. O. and Warsi, M. F. "Wet Chemical Route Synthesis of Spinel Oxide Nano-catalysts for Photocatalytic Applications", Physica B-Condensed Matter, 580, 411820 2020.

Rehman, A., Zulfiqar, S., Shakir, I., Aly Aboud, M. F., Shahid, M. and Warsi, M. F. "Nanocrystalline Hematite α-Fe2O3 Synthesis with Different Precursors and their Composites with Graphene Oxide", Ceramics International, 46(6), 8227– 8237, 2020.

Khalid, M.U., Warsi, M. F., Shakir, I., Aly Aboud, M. F., Shahid, M., Shar, S. S. and Zulfiqar, S. "Al3+/Ag1+ induced phase transformation of MnO2 nanoparticles from α to β and their enhanced electrical and photocatalytic properties", Ceramics International, 46(7), 9913– 9923, 2020.

Daud, A., Warsi, M. F., Zulfiqar, S. Agboola, P. O., Rahman, A. and Shakir, I. "Fabrication of GdFO3-Carbon Nanotubes Nanocomposites for Enhanced Photocatalytic Applications", Ceramics International, 46(8) Part B, 12884 – 12890, 2020.

Rahman, A., Warsi, M. F., Shakir, I., Shahid, M. and Zulfiqar, S. "Fabrication of Ce3+ Substituted Nickel Ferrite-Reduced Graphene Oxide Heterojunction with High Photocatalytic Activity under Visible Light irradiation", Journal of Hazardous Materials, 394, Article number: 122593 (Pages 1-18), 2020.

Mazhar, S., Lawson, B. P., Stein, B. D., Losovyj, Y., Pink, M., Carini, J., Polezhaev, A. V., Vlasov, E., Zulfiqar, S.,Sarwar, M. I. and Bronstein, L. "Elastomer Based Nanocomposites with Reduced Graphene Oxide Nanofillers Allow for Enhanced Tensile and Electrical Properties", Journal of Polymer Research, 27(5), Article number: 105 (Pages 1-10), 2020.

Yousaf, S., Zulfiqar, S., Shahid, M., Jamil, A., Shakir, I., Agboola, P. O. and Warsi, M. F. "Electrochemical Energy Storage Properties Studies of Cu0.2Ni0.8O-Reduced Graphene Oxide Nano-hybrids", Ceramics International, 46(9), 14304–14310, 2020.

Khalid, M.U., Warsi, M. F., Sarwar, M. I., Agboola, P. O., Shakir, I. and Zulfiqar, S. "Visible Light Driven Photocatalytic Activity of Unsubstituted and Ag1+/Al3+- substituted CuO Nanoflakes", Ceramics International, 46(9), 14287–14298, 2020.

Akhtar, M., Tahir, A., Zulfiqar, S., Hanif, F., Warsi, M. F., Agboola, P. O., and Shakir, I. "Ternary Hybrid of Polyaniline-Alanine-Reduced Graphene Oxide for Electrochemical Sensing of Heavy Metal ions", Synthetic Metals, 265, Article number: 116410 (Pages 1-10), 2020.

Fatima, R., Warsi, M. F., Zulfiqar, S., Ragab, S. A., Shakir, I. and Sarwar, M. I. "Nanocrystalline Transition Metal Oxides and Their Composites with Reduced Graphene Oxide and Carbon Nanotubes for Photocatalytic Applications", Ceramics International, 46(10), Part B, 16480 16492, 2020.

Rahman, A., Zulfiqar, S., Musaddiq, S., Shakir, I., Warsi, M. F. and Shahid, M. "Facile Synthesis of Ce1-xFexO2/NiO/rGO Ternary Hybrid Heterostructures with Enhanced Visible Light Mediated Photocatalytic Activity for Waterborne Pollutants", Journal of Photochemistry and Photobiology A-Chemistry, 397, Article number:112583 (Pages 1-11), 2020.

Anwar, A., Zulfiqar, S., Yousuf, M. A., Ragab, S. A., Khan, M. A., Shakir, I. and Warsi, M. F. "Impact of Rare Earth Dy+3 Cations on the Various Parameters of Nanocrystalline Nickel Spinel Ferrite", Journal of Materials Research and Technology, 9(3), 5313 – 5325, 2020.

Aadil, M., Zulfiqar, S., Sabeeh, H., Warsi, M. F., Shahid, M., Alsafari, I. A. and Shakir, I. "Enhanced Electrochemical Energy Storage Properties of Carbon Coated Co3O4 Nanoparticles-Reduced Graphene Oxide Ternary Nano-hybrids", Ceramics International, 46(11), Part A, 17836 – 17845, 2020.

Riaz, A., Bibi, R., Jabeen, S., Zulfiqar, S., Agboola, P. O., Shakir, I. and Warsi, M. F. "Al3+-substituted Nanocrystalline Cu0.5Zn0.5AlxFe2-xO4 Spinel Ferrite onto the rGO Sheets as Green Photocatalyst Nano-heterostructured Materials", Desalination and Water Treatment, 190, 226 – 236, 2020.

Nawaz, T., Zulfiqar, S., Sarwar, M. I. and Iqbal, M., "Synthesis of diglycolic acid functionalized core-shell silica coated Fe3O4 nanomaterials for magnetic extraction of Pb(II) and Cr(VI) ions", Scientific Reports, 10, Article number: 10076 (Pages 1-13), 2020.

Bashir, N., Akhtar, M., Nawaz, H. Z. R., Warsi, M. F., Shakir, I., Agboola, P. O. and Zulfiqar, S., "A High Performance Electrochemical Sensor for Pb2+ Ions Based on Carbon Nanotubes Functionalized CoMn2O4Nanocomposite", ChemistrySelect, 5(26), 7909 – 7918, 2020.

Ashraf, N.,Aadil, M., Zulfiqar, S., Sabeeh, H.,Khan, M. A., Shakir, I., Agboola, P. O.and Warsi, M. F.,"Wafer-like CoS Architectures and their Nanocomposites with Polypyrrole for Electrochemical Energy Storage Applications", ChemistrySelect, 5(27), 8129 - 8136, 2020.

Aadil, M., Zulfiqar, S., Shahid, M., Haider, S., Shakir, I. and Warsi, M. F. "Binder Free Mesoporous Ag-doped Co3O4 Nanosheets with Outstanding Cyclic Stability and Rate Capability for Advanced Supercapacitor Applications", Journal of Alloys and Compounds, 844, Article number:156062 (Pages 1-10), 2020.

Sabeeh, H., Zulfiqar, S., Aadil, M., Shahid, M., Shakir, I., Khan, M. A. and Warsi, M. F. "Flake-like MoS2 Nano-architecture and its Nanocomposite with Reduced Graphene Oxide for Hybrid Supercapacitors Applications", Ceramics International, 46(13), 21064 – 21072, 2020.

Tariq, N.,Fatima, R., Zulfiqar, S.,Rahman, A., Warsi, M. F. and Shakir, I. "Synthesis and Characterization of MoO3/CoFe2O4Nanocomposite for Photocatalytic Applications", Ceramics International,  46(13), 21596 - 21603, 2020.

Wahab, M. F., Zulfiqar, S., Sarwar, M. I. and Lieberwirth, I. "Facile Solutions to the Problems Associated with Chemical Information and Mathematical Symbolism While Using Machine Translation Tools", Journal of Chemical Information and Modeling, 60(7), 3423 – 3430, 2020.

Baig, M. M., Zulfiqar, S.,Yousuf, M. A., Touqeer, M., Ullah, S., Agboola, P. O., Warsi, M. F. and Shakir, I. "Structural and photocatalytic properties of new rare earth La3+substituted MnFe2O4ferrite nanoparticles", Ceramics International,46(14),23208 - 23217, 2020

Warsi, M. F., Iftikhar, A., Yousuf, M. A., Sarwar, M. I., Yousaf, S., Haider, S., Aly Aboud, M. F., Shakir, I. and Zulfiqar, S."Erbium Substituted Nickel-Cobalt Spinel Ferrites Nanoparticles: Tailoring the Structural, Magnetic and Electrical Parameters", Ceramics International, 46(15), 24194 - 24203, 2020.

Chaudhary, K., Shaheen, N., Zulfiqar, S.,Sarwar, M. I., Suleman, M., Agboola, P. O., Shakir, I. and Warsi, M. "Binary WO3-ZnO Nanostructures Supported rGO Ternary Nanocomposite for Visible Light Driven Photocatalytic Degradation of Methylene Blue", Synthetic Metals, 269,Article number: 116526 (Pages 1-12), 2020.

Rehman, A., Daud, A., Warsi, M. F., Shakir, I., Agboola, P. O., Sarwar, M. I. and Zulfiqar, S., "Nanostructured Maghemite and Magnetite and their Nanocomposites with Graphene Oxide for Photocatalytic Degradation of Methylene Blue", Materials Chemistry and Physics, 256, Article number: 123752 (Pages 1-10), 2020.

Aadil, M., Zulfiqar, S., Shakir, I. Agboola, P. O. and Warsi, M. F. "Free-standing Urchin-like Nanoarchitectures of Co3O4 for Advanced Energy Storage Applications", Journal of Materials Research and Technology, 9(6), 12697–12706, 2020.

Hira, H., Daud, A., Zulfiqar, S., Agboola, P. O., Shakir, I. and Warsi, M. F. "DyCrxFe(1-x)O3 Nanoparticles Prepared by Wet Chemical Technique for Photocatalytic Applications", Ceramics International, 46(17), 26675–26681, 2020.

Munir, S., Rasheed, A., Zulfiqar, S., Agboola, P. O., Shakir, I. and Warsi, M. F. "Synthesis, Characterization and Photocatalytic Parameters Investigation of A New CuFe2O4/Bi2O3 Nanocomposite", Ceramics International, 46(18), Part A, 29182–29190, 2020.

Warsi, M. F., Bilal, M., Zulfiqar, S., Khalid, M.U., Agboola, P. O. and Shakir, I. "Enhanced Visible Light Driven Photocatalytic Activity of MnO2 Nanomaterials and their Hybrid Structure with Carbon Nanotubes", Materials Research Express, 7(10), Article number: 105015 (Pages 1-13), 2020.

Yousaf, S., Aadil, M., Zulfiqar, S., Warsi, M. F., Agboola, P. O., Aly Aboud, M. F. and Shakir, I. "Hierarchically Porous CuO Microspheres and Their rGO Based Nanohybrids for Electrochemical Supercapacitors Applications", Journal of Materials Research and Technology, 9(6), 14158–14167, 2020.

Baig, M. M., Zulfiqar, S.,Yousuf, M. A., Shakir, I.Aly Aboud, M. F. and Warsi, M. F. "DyxMnFe2-xO4 nanoparticles decorated over mesoporous silica for environmental remediation applications", Journal of Hazardous Materials, 402, Article number: 123526 (Pages 1-13), 2021.

Aadil, M., Zulfiqar, S., Agboola, P. O., Aly Aboud, M. F., Shakir, I. and Warsi, M. F., "Fabrication of Graphene Supported Binary Nanohybrid with Multiple Approaches for Electrochemical Energy Storage Applications", Synthetic Metals, 272, Article number: 116645 (Pages 1-12), 2021.

Bashir, B., Khalid, M.U., Aadil, M., Zulfiqar, S., Warsi, M. F., Agboola, P. O. and Shakir, I. "CuxNi1-xO Nanostructures and Their Nanocomposites with Reduced Graphene Oxide: Synthesis, Characterization and Photocatalytic Applications", Ceramics International, 47(3), 3603–3613, 2021.

Warsi, M. F., Shaheen, N., Sarwar, M. I., Agboola, P. O., Shakir, I. and Zulfiqar, S., "A Comparative Study on Photocatalytic Activities of Various Transition Metal Oxides Nanoparticles Synthesized by Wet Chemical Route", Desalination and Water Treatment, 211, 181 – 195, 2021.

Warsi, M. F., Bashir, B., Zulfiqar, S., Aadil, M., Khalid, M.U., Agboola, P. O., Shakir, I., Yousuf, M. A. and Shahid, M. "Mn1-xCuxO2/ Reduced Graphene Oxide Nanocomposites: Synthesis, Characterization and Evaluation of Visible Light Mediated Catalytic Studies", Ceramics International, 47(4), 5044-5053, 2021.

Shaheen, N., Aadil, M., Zulfiqar, S., Sabeeh, H., Agboola, P. O., Warsi, M. F., Aly Aboud, M. F. and Shakir, I. "Fabrication of Different Conductive Matrix Supported Binary Metal Oxides for Supercapacitors Applications", Ceramics International, 47(4), 5273-5285, 2021.

Rehman, A., Aadil, M., Zulfiqar, S., Agboola, P. O., Shakir, I., Aly Aboud, M. F., Haider, S. and Warsi, M. F. "Fabrication of Binary Metal Doped CuO Nanocatalyst and Their Application for the Industrial Effluents Treatment", Ceramics International, 47(5), 5929-5937, 2021.

Razzaq, S., Akhtar, M., Zulfiqar, S., Zafar, S., Shakir, I., Agboola, P. O., Haider, S. and Warsi, M. F. "Adsorption removal of Congo red onto L-Cysteine/rGO/PANI nanocomposite: Equilibrium, Kinetics and Thermodynamic Studies", Journal of Taibah University for Science, 15(1), 50-62, 2021.

Fatima, R., Warsi, M. F., Sarwar, M. I., Shakir, I., Agboola, P. O., Aly Aboud, M. F. and Zulfiqar, S. "Synthesis and Characterization of Hetero-metallic Oxides-Reduced Graphene Oxide Nanocomposites for Photocatalytic Applications", Ceramics International, 47(6), 7642-7652, 2021.

Rehman, A., Aadil, M., Zulfiqar, S., Alsafari, I. A., Shahid, M., Agboola, P. O., Warsi, M. F. and Abdel-Haliem, M. E. F. "Fabrication of Binary Metal Substituted CdO with Superior Aptitude for Dye Degradation and Antibacterial Activity", Ceramics International, 47(6), 8082-8093, 2021.

Aadil, M., Nazik, G., Zulfiqar, S., Shakir, I., Aly Aboud, M. F., Agboola, P. O., Haider, S. and Warsi, M. F., "Fabrication of Nickel Foam Supported Cu-doped Co3O4 Nanostructures for Electrochemical Energy Storage Applications", Ceramics International, 47(7), Part A, 9225-9233, 2021.

Rehman, A., Zulfiqar, S., Haq, A. U., Alsafari, I. A., Qazi, U. Y., Warsi, M. F. and Shahid, M. "Cd-Gd-Doped Nickel Spinel Ferrite Nanoparticles and Their Nanocomposites with Reduced Graphene Oxide for Catalysis and Antibacterial Activity Studies", Ceramics International, 47(7), Part A, 9513-9521, 2021.

Aadil, M., Zulfiqar, S., Warsi, M. F. Agboola, P. O., Shakir, I., Shahid, M. and Al-Khalli, N.F. "Mesoporous and Macroporous Ag-doped Co3O4 Nanosheets and Their Superior Photo-catalytic properties Under Solar Light Irradiation", Ceramics International, 47(7), Part A, 9806-9817, 2021.

Aadil, M., Zulfiqar, S., Shahid, M., Agboola, P. O., Haider, S., Warsi, M. F. and Shakir, I. "Fabrication of Rationally Designed CNTs Supported Binary Nanohybrid with Multiple Approaches to Boost Electrochemical Performance", Journal of Electroanalytical Chemistry, 884, Article number: 115070 (Pages 1-11), 2021.

Yousaf, S., Zulfiqar, S., Din, M. I., Agboola, P. O., Aly Aboud, M. F., Warsi, M. F. and Shakir, I. "Solar Light Irradiated Photocatalytic Activity of ZnO-NiO/rGO Nanocatalyst", Journal of Materials Research and Technology, 12, 999- 1009, 2021.

Sabir, Z., Akhtar, M., Zulfiqar, S., Zafar, S., Agboola, P. O., Haider, S., Ragab, S.S., Warsi, M. F. and Shakir, I. "L-cysteine Functionalized Nd2O3/rGO Modified Glassy Carbon Electrode: A New Sensing Strategy for the Rapid, Sensitive and Simultaneous Detection of Toxic Nitrophenol Isomers", Synthetic Metals, 277, Article number: 116774​ (Pages 1-12), 2021.

Sabeeh, H., Aadil, M., Zulfiqar, S., Rasheed, A., Al-Khalli, N. F., Agboola, P. O., Haider, S., Warsi, M. F. and Shakir, I. "Hydrothermal Synthesis of CuS Nanochips and their Nanohybrids with CNTs for Electrochemical Energy Storage Applications", Ceramics International, 47(10), Part A, 13613-13621, 2021.

Rehman, A., Afzal, R., Zulfiqar, S., Alsafari, I. A., Khan, M. A., Agboola, P. O., Haider, S., Warsi, M. F. and Shakir, I. "Superior Photodegradation and Antibacterial Activity of r-GO Supported Ternary Nanocomposite of Doped Transition Metal Compounds", Ceramics International, 47(10), Part A, 14569-14578, 2021.

Aadil, M., Zulfiqar, S., Shahid, M., Agboola, P. O., Al-Khalli, N.F., Warsi, M. F. and Shakir, I. "Fabrication of CNTs Supported Binary Nanocomposite with Multiple Strategies to Boost Electrochemical Activities", Electrochimica Acta, 383, Article number: 138332 (Pages 1-10), 2021.

Aadil, M., Rehman, A., Zulfiqar, S., Alsafari, I. A., Shahid, M., Shakir, I., Agboola, P. O., Haider, S. and Warsi, M. F. "Facile Synthesis of Binary Metal Substituted Copper Oxide as a Solar Light Driven Photocatalyst and Antibacterial Substitute", Advanced Powder Technology, 32(3), 940-950, 2021.

Baig, M. M., Yousuf, M. A., Zulfiqar, S., Safeer, A., Agboola, P. O., Shakir, I. and Warsi, M. F. "Structural and Electrical Properties of La3+ Ions Substituted MnFe2O4 Ferrite Nanoparticles Synthesized via Cost Effective Reverse Micelles Strategy", Materials Research Express, 8(3), 035002, 2021.

Jabeen. S., Aadil, M., Williams, J., Awan, M.S., Iqbal, J., Zulfiqar, S and Nazar, N. "Synthesis of In2O3/GNPs Nanocomposites with Integrated Approaches to Tune Overall Performance of Electrochemical Devices", Ceramics International, DOI:10.1016/j.ceramint.2021.03.205, 2021.

Chaudhary, K., Aadil, M., Zulfiqar, S., Ullah, S., Haider, S., Agboola, P. O., Warsi, M. F. and Shakir, I. "Graphene Oxide and Reduced Graphene Oxide Supported ZnO Nanochips for the Removal of Basic Dyes from the Industrial Effluents", Fullerenes, Nanotubes and Carbon Nanostructures, DOI: 10.1080/1536383X.2021.1917553, 2021.

Alsafari, I. A., Munir, S., Zulfiqar, S., Saif, M.S., Warsi, M. F. and Shahid, M. "Synthesis, Characterization, Photocatalytic and Antibacterial Properties of Copper Ferrite/MXene (CuFe2O4/Ti3C2) Nanohybrids, Ceramics International, DOI: 10.1016/j.ceramint.2021.07.048, 2021.

Anwar, A., Yousuf, M.A., Zulfiqar, S., Agboola, P. O., Shakir, I., Al-Khalli, N.F. and Warsi, M. F., "The Impact of Highly Paramagnetic Gd3+ Cations on Structural, Spectral, Magnetic and Dielectric Properties of Spinel Nickel Ferrite Nanoparticles", Journal of Saudi Chemical Society, DOI: 10.1016/j.jscs.2021.101306, Article number: 101306, 2021.

Bashir, N., Sabeeh, H., Zulfiqar, S., Shad, A. A., Suleman, M., Agboola, P. O., Shakir, I., Al-Khalli, N. and Warsi, M. F., "Visible Light Irradiated Photocatalytic Activity of Copper Substituted CoMn2O4 Nanoparticles" Desalination and Water Treatment, DOI:10.5004/dwt.2021.27491, 2021.

Sabeeh, H., Aadil, M., Zulfiqar, S., Ayeman, I., Shakir, I., Agboola, P. O. Haider S. and Warsi, M.F., "Self-Supporting Design of NiS/CNTs Nanohybrid for Advanced Electrochemical Energy Storage Applications", Journal of Cluster Science, Accepted, 2021.

Ph.D, 2008, Quaid-i-Azam University, Pakistan / Max Planck Institute for Polymer Research, Germany
MPhil, 2004, Quaid-i-Azam University, Pakistan
MSc 2002, Quaid-i-Azam University, Pakistan
BSc 1999, Punjab University, Pakistan

Inorganic Chemistry
Analytical Chemistry
Polymer Chemistry
Atmospheric Chemistry
Environmental Chemistry
Petroleum Chemistry
Green Chemistry
Research Interest
Climate Change and Carbon Mitigation

Novel Materials for CO2 Capture and Water Treatment

Polymeric Ionic Liquids

Nanoporous Polymeric Materials

for Gas Storage

Inorganic –Organic Nanocomposite Materials

Inorganic Nanomaterials for Solar Cell Applications

Incorporation of Metal Nanoparticles into Polymer films

Metal oxide Nanoporous Membranes using Polymer Templates

Nanomaterials for Photocatalysis