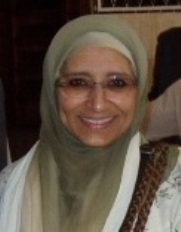 Sanaa
Makhlouf
Position
Senior Instructor II
Department
Department of Rhetoric and Composition
Profile
Brief Biography
Sanaa Aly Marei Makhlouf is a Senior Instructor II of Rhetoric and Composition in the Department of Rhetoric and Composition at the American University in Cairo. Makhlouf obtained her B.A in English and Comparative Literature (Highest Honors) in 1975 from AUC; her M.A in Early Islamic History from the Arabic Studies Department at AUC with Prof. Marsden Jones (1977); and a second M.A in Muslim Political Philosophy from Harvard University with Professor Muhsin Mahdi in 1979. She is currently writing her Ph.D. on "Shades of Tolerance: An examination of the Spiritual Writings of al-Amir 'Abd al-Qadir al-Jaza'iri," in the Department of Near Eastern Languages and Civilizations, Harvard University, with Professors William Graham and Wolfhart Heinrichs. 
Makhlouf has worked as an instructor of Writing and Writing Research since 1997, and as a language and copy-editor for the ISIM (The Netherlands) from 2004-2009 and E.J. Brill publications. 
"The Bane of Modern Identity". In the Workshop on "The Social Role of Intellectuals in the Middle East" in the Ninth Mediterranean Research Meeting (12 - 15 March 2008), organized by the Mediterranean Programme of the Robert Schuman Centre for Advanced Studies at the European University Institute in Florence. Published Online.
(A longer version to be published as part of book edited by Prof. Mohammed Bamyeh.)
"Little Known Roots of Islamism: Al-Kawakibi's Ummu 'l-Qurra". In Individuals and Social Change in the Muslim World (Late 19th Century-Early 20th Century). Edited by Odile Moreau-Richard. Forthcoming.
"Remarks Concerning the Spiritual Hermeneutics of  Al-Amir 'Abd al-Qadir al-Jaza'iri". Special edition on Emir Abd al-Qadir al-Jaza'iri, edited by Houari Tatoui and A. L. Studia Islamica, École des hautes études en sciences socials (EHESS), Paris (forthcoming 2010).
"Reform or Renewal? The Debate about Change in Nineteenth Century Islam".  In the Proceedings of the Conference on: Damas "Capitale Arabe de la Culture 2008": Al-Jazaïri à Damas (L'émir Abdelkader) held in Damascus, October 2008 (forthcoming).
Zeinab Ibrahim and Sanaa Makhlouf, Editors. Linguistics in an Age of Globalization: Perspectives on Arabic Language and Teaching. Cairo: AUC Press, 2009.
"A Matter of Concern? A Rhetoric of Crisis". ISIM Review, no. 19 (2007).
"The Legacy of Shaykh al-Fasi in the Spiritual Journey of Amir Abd al-Qadir al-Jaza'iri". In La Shâdhiliyya -- Une voie soufie dans le monde, edited by E. Geoffroy. Paris: Maisonneuve & Larose, 2005. 
Research Interest
Rhetoric, Writing Research, Early Islamic History, Modern Islamic Intellectual Movements, Challenges in Teaching Students with Sensory Disabilities, Translation theory, Education and Pedagogy.