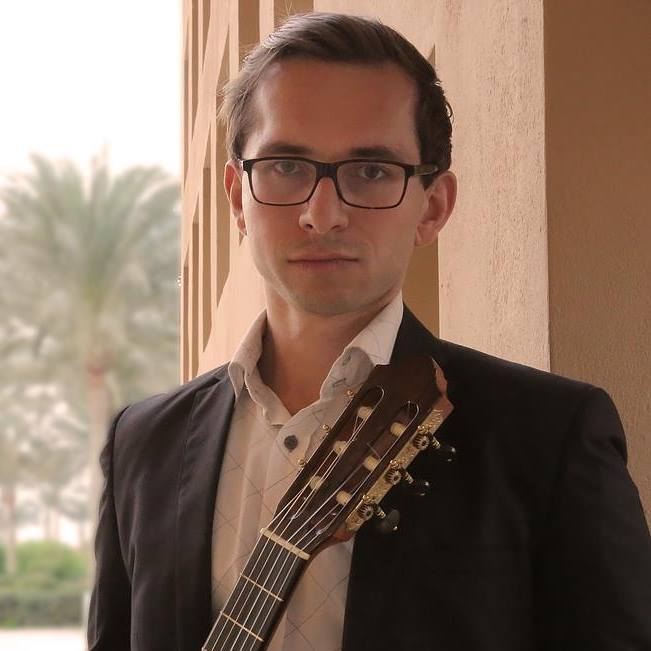 Pawel
Kuzma
Department
Department of the Arts
Profile
Brief Biography
Classical guitarist Paweł Kuźma was born in 1985 in Piekary Śląskie, Poland. His passion for classical guitar started in his first year of primary school. During his musical education, Kuźma won many competitions and received several grants from the Polish Ministry of Culture and City Council. Considered one of the most promising guitarists in Poland he got admitted at the Szymanowski Music Academy in Katowice, Poland. There, he studied under the renowned Alina Gruszka. During this time, Kuźma was awarded a grant by Young Poland, an organization founded by the Polish Ministry of Culture. 
After graduating from the Szymanowski Academy, Kuźma moved to Finland to continue his education at the Sibelius Academy in Helsinki, which is widely considered to be one of the best music programs in the world. Paweł studied there under Jukka Savijoki.
In 2016 Paweł started teaching at The American University in Cairo, Egypt. In 2017 he became co-director of Cairo Guitar Collective, an ensemble founded by Chelsea Green. In 2018 CGC recorded an album The Egyptian Composers Project, which comprises of music written for the group by Egyptian composers. The project was funded by a grant from The American University in Cairo.  Along with composer Bahaa El Ansary, Kuźma co-directs Cairo Impro, a group dedicated to the education and performance of avant-garde improvisation. As a performing artist, Kuźma has given many concerts in Poland, Finland, Germany, Czech Republic, Austria, USA and Egypt.
Education
2016 Master of Music degree in classical guitar performance
Sibelius Academy, University of the Arts Helsinki, Finland, studio of Jukka Savijoki - 2012 Magister Sztuki (Master of Arts) degree in classical guitar performance
Karol Szymanowski Academy of Music in Katowice, Poland, studio of Alina Gruszka
Research Interest
Psychology of music - emotional mechanisms behind sound
Influence of Arabic art on early European music
Afro-American music history and origins
Avant-Garde improvisation techniques