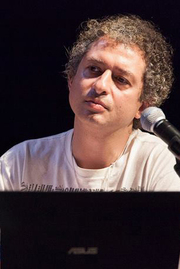 Omid
Tofighian
Position
Assistant Professor
Department
Department of Philosophy
Profile
Brief Biography
Omid Tofighian is a lecturer, researcher and community advocate, combining philosophy with interests in citizen media, rhetoric, religion, popular culture, transnationalism, displacement and discrimination. He completed his PhD in philosophy at Leiden University, Netherlands, and graduated with a combined honors degree in philosophy and studies in religion at the University of Sydney. Tofighian has lived variously in Australia where he taught at different universities; the United Arab Emirates where he taught at Abu Dhabi University; Belgium where he was a visiting scholar at K.U. Leuven; the Netherlands for his PhD; and intermittent periods in Iran for research. His current roles include Assistant Professor of Philosophy, American University in Cairo; Honorary Research Associate for the Department of Philosophy, University of Sydney; faculty at Iran Academia; and campaign manager for Why Is My Curriculum White? - Australasia. He contributes to community arts and cultural projects and works with refugees, migrants and youth. He has published numerous book chapters and journal articles, is author of Myth and Philosophy in Platonic Dialogues (Palgrave Macmillan 2016) and translator of Behhouz Boochani's book No Friend But The Mountains: Writing From Manus Prison (Pan Macmillan-Picador 2018).
Selected Publications
Boochani, Behrouz, No Friend But The Mountains. Writing From Manus Prison. Translated by Omid Tofighian. With translator's note and essay. Sydney: Picador, 2018.
Tofighian, Omid. Myth and Philosophy in Platonic Dialogues. London: Palgrave Macmillan, 2016.
Tofighian, Omid. "Black Bodies for Political Profit: Sudanese and Somali Standpoints on Australia's Racialised Border Regime." Transition Magazine 126. Indiana University Press for the Hutchins Centre, Harvard University.
Tofighian, Omid. "Exile and Incarceration Commuted into Cinematic Vision. Chauka, Please Tell Us The Time and Carceral-Border Cinema." Alphaville: Journal of Film and Screen Media (forthcoming 2019).
Tofighian, Omid and Behrouz Boochani. "No Friend but the Mountains: Translation as Literary Experimentation and Shared Philosophical Activity." Alif: Journal of Comparative Poetics (forthcoming 2019). 
Tofighian, Omid. "Behrouz Boochani and the Manus Prison Narratives: Merging Translation with Philosophical Reading." Continuum: Journal of Media and Cultural Studies Vol. 32, 3 (2018).
Tofighian, Omid. "Citizen Media and Philosophy.' In Routledge Encyclopedia of Citizen Media, edited Luis Pérez-González, Bolette Blaagaard and Mona Baker, New York: Routledge (forthcoming 2018).
Tofighian, Omid. "Contemporary Liminal Encounters: Moving Beyond Traditional Plots in Majidi's Baran." In Conflict and Development in Iranian Film, edited by A.A. Seyed-Gohrab & K. Talattof, 103-116. Leiden: LUP, 2013.
Tofighian, Omid. "Beyond the Myth/Philosophy Dichotomy: Foundations for an Interdependent Perspective." Forum Philosophicum - International Journal for Philosophy 15:1 (2010): 175-190.
Tofighian, Omid. "Rethinking Plato's Theory of Art: Aesthetics and the Timaeus." Journal of the Sydney Society for Literature and Aesthetics 19:2 (2009).
Research Interest
Ancient philosophy
Religious studies
Myth studies
Rhetoric studies
Narrative studies
Intersectional discrimination
Migration and displacement
Youth cultures and movements
Society and culture of Middle East and North Africa
Marginalization in philosophy