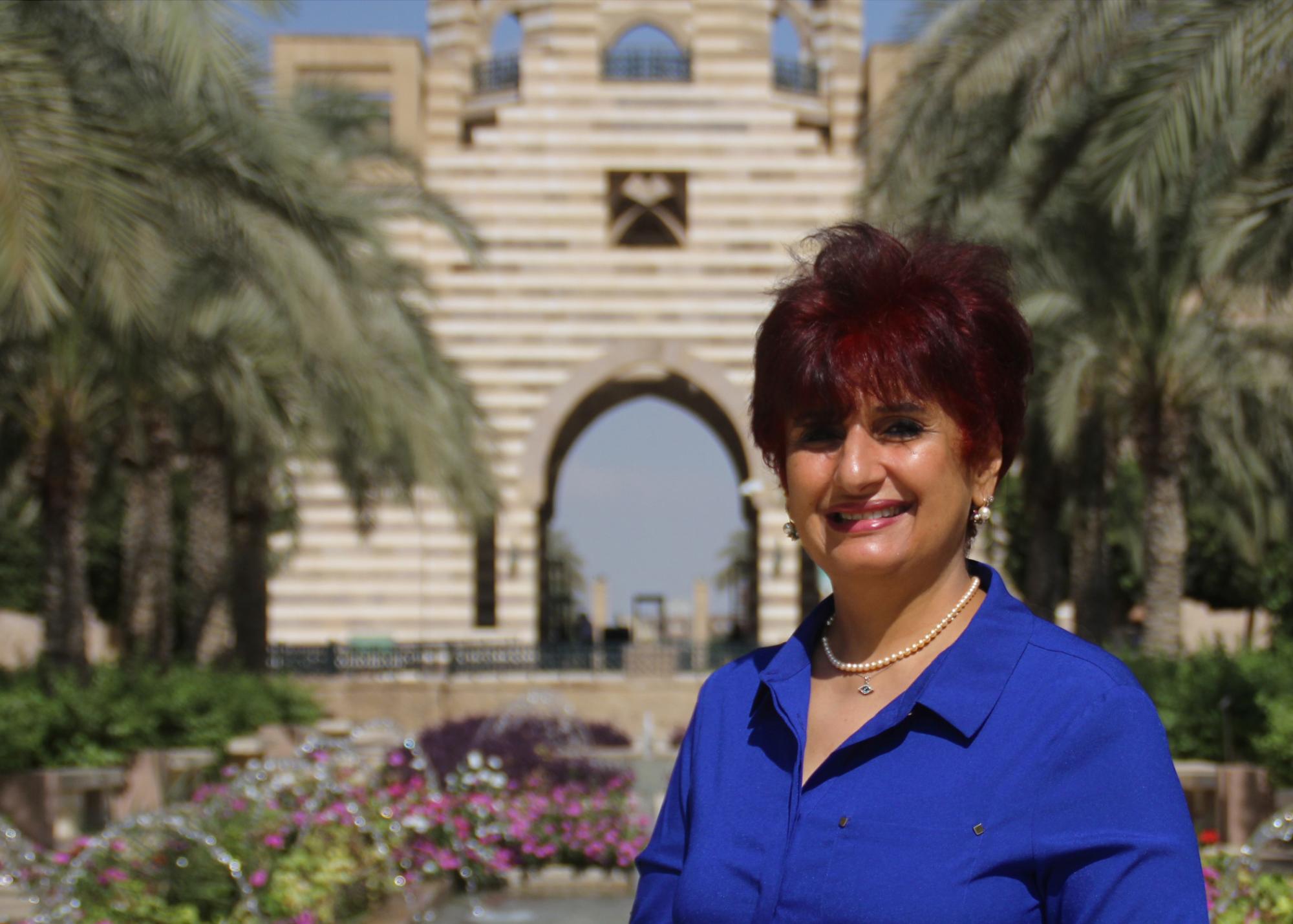 Nehal
EL-Naggar
Department
Department of Arab and Islamic Civilizations
Profile
Brief Biography
Nehal EL-Naggar obtained her MA in English and Comparative Literature from AUC in June 1989. Right after her undergraduate studies, she started her teaching career. She obtained her PhD in comparative literature from Ain Shams University with Highest Honors and a recommendation for publication and exchange among universities. Her interest in comparative approach did not stop at literature and philosophy but included comparative religion and hence, pursued a diploma in Islamic Studies from AUC in 2008. EL-Naggar has a long life-teaching career; both at AUC and at Ain Shams University.
Teaching literature is more than the words on paper; it's a cross-cultural endeavor where students become involved in an act of interpretation across space and time. EL-Naggar's research focuses on cultural connections.
Throughout her career and research, EL-Naggar's interest was in understanding the forces behind the formation of ideas and beliefs hence the philosophy. Her approach to texts, whether they are literary, philosophical, artworks or books of faith, was scientific - aiming at understanding and exposing what is beyond. During her career as an academic and researcher, she participated in national and international conferences in Comparative Literature, Gender, Studies, religious studies – amongst other. She is a member of Women and Memory Forum. She worked on a project of oral narratives documenting the modern history of Egypt as narrated by leading Egyptian women like Dr. Samha El-Kholy. She also attended economic and development conferences where she interviewed key figures like Mahatir Mohamed of Malaysia. As to teaching at university, she taught a variety of courses including comparative literature, classical and modern literature (Arabic, English and French), literary theory, classical and modern critical theory and culture, Arab women autobiographies, Arab civilization and enlightenment, Feminist literary theory across the cultural divide, storytelling in classical and modern literatures.
EL-Naggar cooperated with the Architecture Department at AUC in a core design studio (AENG 454/4555 Design Studio IV) with Professor Amr Abdel Kawi. Her methodology of teaching is not just teaching the text but to understand the creative drive and the different forces that made it. So it's a journey of questioning, critical thinking and interpretation.
As of 2010, EL-Naggar is a founding member of the Executive Council of Beit El-Eila where she is the co-head of the Educational Committee. The initiative is a co-operation between the Egyptian Coptic Orthodox Church and Al-Azhar to restore and strengthen national identity. EL-Naggar chose to contribute to the Educational field by adjusting all school curricula (religion, Arabic and social sciences) to include the seeds of national identity and dialogue. She revised all religious texts that are included.
Education
2008: Diploma in Islamic Studies, The American University in Cairo.
2000: Ph.D. in Comparative Literature with Highest Honors, with a recommendation for publication and exchange among universities, Ain Shams University. Dissertation: "Mahfouz & Dickens: A Comparative Study of the Aesthetics of Space".
1989: M.A. in English and Comparative Literature, The American University in Cairo (AUC)
1984: B.A. in English Language and Literature with Highest Honors, Ain Shams University.
Selected Publications and Conferences
Re-reading History: Alternative Truth in Jerusalem & I by Hala Sakakini. Published in English Language and Literature Studies, Vol. 7 No. 2, 2017, pp. 70-84, Canadian Center of Science and Education, Toronto, Canada. ISSN 1925-4768 (Print), ISSN 1925-4776 (Online)
N. Hawthorne's The Scarlet Letter The Trial of Religion. Published in Advances in Social Sciences Research Journal, Vol. 4 No. 8, 25 April 2017, pp. 67-81, Society for Science and Education, United Kingdom ISSN 2055-0286
Participated in Al-Azhar International Conference of Peace, the international conference organized by Al-Azhar and Muslim Council of Elders in April 2017
Interview with Pope Francis II in April 2017
Participated in Freedom and Citizenship, the international conference organized by Al-Azhar and Muslim Council of Elders in Feb-March 2017
Exploring the Frame Story in The Arabian Nights Gender and the Question of Authority. Published in the International Journal of Social Science and Business, Vol. 2 No. 1, February 2017, pp. 19-28, Center for Academic Research, United Kingdom. ISSN 2519-9161 (Online), ISSN 2519-9153 (Print)
The Trial Scene in Fiction. Published in Imperial Journal of Interdisciplinary Research, Vol. 3 Issue 1, 2017, pp. 436-446, Imperial Publishing House. ISSN 2454-1362
Border and Identity: A Trajectory Leila Ahmed's Border Passage. Published in the International Journal of Education and Social Science, Vol. 3 No. 12, December 2016, pp. 29-37, Research Institute for Progression of Knowledge Portsmouth, United Kingdom. ISSN 2410-5171 (Online), ISSN 2415-1246 (Print)
Interview: For Muslim Intellectual, Women are a Pillar Against Extremism in the Islamic World. Published in Asianews.it
Presentation and Article: Genre: Documenter les Résistances. Presented in Atelier Thématique d' École Doctorale École d' été ATED
An entry: Ibn Tufayl. Published in The Oxford Encyclopaedia of Philosophy, Science and Technology in Islam, pp. 368-369. ISBN-13: 9780199812578
Interview with Dr. Mahathir Mohamed in his office in Petronas Towers, Kuala Lampur, Malaysia on 19 January 2012
Delegate in the Inaugural International Conference on Global Movement of Moderates, Kuala Lampur, Malaysia, 17-19 January 2012
Research Interest
Border Aesthetics 
Studies in AL Qur'an (controversial issues)
Art & literature
Gender Studies
Cross-cultural theory
Arab Women autobiography