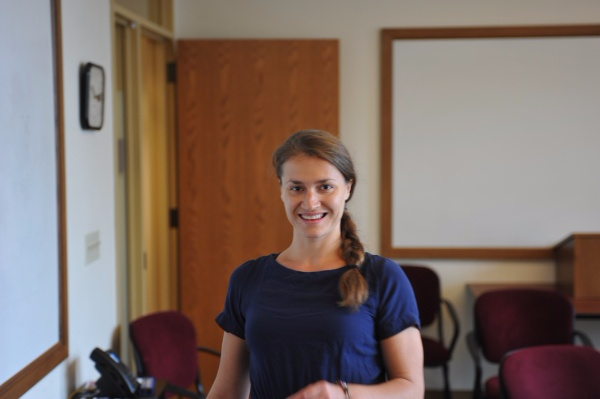 Marina
Marren
Position
Postdoctoral Teaching Fellow and Assistant Professor
Department
Department of Philosophy
Profile
Brief Biography
Marina Marren is an Assistant Professor and a Postdoctoral Teaching Fellow with the Department of Philosophy. She completed her Ph.D. at Boston College, where she wrote a dissertation on tyranny in Plato, Sophocles, and Aristophanes. In 2015 – 2016, she was a visiting fellow at Freiburg University in Germany, where she researched ancient Greek philology. Marren's research is in continental philosophy and ancient Greek philosophy and literature. Her research projects engage topics in political philosophy, psychology, ethics, and aesthetics. Both in her research and teaching, Marren seeks to put philosophical ideas in conversation with practical concerns. Her latest philosophical work focuses on the ethical value of humor.
Education
Ph.D. Philosophy, 2017, Boston College, Massachusetts, United States
MA Philosophy, 2013, Boston College, Massachusetts, United States
Selected Publications
"The Tragedy and Comedy of Tyranny: Plato's Symposium and Aristophanes' Frogs," Philosophy and Literature (Forthcoming 2019)
"Sketches of Oedipus in Sophocles' Play About Tyranny," Logoi and Muthoi: Further Philosophical Investigations in Ancient Greek Literature, Wians, W. ed. Albany: SUNY Press (Forthcoming 2018)
"Masks and Monsters: On the Transformative Power of Art," Pli: The Warwick Journal of Philosophy, Coventry, UK. 29 (April 2018)
Time and Imagination in Kant's Critique of Pure Reason," On Time: Philosophical, Theological, and Literary Accounts, Marren, M. ed. Newcastle: Cambridge Scholars Publishing (May 2016)
"Temporality in Psychosis: Loss of Lived Time in an Alien World," The Humanistic Psychologist, 43.2 (May 2015)
Courses Taught
Philosophical Thinking
Ethics
History of the Philosophy of Science      
Philosophy of the Person
Philosophy and Literature
Research Interest
Ancient Greek Philosophy and Literature, Topics in Continental Philosophy (Aesthetics, Hermeneutics, Ontology), Ethics, Political Philosophy, Philosophical Psychology.