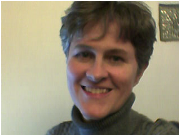 Lisa
White
Position
Senior Instructor
Department
Department of Arabic Language Instruction
Profile
Brief Biography
Lisa White arrived in Cairo in the early 1980s as a fellow in the Center for Arabic Study Abroad (CASA) program, and subsequently worked at the Arabic Language Institute, teaching and helping administer its intensive language programs. Her Cairo marathon has been broken only by a two-year appointment as Arabic language lecturer at Cornell University from 1997 to 1999.
This mix of professional activities has allowed her to experience and observe the learning process from a variety of angles. She can appreciate the foreign student's point of view as a cultural – and perhaps linguistic – novice in Cairo. Meanwhile, living and working in Cairo has brought her to fluency in Arabic and has also afforded her a deep and personal understanding of Egyptian society and culture. Having begun studying Arabic at the age of 21 and experienced Egypt as a new and at times unfathomable culture years later, she can personally relate to the challenges foreign students face here. At the same time, she has been able to incorporate some of what worked best for her, personally and academically, into her teaching. 
In the professional domain, she has gravitated towards two poles: grammatical/morphological analysis of both formal and informal registers of Arabic, and translation. In 1999, her translation of Mohammed Afifi's Little Songs in the Shade of Tamara won the Arkansas University Press Award. An Arabic Grammar Handbook (2004) was an exercise in collating and organizing the elementary and intermediate materials she has developed over the years. She also assisted in editing the Badawi/ Haleem Arabic-English Dictionary of Qur'anic Usage, Brill, 2008.
In 2017, she won second prize in the AUC Research Week's Faculty Research Pitch contest. She also translated a segment of Mohamed El-Bisatie's short story "Al-Khalidiyya" for Maha Maamoun to accompany her exhibition of photographs in the June 2017 Art Basel show.
Publications
Little Songs in the Shade of Tamara, Arkansas University Press, 1999
"Arab Knowledge Performance Environments: Expanding Freedoms and Building Institutions" (translation of a chapter in Arab Knowledge Report 2009, United Nations Development Programme)
"The Middle Ear" (translation of an essay by Iman Mersal for the 2011 Sharjah Biennale)
Translation of an article, "Whither the Nile" in the on-line Egyptian newspaper, Midan Masr, March, 2012
Research Interests 
Morphology
Embodiment in Arabic Morphology
Etymology