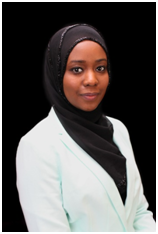 Ithar
Hassaballa
Position
Assistant Professor
Department
Department of Psychology
Profile
Brief Biography
Ithar Hassaballa's purpose in life is to contribute to improving conditions for the health and well-being of as many people as she can. She considers herself a global citizen as she has lived and worked in various countries, including the United States, Sudan, Kenya and in the broader African region. Having lived and worked in Kansas in the United States for most of her life, she also considers herself a Kansan.
Education
In 2012, she completed her bachelor's degree in community health education and minor in African and African American studies at the University of Kansas.  In 2015, she completed her master's degree in applied behavioral science at University of Kansas. In 2017, she obtained a dual doctoral degree in behavioral psychology from the University of Kansas, and a master's degree in public health  from the University of Kansas Medical Center.
Selected Publication
Hassaballa, I., Ebekozien, O,Ogungbadero, A., Williams, F., Schultz, J., Hunter-Skidmore, J., Fawcett, S., & Watson-Thompson, J. Evaluation of a Diabetes Care Coordination Program for African American Women Living in Public Housing.Journal of Clinical Outcomes Management. August 2015.
Teaching and Research Interest
At AUC, Hassaballa teaches introduction to psychology and various community psychology courses. Her vision is to support building the capacity of a diverse and distributed workforce in Egypt.
Research interests include:
Using applied behavioral methodology as a base to approach socially-significant problems, with special attention to behavior-environment relationships
Understanding social determinants of health among vulnerable populations
Comprehending and improving conditions around non-communicable diseases (e.g. type 2 diabetes) through evaluation research and community-based participatory research.