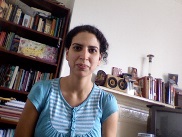 Iman
Hamam
Department
Department of Rhetoric and Composition
Profile
Brief Biography
Iman Hamam received her BA in English and comparative literature from The American University in Cairo (1996) her MA in Modern literature since 1850 (University of Kent, Canterbury, 1998) and PhD in Culture and communication studies (University of Sussex, 2002). Her MA explored the telephone as a mechanism of time travel and surveillance in Kieslowski's Three Colours Red and Gilliam's Twelve Monkeys. Her PhD thesis looked at the myth of the living dead through an analysis of films featuring Egyptian mummies, 19th century detective fiction and popular science. Before coming to AUC, she taught critical theory at the University of Exeter and film studies at Middlesex University.
Teaching
In AUC, Hamam has taught courses in Rhetoric and Composition and Film. She has designed two CORE/RHET 1010 courses for the Freshman Program: High and Low: Cultures and Contexts which concentrates on film, television, and music in terms of the production of space and class in Egyptian culture and Vision Machines: Inventions and Everyday Life which concentrates on different mediums of seeing and communication - including photography, cinema, telephones, automobiles, trains, and on how computers and the internet have transformed knowledge and writing. Hamam also developed materials for Creative Expressions of Resistance and in RHET 1020: Research Writing, her students have explored contemporary issues in Arab popular culture, Palestine, consumerism and the environment, the American dream, postcolonialism and critical theory, comics and television. She teaches two courses offered as part of the Writing Minor: Changing Words, Changing Worlds and Visual Rhetoric.
Academic Publications
●  "Satellite Arcades and the 3D Body."Journal for Cultural Research, special issue on Arab Cultural Studies. 2012, pp.1-21.
●  "Disarticulating Egyptian Humour: The Case of Egyptian Comedies" in Arab Cultural Studies: Mapping the Field, ed. Tarik Sabry (I.B.Tauris, 2011), pp.186-213.
●  ["Egypt" general introductory entry + entries on Egyptian films, performers and directors] The Historical Dictionary of Middle Eastern Cinema, eds. Chris Lippard and Terri Ginsberg (Scarecrow Press, February 2010).
●  "Shadi Abdel Salam's The Night of Counting the Years" in 24 Frames: Cinema of North Africa and the Middle East, ed. Gonul Colin Domez (Wallflower Press, 2007).
●  "A Race for Incorporation: ancient Egypt and it's mummies in science and popular culture" in Ancient Worlds, ed. Richard Pearson (Cambridge Scholars Press, 2006).
Research Interest
Hamam's research interests include Egyptian cinema, technology and culture. She has explored the memorialization of the 6th of October in museums and in the expansion of Cairo's roads, bridges and gated communities; the history and development of Egyptian comics for adults and children; and emerging images of resistance in social media. She is currently guest editor for the online department publication Rhetoric Today.