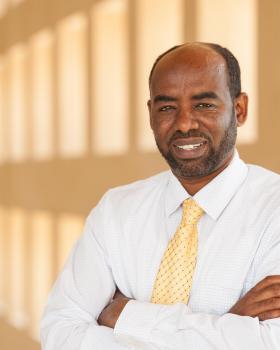 Hamid
Ali
Building
Abdul Latif Jameel Hall
Position
Associate Professor
Department
Department of Public Policy and Administration
Profile
Brief Biography
Ali is a tenured associate professor of Public Policy and Administration and one of the founders of the public policy program and the Department of Public Policy and Administration – a Triple Crown accredited department (NASPAA- EAPAA-ICAPA). Prior to joining AUC, Ali taught at Southern Methodist University and Texas State University.
He was the chair of the Department of Public Policy and Administration (2013-2016) and the director of the Masters of Global Affairs (2010-2013). He taught economics and policy courses at Texas State University, Gulf University for Science and Technology, and Southern Methodist University. He also has extensive experience in research areas of peace economics, inequality and economic development. Ali is a member of editorial board for Defense and Peace Economics, Economics of Peace and Security Journal, International Journal of Public Administration, and Digest of Middle East Study, Public Organization Review, International Journal of Peace Economics and Peace Science. Section editor for The Global Encyclopedia for Public Policy and Administration; and Guest editor for Defense and Peace Economics in 2012-2013. Editor of Journal of Middle East Review of Public Administration from 2017.
He has membership on various professional and academic organizations. Ali was a policy analyst in the US Government Accountability office. He is currently a lead consultant to the African Development Bank, and the current president of the Association for Middle Eastern Public Policy and Administration (AMEPAA). Also, Ali is a member of the advisory board of Mahatma Ghandi International Research Center for Conflict Prevention and Management. As an educator, his area of teaching is public policy theories, research methods, economics for public policy analysis and applied quantitative analysis, globalization and development.
He has practical experience on how the government's agencies operate; he was a researcher at US Government Accountability Office (GAO), where he was a major contributor on various reports to US congressional committees on issues related to US army's chemical and biological units readiness, farm subsidy programs and FCC regulation of the digital spectrums. Ali worked at Texas Workforce Commission and the Center for Transportation Research in Texas. Also, he is working with parties in Sudan conflict to end the human suffering, democratic transition and reconstruction
Ali obtained two master degrees in economics and management science in 2000, and his PhD degree in economics and public policy in 2004 from the University of Texas at Austin, USA.
Article

Christos Kollias, ,Ali, H.E., Routledge (2017). "Defense Spending, Natural Resources, and Conflict".
Ali, H.E., Routledge (2017). "Darfur Political Economy: A Quest for Development"

Ali, H.E. and Abdellatif, O. A. (2016). "Military Spending and Natural Resource: Evidence from Rentier States in Middle East and North Africa" Defence and Peace Economics, 26(1), 5-13. Impact Factor 1.068

Ali, H. E, and Lin, E. S, (2010): "Wars, Foodcost and Countervailing Policies: A Panel Data Approach,'' Food Policy, 35(5), 378-390. Impact factor 3.086
Ali, H. E, and Lin, E. S (2009): "Military Spending and Inequality: Panel Granger Causality Test,'' Journal of Peace Research, 46(5), 671-685. Impact Factor 2.284
Gamkhar, S. and Ali, E. (2008): "Political Economy of Grant Allocation: Case of Federal Aid for Highways,'' Publius: The Journal of Federalism 38(1) ,1-25. Impact Factor 1.518

| | | |
| --- | --- | --- |
| PhD in Economics and Public Policy | University of Texas at Austin | 2004 |
| MS in Economics | University of Texas at Austin | 2000 |
| MS in Economics and Management Science | University of North Texas | 1995 |
| BS in Economics | University of Khartoum | 1988 |

AUC Research Award, The Best Pitch Award at the First AUC Research Day, 2016.
Dean of GAPP Research Award consecutively in 2013, 2014 and 2015.
The Provost Award for the Excellency in Serving the Academic Programs, 2012, The American University in Cairo.

Applied Quantitative Analysis.
Economics for Public Policy Analysis.
Globalization and Development.
Public Policy Analysis &Program Evaluation.
Government Finance for Policy Analysis.
Research Interest
Defense and Peace Economics
Conflict and Natural Resources
Inequality and Economic Development
Water and Energy in Nile Basin Countries