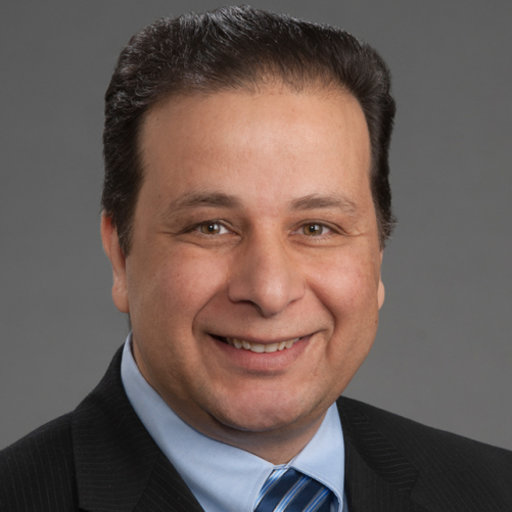 Elsayed Z. Soliman
Position
Professor Institute of Global Health and Human Ecology
Department
School of Sciences and Engineering
Profile
Brief Biography
Elsayed Z. Soliman returns to Egypt from the United States, where he served as a tenured professor of Epidemiology and Medicine (Cardiology) at Wake Forest University School of Medicine, North Carolina. As a noted physician-scientist, Soliman brings a wealth of experience in epidemiology and public health, education, and clinical research to the AUC. He has devoted the past two decades to an academic career that combines research, administration, teaching, and advocacy.
During his tenure with Wake Forest School of Medicine, he served as director of the Epidemiological Cardiology research center, a pioneering center in population electrocardiography and cardiovascular epidemiology in the United States. Through his over 500 peer-reviewed manuscripts published in leading medical journals, Soliman is credited with numerous cardiovascular epidemiology and public health advancements, including developing novel models and markers to diagnose and predict cardiovascular diseases. Soliman has mentored multiple trainees from different institutions throughout the United States and served as co-director of the Wake Forest Cardialgy research fellowship program. For his achievements and contributions, he has been awarded the Wake Forest Investigator Award (2007, 2009), Wake Forest team science award (2011, 2013, 2016), Wake Forest Mentoring Award (2016), and Tinsley Harrison Research Scholar Mentor Award (2016, 2017). In 2012, he was elected as a Fellow of the American Heart Association (FAHA) and a Fellow of the American College of Cardiology (FACC).
Before joining Wake Forest University School of Medicine, Soliman served as a Medical Advisor to Malawi's government-sponsored by the Egyptian Fund for Technical Cooperation with Africa-, and a United Nations Medical Doctor (UNV) in Trinidad and Tobago. He also served as an Adviser to the World Health Organization (WHO) and led two WHO-sponsored studies in Malawi and another in Sri Lanka. Chairing and serving on several U.S. research working groups and funding organizations are just examples of recognizing his multidisciplinary vast expertise.
Soliman obtained his doctor of medicine degree from Cairo University. He also received a master's degree in cardiovascular medicine from Egypt before moving to the United States. He obtained a master's degree in epidemiology and health services research from Wake Forest University.
For Updated List of Publications: [https://pubmed.ncbi.nlm.nih.gov/?term=Soliman+EZ&sort=date]

1. Mould SJ, Soliman EZ, Bertoni AG, Bhave PD, Yeboah J, Singleton MJ. Association of T-wave abnormalities with major cardiovascular events in diabetes: the ACCORD trial. Diabetologia. 2021 Jan 8. doi: 10.1007/s00125-020-05337-8. [Epub ahead of print] PubMed [citation] PMID: 33420509

2. Singleton MJ, German CA, Carnethon M, Soliman EZ, Bertoni AG, Yeboah J. Race, Body Mass Index, and the Risk of Atrial Fibrillation: The Multi-Ethnic Study of Atherosclerosis. J Am Heart Assoc. 2021 Jan 5;10(1):e018592. doi: 10.1161/JAHA.120.018592. Epub 2020 Dec 31. PubMed [citation] PMID: 33382342

3. Singleton MJ, German CA, Soliman EZ, Whalen SP, Bhave PD, Bertoni AG, Yeboah J. Body Mass Index, Sex, and Incident Atrial Fibrillation in Diabetes: The ACCORD Trial. JACC Clin Electrophysiol. 2020 Dec 14;6(13):1713-1720. doi: 10.1016/j.jacep.2020.08.008. Epub 2020 Oct 28. PubMed [citation] PMID: 33334452

4. Su PC, Soliman EZ, Wu HT. Robust T-End Detection via T-End Signal Quality Index and Optimal Shrinkage. Sensors (Basel). 2020 Dec 9;20(24). pii: E7052. doi: 10.3390/s20247052. PubMed [citation] PMID: 33317208, PMCID: PMC7763682

5. Xiang KR, Soliman EZ, Bhave PD, Singleton MJ. Prognostic value of Goldberger's electrocardiographic criteria for left ventricular dysfunction. J Electrocardiol. 2020 Nov 27;64:18-22. doi: 10.1016/j.jelectrocard.2020.11.011. [Epub ahead of print] PubMed [citation] PMID: 33278775

6. Hiremath PG, Bhondoekhan F, Haberlen SA, Ashikaga H, Palella FJ, D'Souza G, Budoff MJ, Kingsley LA, Dobs AS, Post WS, Soliman EZ, Brown TT, Wu KC. Testosterone use and shorter electrocardiographic QT interval duration in men living with and without HIV. HIV Med. 2020 Dec 3. doi: 10.1111/hiv.13029. [Epub ahead of print] PubMed [citation] PMID: 33270338

7. Kamel H, Alwell K, Kissela BM, Sucharew HJ, Woo D, Flaherty M, Ferioli S, Demel SL, Moomaw CJ, Walsh K, Mackey J, Rios La Rosa Felipe L, Jasne A, Slavin S, Martini S, Adeoye O, Baig T, Chen ML, Levitan EB, Soliman EZ, Kleindorfer DO. Racial Differences in Atrial Cardiopathy Phenotypes in Ischemic Stroke Patients. Neurology. 2020 Nov 25. pii: 10.1212/WNL.0000000000011197. doi: 10.1212/WNL.0000000000011197. [Epub ahead of print] PubMed [citation] PMID: 33239363

8. Kim J, Wang W, Norby FL, Zhang M, Alonso A, Lutsey PL, Soliman EZ, Wolfson J, Chen LY. Diurnal circadian variations in paroxysmal atrial fibrillation: The atherosclerosis risk in communities (ARIC) study. J Electrocardiol. 2020 Nov - Dec;63:98-103. doi: 10.1016/j.jelectrocard.2020.10.013. Epub 2020 Oct 30. PubMed [citation] PMID: 33171399, PMCID: PMC7736503

9. Norby FL, Alonso A, Rooney MR, Maheshwari A, Koene RJ, Zhang M, Soliman EZ, Loehr LR, Mosley T, Gottesman RF, Coresh J, Chen LY. Association of Ventricular Arrhythmias with Dementia: The Atherosclerosis Risk in Communities (ARIC) Study. Neurology. 2020 Oct 26. pii: 10.1212/WNL.0000000000011122. doi: 10.1212/WNL.0000000000011122. [Epub ahead of print] PubMed [citation] PMID: 33106393

10. Wang W, Norby FL, Rooney MR, Zhang M, Gutierrez A, Garg P, Soliman EZ, Alonso A, Dudley SC Jr, Lutsey PL, Chen LY. Association of Life's Simple 7 with Atrial Fibrillation Burden (From the Atherosclerosis Risk in Communities Study). Am J Cardiol. 2020 Dec 15;137:31-38. doi: 10.1016/j.amjcard.2020.09.033. Epub 2020 Sep 28. PubMed [citation] PMID: 32998009, PMCID: PMC7704629

11. Costa MD, Redline S, Soliman EZ, Goldberger AL, Heckbert SR. Fragmented sinoatrial dynamics in the prediction of atrial fibrillation: the Multi-Ethnic Study of Atherosclerosis. Am J Physiol Heart Circ Physiol. 2021 Jan 1;320(1):H256-H271. doi: 10.1152/ajpheart.00421.2020. Epub 2020 Sep 28. PubMed [citation] PMID: 32986961

12. Skipina TM, Soliman EZ, Upadhya B. Association between secondhand smoke exposure and hypertension: nearly as large as smoking. J Hypertens. 2020 Oct;38(10):1899-1908. doi: 10.1097/HJH.0000000000002478. PubMed [citation] PMID: 32890262

13. Shi M, Chen LY, Bekwelem W, Norby FL, Soliman EZ, Alam AB, Alonso A. Association of Atrial Fibrillation With Incidence of Extracranial Systemic Embolic Events: The ARIC Study. J Am Heart Assoc. 2020 Sep 15;9(18):e016724. doi: 10.1161/JAHA.120.016724. Epub 2020 Aug 31. PubMed [citation] PMID: 32865122, PMCID: PMC7727011

14. Kwon Y, McHugh S, Ghoreshi K, Lyons GR, Cho Y, Bilchick KC, Mazimba S, Worrall BB, Akoum N, Chen LY, Soliman EZ. Electrocardiographic left atrial abnormality in patients presenting with ischemic stroke. J Stroke Cerebrovasc Dis. 2020 Sep;29(9):105086. doi: 10.1016/j.jstrokecerebrovasdis.2020.105086. Epub 2020 Jul 2. PubMed [citation] PMID: 32807482, PMCID: PMC7438603

15. Afify H, Lee HL, Soliman EZ, Singleton MJ. Prognostic significance of body mass index-adjusted criteria for left ventricular hypertrophy. J Clin Hypertens (Greenwich). 2020 Aug;22(8):1476-1483. doi: 10.1111/jch.13973. Epub 2020 Aug 6. PubMed [citation] PMID: 32762125

16. Singleton MJ, Soliman EZ, Bertoni AG, Whalen SP, Bhave PD, Yeboah J. Effect of Intensive Glycemic and Blood Pressure Control on QT Prolongation in Diabetes: The ACCORD Trial. Diabetes. 2020 Oct;69(10):2186-2193. doi: 10.2337/db20-0401. Epub 2020 Jul 30. PubMed [citation] PMID: 32732305, PMCID: PMC7809716

17. Chevli PA, Ahmad MI, Hari K, Anees MA, Soliman EZ. Impact of low fasting plasma glucose on mortality in the general population. Diab Vasc Dis Res. 2020 May-Jun;17(3):1479164120930599. doi: 10.1177/1479164120930599. PubMed [citation] PMID: 32720509

18. O'Neal WT, Bennett A, Singleton MJ, Judd SE, Howard G, Howard VJ, Hooker SP, Soliman EZ. Objectively Measured Physical Activity and the Risk of Atrial Fibrillation (from the REGARDS Study). Am J Cardiol. 2020 Aug 1;128:107-112. doi:10.1016/j.amjcard.2020.05.004. Epub 2020 May 15. PubMed [citation] PMID: 32650902

19. Dhaliwal KK, Upadhya B, Soliman EZ, Beaty EH, Yeboah J, Bhave PD, Whalen SP,Singleton MJ. Association of P-Wave Axis With Incident Atrial Fibrillation in Diabetes Mellitus (from the ACCORD Trial). Am J Cardiol. 2020 Aug 1;128:191-195. doi: 10.1016/j.amjcard.2020.05.009. Epub 2020 May 16. PubMed [citation] PMID: 32650919

20. Stein NR, Zelnick LR, Anderson AH, Christenson RH, deFilippi CR, Deo R, Go AS, He J, Ky B, Lash JP, Seliger SL, Soliman EZ, Shlipak MG, Bansal N; CRIC Study Investigators.. Associations Between Cardiac Biomarkers and Cardiac Structure and Function in CKD. Kidney Int Rep. 2020 May 7;5(7):1052-1060. doi: 10.1016/j.ekir.2020.04.031. eCollection 2020 Jul. PubMed [citation] PMID: 32647762, PMCID: PMC7335964

21. Baldassari AR, Sitlani CM, Highland HM, Arking DE, Buyske S, Darbar D, Gondalia R, Graff M, Guo X, Heckbert SR, Hindorff LA, Hodonsky CJ, Ida Chen YD, Kaplan RC, Peters U, Post W, Reiner AP, Rotter JI, Shohet RV, Seyerle AA, Sotoodehnia N, Tao R, et al. Multi-Ethnic Genome-Wide Association Study of Decomposed Cardioelectric Phenotypes Illustrates Strategies to Identify and Characterize Evidence of Shared Genetic Effects for Complex Traits. Circ Genom Precis Med. 2020 Aug;13(4):e002680. doi: 10.1161/CIRCGEN.119.002680. Epub 2020 Jun 30. PubMed [citation] PMID: 32602732, PMCID: PMC7520945

22. Tummalapalli SL, Zelnick LR, Andersen AH, Christenson RH, deFilippi CR, Deo R, Go AS, He J, Ky B, Lash JP, Seliger SL, Soliman EZ, Shlipak MG, Bansal N; CRIC Study Investigators †.. Association of Cardiac Biomarkers With the Kansas City Cardiomyopathy Questionnaire in Patients With Chronic Kidney Disease Without Heart Failure. J Am Heart Assoc. 2020 Jul 7;9(13):e014385. doi: 10.1161/JAHA.119.014385. Epub 2020 Jun 24. PubMed [citation] PMID: 32578483, PMCID: PMC7670503

23. Singleton MJ, Imtiaz-Ahmad M, Kamel H, O'Neal WT, Judd SE, Howard VJ, Howard G, Soliman EZ, Bhave PD. Association of Atrial Fibrillation Without Cardiovascular Comorbidities and Stroke Risk: From the REGARDS Study. J Am Heart Assoc. 2020 Jun 16;9(12):e016380. doi: 10.1161/JAHA.120.016380. Epub 2020 Jun 4. PubMed [citation] PMID: 32495723, PMCID: PMC7429041

24. Alonso A, Rooney MR, Chen LY, Norby FL, Saenger AK, Soliman EZ, O'Neal WT, Hootman KC, Selvin E, Lutsey PL. Circulating electrolytes and the prevalence of atrial fibrillation and supraventricular ectopy: The Atherosclerosis Risk in Communities (ARIC) study. Nutr Metab Cardiovasc Dis. 2020 Jun 25;30(7):1121-1129. doi: 10.1016/j.numecd.2020.03.010. Epub 2020 Mar 27. PubMed [citation] PMID: 32451276, PMCID: PMC7302995

25. Mather KJ, Bebu I, Baker C, Cohen RM, Crandall JP, DeSouza C, Green JB, Kirkman MS, Krause-Steinrauf H, Larkin M, Pettus J, Seaquist ER, Soliman EZ, Schroeder EB, Wexler DJ, Pop-Busui R; GRADE Research Group.. Prevalence of microvascular and macrovascular disease in the Glycemia Reduction Approaches in Diabetes – A Comparative Effectiveness (GRADE) Study cohort. Diabetes Res Clin Pract. 2020 Jul;165:108235. doi: 10.1016/j.diabres.2020.108235. Epub 2020 May 23. PubMed [citation] PMID: 32450102, PMCID: PMC7416515

26. Ntalla I, Weng LC, Cartwright JH, Hall AW, Sveinbjornsson G, Tucker NR, Choi SH, Chaffin MD, Roselli C, Barnes MR, Mifsud B, Warren HR, Hayward C, Marten J, Cranley JJ, Concas MP, Gasparini P, Boutin T, Kolcic I, Polasek O, Rudan I, Araujo NM, et al. Multi-ancestry GWAS of the electrocardiographic PR interval identifies 202 loci underlying cardiac conduction. Nat Commun. 2020 May 21;11(1):2542. doi: 10.1038/s41467-020-15706-x. PubMed [citation] PMID: 32439900, PMCID: PMC7242331

27. Xie E, Yu R, Ambale-Venkatesh B, Bakhshi H, Heckbert SR, Soliman EZ, Bluemke DA, Kawut SM, Wu CO, Nazarian S, Lima JAC. Association of right atrial structure with incident atrial fibrillation: a longitudinal cohort cardiovascular magnetic resonance study from the Multi-Ethnic Study of Atherosclerosis (MESA). J Cardiovasc Magn Reson. 2020 May 21;22(1):36. doi: 10.1186/s12968-020-00631-1. PubMed [citation] PMID: 32434529, PMCID: PMC7240918

28. Ehrhardt-Humbert L, Upadhya B, Bhave PD, Soliman EZ, Beaty EH, Yeboah J, Singleton MJ. P-wave axis is associated with all-cause mortality in diabetes: The ACCORD trial. J Electrocardiol. 2020 May - Jun;60:184-187. doi: 10.1016/j.jelectrocard.2020.04.023. Epub 2020 May 1. PubMed [citation] PMID: 32413693

29. Poon AK, Whitsel EA, Heiss G, Soliman EZ, Wagenknecht LE, Suzuki T, Loehr L. Insulin resistance and reduced cardiac autonomic function in older adults: the Atherosclerosis Risk in Communities study. BMC Cardiovasc Disord. 2020 May 11;20(1):217. doi: 10.1186/s12872-020-01496-z. PubMed [citation] PMID: 32393179, PMCID: PMC7216367

30. Skipina TM, Soliman EZ, Upadhya B. Association between secondhand smoke exposure and hypertension: nearly as large as smoking. J Hypertens. 2020 May 7. doi: 10.1097/HJH.0000000000002478. [Epub ahead of print] PubMed [citation] PMID: 32384392

31. Malik J, Soliman EZ, Wu HT. An adaptive QRS detection algorithm for ultra-long-term ECG recordings. J Electrocardiol. 2020 May - Jun;60:165-171. doi: 10.1016/j.jelectrocard.2020.02.016. Epub 2020 Feb 27. PubMed [citation] PMID: 32380280

32. Soliman EZ, Rahman AF, Zhang ZM, Rodriguez CJ, Chang TI, Bates JT, Ghazi L, Blackshear JL, Chonchol M, Fine LJ, Ambrosius WT, Lewis CE. Effect of Intensive Blood Pressure Lowering on the Risk of Atrial Fibrillation. Hypertension. 2020 Jun;75(6):1491-1496. doi: 10.1161/HYPERTENSIONAHA.120.14766. Epub 2020 May 4. PubMed [citation] PMID: 32362229, PMCID: PMC7225060

33. Ahmad MI, Li Y, Soliman MZ, Stacey RB, Kamel H, Soliman EZ. Electrocardiographic myocardial injury and stroke mortality in the general population. J Electrocardiol. 2020 May - Jun;60:126-130. doi: 10.1016/j.jelectrocard.2020.04.010. Epub 2020 Apr 18. PubMed [citation] PMID: 32361087

34. Patel N, Ahmad MI, Zhang W, Soliman EZ. Interrelations of Cumulative Social Risk, Silent Myocardial Infarction, and Mortality in the General Population. Am J Cardiol. 2020 Jun 15;125(12):1823-1828. doi: 10.1016/j.amjcard.2020.03.026. Epub 2020 Apr 10. PubMed [citation] PMID: 32327189

35. Full KM, Lutsey PL, Norby FL, Alonso A, Soliman EZ, Rooney MR, Chen LY. Association between excessive daytime sleepiness and measures of supraventricular arrhythmia burden: evidence from the Atherosclerosis Risk in Communities (ARIC) study. Sleep Breath. 2020 Sep;24(3):1223-1227. doi: 10.1007/s11325-020-02046-9. Epub 2020 Mar 25. PubMed [citation] PMID: 32215831

36. Gellert KS, Alonso A, Chen LY, Meyer ML, Soliman EZ, Suzuki T, Loehr LR. Association of Sleep Apnea, Diagnosed by Self-Reported Physician Diagnosis or Hospital Discharge Codes, With Atrial Fibrillation and Ectopy Using Ambulatory Electrocardiogram in the ARIC Study. Circ Arrhythm Electrophysiol. 2020 Apr;13(4):e007574. doi: 10.1161/CIRCEP.119.007574. Epub 2020 Mar 20. No abstract available. PubMed [citation] PMID: 32195600, PMCID: PMC7568924

37. Almuwaqqat Z, O'Neal WT, Hammadah M, Lima BB, Bremner JD, Soliman EZ, Shah AJ, Quyyumi AA, Vaccarino V. Abnormal P-wave axis and myocardial ischemia development during mental stress. J Electrocardiol. 2020 May - Jun;60:3-7. doi: 10.1016/j.jelectrocard.2020.02.019. Epub 2020 Mar 3. PubMed [citation] PMID: 32179275, PMCID: PMC7311287

38. Singleton MJ, German CA, Bertoni AG, Ambrosius WT, Bhave PD, Soliman EZ, Yeboah J. Association of Silent Myocardial Infarction With Major Cardiovascular Events in Diabetes: The ACCORD Trial. Diabetes Care. 2020 Apr;43(4):e45-e46. doi: 10.2337/dc19-2201. No abstract available. PubMed [citation] PMID: 32179509

39. Majeed CN, Ahmad MI, Ahsan I, Anees MA, Maheshwari SK, Soliman EZ. Response to the Letter to the Editor. Ann Noninvasive Electrocardiol. 2020 Mar;25(2):e12756. doi: 10.1111/anec.12756. No abstract available. PubMed [citation] PMID: 32154617, PMCID: PMC7358885

40. Soliman EZ, Howard G, Judd S, Bhave PD, Howard VJ, Herrington DM. Factors Modifying the Risk of Atrial Fibrillation Associated With Atrial Premature Complexes in Patients With Hypertension. Am J Cardiol. 2020 May 1;125(9):1324-1331. doi: 10.1016/j.amjcard.2020.02.006. Epub 2020 Feb 8. PubMed [citation] PMID: 32139160, PMCID: PMC7150624

41. Sawano M, Yuan Y, Kohsaka S, Inohara T, Suzuki T, Okamura T, Howard G, Howard VJ, Judd S, Soliman EZ, Cushman M. Electrocardiographic ST-T Abnormities Are Associated With Stroke Risk in the REGARDS Study. Stroke. 2020 Apr;51(4):1100-1106. doi: 10.1161/STROKEAHA.119.028069. Epub 2020 Mar 4. PubMed [citation] PMID: 32126939, PMCID: PMC7122793

42. Kamel H, Zhang C, Kleindorfer DO, Levitan EB, Howard VJ, Howard G, Soliman EZ, Johnston SC. Association of Black Race With Early Recurrence After Minor Ischemic Stroke or Transient Ischemic Attack: Secondary Analysis of the POINT Randomized Clinical Trial. JAMA Neurol. 2020 May 1;77(5):601-605. doi: 10.1001/jamaneurol.2020.0010. PubMed [citation] PMID: 32091536, PMCID: PMC7042873

43. Bebu I, Schade D, Braffett B, Kosiborod M, Lopes-Virella M, Soliman EZ, Herman WH, Bluemke DA, Wallia A, Orchard T, Lachin JM; DCCT/EDIC Research Group.. Risk Factors for First and Subsequent CVD Events in Type 1 Diabetes: The DCCT/EDIC Study. Diabetes Care. 2020 Apr;43(4):867-874. doi: 10.2337/dc19-2292. Epub 2020 Jan 30. PubMed [citation] PMID: 32001614, PMCID: PMC7085803

44. Heckbert SR, Austin TR, Jensen PN, Chen LY, Post WS, Floyd JS, Soliman EZ, Kronmal RA, Psaty BM. Differences by Race/Ethnicity in the Prevalence of Clinically Detected and Monitor-Detected Atrial Fibrillation: MESA. Circ Arrhythm Electrophysiol. 2020 Jan;13(1):e007698. doi: 10.1161/CIRCEP.119.007698. Epub 2020 Jan 14. PubMed [citation] PMID: 31934795, PMCID: PMC7204495

45. Lee HL, Ahmad MI, Li Y, Stacey RB, Soliman EZ. Impact of the Location of ST-T Abnormalities Accompanying Minor Q-Waves on the Definition of Prior Myocardial Infarction. Am J Cardiol. 2020 Mar 15;125(6):860-865. doi: 10.1016/j.amjcard.2019.12.035. Epub 2019 Dec 26. PubMed [citation] PMID: 31926633

46. Garg PK, Claxton JS, Soliman EZ, Chen LY, Lewis TT, Mosley T Jr, Alonso A. Associations of anger, vital exhaustion, anti-depressant use, and poor social ties with incident atrial fibrillation: The Atherosclerosis Risk in Communities Study. Eur J Prev Cardiol. 2020 Jan 13:2047487319897163. doi: 10.1177/2047487319897163. [Epub ahead of print] PubMed [citation] PMID: 31930923

47. Singleton MJ, German C, Hari KJ, Saylor G, Herrington DM, Soliman EZ, Freedman BI, Bowden DW, Bhave PD, Yeboah J. QRS duration is associated with all-cause mortality in type 2 diabetes: The diabetes heart study. J Electrocardiol. 2020 Jan - Feb;58:150-154. doi: 10.1016/j.jelectrocard.2019.11.053. Epub 2019 Nov 28. PubMed [citation] PMID: 31895990

48. German C, Ahmad MI, Li Y, Soliman EZ. Relations Between Physical Activity, Subclinical Myocardial Injury, and Cardiovascular Mortality in the General Population. Am J Cardiol. 2020 Jan 15;125(2):205-209. doi: 10.1016/j.amjcard.2019.08.031. Epub 2019 Sep 6. PubMed [citation] PMID: 31847957

49. Gutierrez A, Norby FL, Maheshwari A, Rooney MR, Gottesman RF, Mosley TH, Lutsey PL, Oldenburg N, Soliman EZ, Alonso A, Chen LY. Association of Abnormal P-Wave Indices With Dementia and Cognitive Decline Over 25 Years: ARIC-NCS (The Atherosclerosis Risk in Communities Neurocognitive Study). J Am Heart Assoc. 2019 Dec 17;8(24):e014553. doi: 10.1161/JAHA.119.014553. Epub 2019 Dec 13. PubMed [citation] PMID: 31830872, PMCID: PMC6951047

50. Rattani A, Claxton JS, Ali MK, Chen LY, Soliman EZ, Alvaro A. Association and impact of hypertension defined using the 2017 AHA/ACC guidelines on the risk of atrial fibrillation in The Atherosclerosis Risk in Communities study. BMC Cardiovasc Disord. 2019 Nov 26;19(1):262. doi: 10.1186/s12872-019-1259-0. PubMed [citation] PMID: 31771509, PMCID: PMC6878648

51. Soliman EZ. Reprint of "Electrocardiographic definition of silent myocardial infarction in population studies: A call to standardize the standards". J Electrocardiol. 2019 Nov - Dec;57S:S5-S9. doi: 10.1016/j.jelectrocard.2019.10.011. Epub 2019 Nov 14. PubMed [citation] PMID: 31733805

52. Garg PK, Jorgensen N, Moore K, Soliman EZ, Heckbert SR. Neighborhood environments and risk of incident atrial fibrillation: The Multi-ethnic Study of Atherosclerosis. Eur J Prev Cardiol. 2020 Sep;27(13):1440-1441. doi: 10.1177/2047487319885196. Epub 2019 Oct 29. No abstract available. PubMed [citation] PMID: 31660749

53. Ahmad MI, Mongraw-Chaffin M, Lewis KH, Chen H, Ard JD, Soliman EZ. Association of Obesity Phenotypes with Electrocardiographic Markers of Poor Outcomes in the General Population. Obesity (Silver Spring). 2019 Dec;27(12):2076-2083. doi: 10.1002/oby.22647. Epub 2019 Oct 27. PubMed [citation] PMID: 31657153

54. Decker JJ, Norby FL, Rooney MR, Soliman EZ, Lutsey PL, Pankow JS, Alonso A, Chen LY. Metabolic Syndrome and Risk of Ischemic Stroke in Atrial Fibrillation: ARIC Study. Stroke. 2019 Nov;50(11):3045-3050. doi: 10.1161/STROKEAHA.119.025376. Epub 2019 Oct 18. PubMed [citation] PMID: 31623543, PMCID: PMC6817422

55. Navi BB, Howard G, Howard VJ, Zhao H, Judd SE, Elkind MSV, Iadecola C, DeAngelis LM, Kamel H, Okin PM, Gilchrist S, Soliman EZ, Cushman M, Safford M, Muntner P. The risk of arterial thromboembolic events after cancer diagnosis. Res Pract Thromb Haemost. 2019 Jun 9;3(4):639-651. doi: 10.1002/rth2.12223. eCollection 2019 Oct. PubMed [citation] PMID: 31624783, PMCID: PMC6781919

56. Rooney MR, Soliman EZ, Lutsey PL, Norby FL, Loehr LR, Mosley TH, Zhang M, Gottesman RF, Coresh J, Folsom AR, Alonso A, Chen LY. Prevalence and Characteristics of Subclinical Atrial Fibrillation in a Community-Dwelling Elderly Population: The ARIC Study. Circ Arrhythm Electrophysiol. 2019 Oct;12(10):e007390. doi: 10.1161/CIRCEP.119.007390. Epub 2019 Oct 14. PubMed [citation] PMID: 31607148, PMCID: PMC6814387

57. Bansal N, Zelnick L, Shlipak MG, Anderson A, Christenson R, Deo R, deFilippi C, Feldman H, Lash J, He J, Kusek J, Ky B, Seliger S, Soliman EZ, Go AS; CRIC Study Investigators. Cardiac and Stress Biomarkers and Chronic Kidney Disease Progression: The CRIC Study. Clin Chem. 2019 Nov;65(11):1448-1457. doi: 10.1373/clinchem.2019.305797. Epub 2019 Oct 2. PubMed [citation] PMID: 31578216, PMCID: PMC6927328

58. Habibi M, Chahal H, Greenland P, Guallar E, Lima JAC, Soliman EZ, Alonso A, Heckbert SR, Nazarian S. Resting Heart Rate, Short-Term Heart Rate Variability and Incident Atrial Fibrillation (from the Multi-Ethnic Study of Atherosclerosis (MESA)). Am J Cardiol. 2019 Dec 1;124(11):1684-1689. doi: 10.1016/j.amjcard.2019.08.025. Epub 2019 Sep 6. PubMed [citation] PMID: 31575421, PMCID: PMC6939867

59. Almuwaqqat Z, O'Neal WT, Norby FL, Lutsey PL, Selvin E, Soliman EZ, Chen LY, Alonso A. Joint Associations of Obesity and NT-proBNP With the Incidence of Atrial Fibrillation in the ARIC Study. J Am Heart Assoc. 2019 Oct;8(19):e013294. doi: 10.1161/JAHA.119.013294. Epub 2019 Sep 28. PubMed [citation] PMID: 31564186, PMCID: PMC6806039

60. Wu KC, Bhondoekhan F, Haberlen SA, Ashikaga H, Brown TT, Budoff MJ, D'Souza G, Magnani JW, Kingsley LA, Palella FJ, Margolick JB, Martínez-Maza O, Altekruse SF, Soliman EZ, Post WS. Associations between QT interval subcomponents, HIV serostatus, and inflammation. Ann Noninvasive Electrocardiol. 2020 Mar;25(2):e12705. doi: 10.1111/anec.12705. Epub 2019 Sep 19. PubMed [citation] PMID: 31538387, PMCID: PMC7358816

61. Ahmad MI, Singleton MJ, Bhave PD, Kamel H, Soliman EZ. Atrial cardiopathy and stroke mortality in the general population. Int J Stroke. 2020 Aug;15(6):650-656. doi: 10.1177/1747493019876543. Epub 2019 Sep 17. PubMed [citation] PMID: 31530133

62. Majeed CN, Ahmad MI, Ahsan I, Anees MA, Maheshwari SK, Soliman EZ. Relation of total bilirubin and QT interval prolongation (from the Third National Health and Nutrition Examination Survey). Ann Noninvasive Electrocardiol. 2020 Mar;25(2):e12696. doi: 10.1111/anec.12696. Epub 2019 Sep 9. PubMed [citation] PMID: 31498504, PMCID: PMC7358851

63. Meyer ML, Soliman EZ, Drager D, Heiss G. Short-term repeatability of electrocardiographic criteria of left ventricular hypertrophy. Ann Noninvasive Electrocardiol. 2020 Mar;25(2):e12688. doi: 10.1111/anec.12688. Epub 2019 Sep 9. PubMed [citation] PMID: 31498512, PMCID: PMC7061061

64. Jain R, Gautam S, Wu C, Shen C, Jain A, Giesdal O, Chahal H, Lin H, Bluemke DA, Soliman EZ, Nazarian S, Lima JAC. Prognostic implications of QRS dispersion for major adverse cardiovascular events in asymptomatic women and men: the Multi-Ethnic Study of Atherosclerosis. J Interv Card Electrophysiol. 2019 Oct;56(1):45-53. doi: 10.1007/s10840-019-00614-y. Epub 2019 Sep 3. PubMed [citation] PMID: 31482330

65. Kim JS, Azarbarzin A, Wang R, Djonlagic IE, Punjabi NM, Zee PC, Koo BB, Soliman EZ, Younes M, Redline S. Association of novel measures of sleep disturbances with blood pressure: the Multi-Ethnic Study of Atherosclerosis. Thorax. 2020 Jan;75(1):57-63. doi: 10.1136/thoraxjnl-2019-213533. Epub 2019 Aug 22. PubMed [citation] PMID: 31439722

66. Soliman EZ, Bhave PD, Chen LY. Electrocardiographic Diagnosis of Atrial Arrhythmias. JAMA. 2019 Aug 20;322(7):688-689. doi: 10.1001/jama.2019.10925. No abstract available. PubMed [citation] PMID: 31429875

67. Lamprea-Montealegre JA, Zelnick LR, Shlipak MG, Floyd JS, Anderson AH, He J, Christenson R, Seliger SL, Soliman EZ, Deo R, Ky B, Feldman HI, Kusek JW, deFilippi CR, Wolf MS, Shafi T, Go AS, Bansal N; CRIC Study Investigators. Cardiac Biomarkers and Risk of Atrial Fibrillation in Chronic Kidney Disease: The CRIC Study. J Am Heart Assoc. 2019 Aug 6;8(15):e012200. doi: 10.1161/JAHA.119.012200. Epub 2019 Aug 5. PubMed [citation] PMID: 31379242, PMCID: PMC6761652

68. Loehr LR, Soliman EZ, Poon AK, Couper D, Chen LY, Mosley TH, Wagenknecht LE, Whitsel EA, Alonso A, Wruck L, Heiss G. The prevalence of atrial fibrillation on 48-hour ambulatory electrocardiography in African Americans compared to Whites: The Atherosclerosis Risk in Communities (ARIC) study. Am Heart J. 2019 Oct;216:1-8. doi: 10.1016/j.ahj.2019.06.017. Epub 2019 Jul 3. PubMed [citation] PMID: 31352135, PMCID: PMC6842681

69. Garg PK, Jorgensen N, Diez-Roux AV, O'Neal W, Mujahid M, Moore K, Soliman EZ, Heckbert SR. Neighborhood environments and risk of incident atrial fibrillation: The Multi-Ethnic Study of Atherosclerosis. Eur J Prev Cardiol. 2020 Dec;27(19):2116-2118. doi: 10.1177/2047487319866020. Epub 2019 Jul 26. No abstract available. PubMed [citation] PMID: 31349772

70. Ahmad MI, Mujtaba M, Anees MA, Li Y, Soliman EZ. Interrelation Between Electrocardiographic Left Atrial Abnormality, Left Ventricular Hypertrophy, and Mortality in Participants With Hypertension. Am J Cardiol. 2019 Sep 15;124(6):886-891. doi: 10.1016/j.amjcard.2019.06.003. Epub 2019 Jun 25. PubMed [citation] PMID: 31324356

71. Brunetti R, Hicklin H, Rackley J, Ahmad MI, Li Y, Soliman EZ. Serum Cotinine and Silent Myocardial Infarction in Individuals Free from Cardiovascular Disease. Am J Cardiol. 2019 Sep 1;124(5):666-670. doi: 10.1016/j.amjcard.2019.05.064. Epub 2019 Jun 6. PubMed [citation] PMID: 31272704

72. Upadhya B, Rocco MV, Pajewski NM, Morgan T, Blackshear J, Hundley WG, Oparil S, Soliman EZ, Cohen DL, Hamilton CA, Cho ME, Kostis WJ, Papademetriou V, Rodriguez CJ, Raj DS, Townsend R, Vasu S, Zamanian S, Kitzman DW; SPRINT Research Group *.Effect of Intensive Blood Pressure Reduction on Left Ventricular Mass, Structure, Function, and Fibrosis in the SPRINT-HEART. Hypertension. 2019 Jul 1:HYPERTENSIONAHA11913073. doi: 10.1161/HYPERTENSIONAHA.119.13073. [Epub ahead of print] PubMed [citation] PMID: 31256724, PMCID: PMC7098010

73. Swenson BR, Louie T, Lin HJ, Méndez-Giráldez R, Below JE, Laurie CC, Kerr KF, Highland H, Thornton TA, Ryckman KK, Kooperberg C, Soliman EZ, Seyerle AA, Guo X, Taylor KD, Yao J, Heckbert SR, Darbar D, Petty LE, McKnight B, Cheng S, Bello NA, et al. GWAS of QRS duration identifies new loci specific to Hispanic/Latino populations. PLoS One. 2019 Jun 28;14(6):e0217796. doi: 10.1371/journal.pone.0217796. eCollection 2019. PubMed [citation] PMID: 31251759, PMCID: PMC6599128

74. Markman TM, Bluemke D, Soliman EZ, Wu C, Kawel-Boehm N, Lima JAC, Nazarian S. Baseline ST elevation and myocardial scar: Results from the multi-ethnic study of atherosclerosis. J Electrocardiol. 2019 Sep - Oct;56:29-33. doi:10.1016/j.jelectrocard.2019.06.013. Epub 2019 Jun 18. PubMed [citation] PMID: 31247443, PMCID: PMC6744967

75. Noordam R, Young WJ, Salman R, Kanters JK, van den Berg ME, van Heemst D, Lin HJ, Barreto SM, Biggs ML, Biino G, Catamo E, Concas MP, Ding J, Evans DS, Foco L, Grarup N, Lyytikäinen LP, Mangino M, Mei H, van der Most PJ, Müller-Nurasyid M, Nelson CP, et al. Effects of Calcium, Magnesium, and Potassium Concentrations on Ventricular Repolarization in Unselected Individuals. J Am Coll Cardiol. 2019 Jun25;73(24):3118-3131. doi: 10.1016/j.jacc.2019.03.519. PubMed [citation] PMID:31221261

76. Soliman EZ. Electrocardiographic definition of silent myocardial infarction in population studies: A call to standardize the standards. J Electrocardiol. 2019 Jul - Aug;55:128-132. doi: 10.1016/j.jelectrocard.2019.05.008. Epub 2019 May 18. PubMed [citation] PMID: 31170595

77. Alshaarawy O, Sidney S, Auer R, Green D, Soliman EZ, Goff DC Jr, Anthony JC. Cannabis Use and Markers of Systemic Inflammation: The Coronary Artery Risk Development in Young Adults Study. Am J Med. 2019 Nov;132(11):1327-1334.e1. doi: 10.1016/j.amjmed.2019.04.045. Epub 2019 May 29. PubMed [citation] PMID: 31150645, PMCID: PMC6883146

78. Almuwaqqat Z, Jokhadar M, Norby FL, Lutsey PL, O'Neal WT, Seyerle A, Soliman EZ, Chen LY, Bremner JD, Vaccarino V, Shah AJ, Alonso A. Association of Antidepressant Medication Type With the Incidence of Cardiovascular Disease in the ARIC Study. J Am Heart Assoc. 2019 Jun 4;8(11):e012503. doi: 10.1161/JAHA.119.012503. Epub 2019 May 29. PubMed [citation] PMID: 31140335, PMCID: PMC6585369

79. Chen LY, Soliman EZ. P Wave Indices-Advancing Our Understanding of Atrial Fibrillation-Related Cardiovascular Outcomes. Front Cardiovasc Med. 2019 May 3;6:53. doi: 10.3389/fcvm.2019.00053. eCollection 2019. Review. PubMed [citation] PMID: 31131284, PMCID: PMC6509260

80. Berger D, Folsom AR, Schreiner PJ, Chen LY, Michos ED, O'Neal WT, Soliman EZ, Alonso A. Plasma total testosterone and risk of incident atrial fibrillation: The Atherosclerosis Risk in Communities (ARIC) study. Maturitas. 2019 Jul;125:5-10. doi: 10.1016/j.maturitas.2019.03.015. Epub 2019 Mar 31. PubMed [citation] PMID: 31133217, PMCID: PMC6538393

81. Brooks JE, Soliman EZ, Upadhya B. Is Left Ventricular Hypertrophy a Valid Therapeutic Target? Curr Hypertens Rep. 2019 May 20;21(6):47. doi: 10.1007/s11906-019-0952-9. Review. PubMed [citation] PMID: 31111289

82. Ahmad MI, Majeed CN, Chaudhary D, Dutta A, Jogu HR, Soliman EZ. Relation of Marital Status and QT Interval Prolongation (from the Third National Health and Nutrition Examination Survey). Am J Cardiol. 2019 Jul 15;124(2):211-215. doi: 10.1016/j.amjcard.2019.04.020. Epub 2019 Apr 23. PubMed [citation] PMID: 31084996

83. Kapoor A, Lee D, Zhu L, Soliman EZ, Grove ML, Boerwinkle E, Arking DE, Chakravarti A. Multiple SCN5A variant enhancers modulate its cardiac gene expression and the QT interval. Proc Natl Acad Sci U S A. 2019 May 28;116(22):10636-10645. doi: 10.1073/pnas.1808734116. Epub 2019 May 8. PubMed [citation] PMID: 31068470, PMCID: PMC6561183

84. Linares JD, Jackson LR 2nd, Dawood FZ, Swett K, Benjamin EJ, Schneiderman N, Soliman EZ, Cai J, Alonso A, Wassertheil-Smoller S, Talavera GA, Daubert JP, Daviglus ML, Rodriguez CJ. Prevalence of atrial fibrillation and association with clinical, sociocultural, and ancestral correlates among Hispanic/Latinos: The Hispanic Community Health Study/Study of Latinos. Heart Rhythm. 2019 May;16(5):686-693. doi: 10.1016/j.hrthm.2018.11.033. PubMed [citation] PMID: 31036248, PMCID: PMC7603898

85. Douce DR, Soliman EZ, Naik R, Hyacinth HI, Cushman M, Winkler CA, Howard G, Lange EM, Lange LA, Irvin MR, Zakai NA. Association of sickle cell trait with atrial fibrillation: The REGARDS cohort. J Electrocardiol. 2019 Jul - Aug;55:1-5. doi: 10.1016/j.jelectrocard.2019.04.010. Epub 2019 Apr 16. PubMed [citation] PMID: 31028976, PMCID: PMC6639128

86. Alonso A, Yu B, Sun YV, Chen LY, Loehr LR, O'Neal WT, Soliman EZ, Boerwinkle E. Serum Metabolomics and Incidence of Atrial Fibrillation (from the Atherosclerosis Risk in Communities Study). Am J Cardiol. 2019 Jun 15;123(12):1955-1961. doi: 10.1016/j.amjcard.2019.03.017. Epub 2019 Mar 18. PubMed [citation] PMID: 30979411, PMCID: PMC6529276

87. Berman JP, Norby FL, Mosley T, Soliman EZ, Gottesman RF, Lutsey PL, Alonso A, Chen LY. Atrial Fibrillation and Brain Magnetic Resonance Imaging Abnormalities. Stroke. 2019 Apr;50(4):783-788. doi: 10.1161/STROKEAHA.118.024143. PubMed [citation] PMID: 30908155, PMCID: PMC6662638

88. Kowal J, Ahmad MI, Li Y, Soliman EZ. Prognostic significance of electrocardiographic right ventricular hypertrophy in the general population. J Electrocardiol. 2019 May - Jun;54:49-53. doi: 10.1016/j.jelectrocard.2019.03.008. Epub 2019 Mar 13. PubMed [citation] PMID: 30901607

89. Shao IY, Power MC, Mosley T, Jack C Jr, Gottesman RF, Chen LY, Norby FL, Soliman EZ, Alonso A. Association of Atrial Fibrillation With White Matter Disease. Stroke. 2019 Apr;50(4):989-991. doi: 10.1161/STROKEAHA.118.023386. PubMed [citation] PMID: 30879437, PMCID: PMC6433530

90. Ahmad MI, Chevli PA, Barot H, Soliman EZ. Interrelationships Between American Heart Association's Life's Simple 7, ECG Silent Myocardial Infarction, and Cardiovascular Mortality. J Am Heart Assoc. 2019 Mar 19;8(6):e011648. doi: 10.1161/JAHA.118.011648. PubMed [citation] PMID: 30859894, PMCID: PMC6475074

91. Sparapani R, Dabbouseh NM, Gutterman D, Zhang J, Chen H, Bluemke DA, Lima JAC, Burke GL, Soliman EZ. Detection of Left Ventricular Hypertrophy Using Bayesian Additive Regression Trees: The MESA. J Am Heart Assoc. 2019 Mar 5;8(5):e009959. doi: 10.1161/JAHA.118.009959. Erratum in: J Am Heart Assoc. 2019 May 7;8(9):e002294. PubMed [citation] PMID: 30827132, PMCID: PMC6474924

92. Hari KJ, Singleton MJ, Ahmad MI, Soliman EZ. Relation of Minor Electrocardiographic Abnormalities to Cardiovascular Mortality. Am J Cardiol. 2019 May 1;123(9):1443-1447. doi: 10.1016/j.amjcard.2019.01.050. Epub 2019 Feb 10. PubMed [citation] PMID: 30792000

93. Bose A, O'Neal WT, Wu C, McClure LA, Judd SE, Howard VJ, Howard G, Soliman EZ. Sex Differences in Risk Factors for Incident Atrial Fibrillation (from the Reasons for Geographic and Racial Differences in Stroke [REGARDS] Study). Am J Cardiol. 2019 May 1;123(9):1453-1457. doi: 10.1016/j.amjcard.2019.01.056. Epub 2019 Feb 10. PubMed [citation] PMID: 30771859

94. Chen ML, Parikh NS, Merkler AE, Kleindorfer DO, Bhave PD, Levitan EB, Soliman EZ, Kamel H. Risk of Atrial Fibrillation in Black Versus White Medicare Beneficiaries With Implanted Cardiac Devices. J Am Heart Assoc. 2019 Feb 19;8(4):e010661. doi: 10.1161/JAHA.118.010661. PubMed [citation] PMID: 30741594, PMCID: PMC6405685

95. Boursiquot BC, Larson JC, Shalash OA, Vitolins MZ, Soliman EZ, Perez MV. Vitamin D with calcium supplementation and risk of atrial fibrillation in postmenopausal women. Am Heart J. 2019 Mar;209:68-78. doi: 10.1016/j.ahj.2018.12.006. Epub 2018 Dec 13. PubMed [citation] PMID: 30685677

96. van Setten J, Verweij N, Mbarek H, Niemeijer MN, Trompet S, Arking DE, Brody JA, Gandin I, Grarup N, Hall LM, Hemerich D, Lyytikäinen LP, Mei H, Müller-Nurasyid M, Prins BP, Robino A, Smith AV, Warren HR, Asselbergs FW, Boomsma DI, Caulfield MJ, Eijgelsheim M, et al. Genome-wide association meta-analysis of 30,000 samples identifies seven novel loci for quantitative ECG traits. Eur J Hum Genet. 2019 Jun;27(6):952-962. doi: 10.1038/s41431-018-0295-z. Epub 2019 Jan 24. PubMed [citation] PMID: 30679814, PMCID: PMC6777533

97. Anees MA, Ahmad MI, Chevli PA, Li Y, Soliman EZ. Association of vitamin D deficiency with electrocardiographic markers of left atrial abnormalities. Ann Noninvasive Electrocardiol. 2019 May;24(3):e12626. doi: 10.1111/anec.12626. Epub 2019 Jan 19. PubMed [citation] PMID: 30659705, PMCID: PMC6931612

98. Vasim I, Ahmad MI, Mongraw-Chaffin M, Soliman EZ. Association of obesity phenotypes with electrocardiographic subclinical myocardial injury in the general population. Clin Cardiol. 2019 Mar;42(3):373-378. doi: 10.1002/clc.23155. Epub 2019 Feb 6. PubMed [citation] PMID: 30652323, PMCID: PMC6712312

99. Ahmad MI, Dutta A, Anees MA, Soliman EZ. Interrelations Between Serum Uric Acid, Silent Myocardial Infarction, and Mortality in the General Population. Am J Cardiol. 2019 Mar 15;123(6):882-888. doi: 10.1016/j.amjcard.2018.12.016. Epub 2018 Dec 19. PubMed [citation] PMID: 30617009

100. Maheshwari A, Norby FL, Roetker NS, Soliman EZ, Koene RJ, Rooney MR, O'Neal WT, Shah AM, Claggett BL, Solomon SD, Alonso A, Gottesman RF, Heckbert SR, Chen LY. Refining Prediction of Atrial Fibrillation-Related Stroke Using the P(2)-CHA(2)DS(2)-VASc Score. Circulation. 2019 Jan 8;139(2):180-191. doi: 10.1161/CIRCULATIONAHA.118.035411. PubMed [citation] PMID: 30586710, PMCID: PMC6481672

101. Garg PK, O'Neal WT, Diez-Roux AV, Alonso A, Soliman EZ, Heckbert S. Negative Affect and Risk of Atrial Fibrillation: MESA. J Am Heart Assoc. 2019 Jan 8;8(1):e010603. doi: 10.1161/JAHA.118.010603. PubMed [citation] PMID: 30563392, PMCID: PMC6405728

102. Koene RJ, Alraies MC, Norby FL, Soliman EZ, Maheshwari A, Lip GYH, Alonso A, Chen LY. Relation of the CHA(2)DS(2)-VASc Score to Risk of Thrombotic and Embolic Stroke in Community-Dwelling Individuals Without Atrial Fibrillation (From The Atherosclerosis Risk in Communities [ARIC] Study). Am J Cardiol. 2019 Feb 1;123(3):402-408. doi: 10.1016/j.amjcard.2018.10.037. Epub 2018 Nov 6. PubMed [citation] PMID: 30527796, PMCID: PMC6424356

103. Howard VJ, Madsen TE, Kleindorfer DO, Judd SE, Rhodes JD, Soliman EZ, Kissela BM,Safford MM, Moy CS, McClure LA, Howard G, Cushman M. Sex and Race Differences in the Association of Incident Ischemic Stroke With Risk Factors. JAMA Neurol. 2019 Feb 1;76(2):179-186. doi: 10.1001/jamaneurol.2018.3862. PubMed [citation] PMID: 30535250, PMCID: PMC6439952

104. Ahmad MI, Li Y, Soliman EZ. Association of obesity phenotypes with electrocardiographic left ventricular hypertrophy in the general population. J Electrocardiol. 2018 Nov - Dec;51(6):1125-1130. doi: 10.1016/j.jelectrocard.2018.10.085. Epub 2018 Oct 9. PubMed [citation] PMID: 30497743

105. Heckbert SR, Austin TR, Jensen PN, Floyd JS, Psaty BM, Soliman EZ, Kronmal RA. Yield and consistency of arrhythmia detection with patch electrocardiographic monitoring: The Multi-Ethnic Study of Atherosclerosis. J Electrocardiol. 2018 Nov- Dec;51(6):997-1002. doi: 10.1016/j.jelectrocard.2018.07.027. Epub 2018 Jul 30. PubMed [citation] PMID: 30497763, PMCID: PMC6278608

106. Deo R, Safford MM, Khodneva YA, Jannat-Khah DP, Brown TM, Judd SE, McClellan WM, Rhodes JD, Shlipak MG, Soliman EZ, Albert CM. Differences in Risk of Sudden Cardiac Death Between Blacks and Whites. J Am Coll Cardiol. 2018 Nov 13;72(20):2431-2439. doi: 10.1016/j.jacc.2018.08.2173. PubMed [citation] PMID: 30442286

107. Sen S, Androulakis XM, Duda V, Alonso A, Chen LY, Soliman EZ, Magnani J, Trivedi T, Merchant AT, Gottesman RF, Rosamond WD. Migraine with visual aura is a risk factor for incident atrial fibrillation: A cohort study. Neurology. 2018 Dec 11;91(24):e2202-e2210. doi: 10.1212/WNL.0000000000006650. Epub 2018 Nov 14. PubMed [citation] PMID: 30429278, PMCID: PMC6329332

108. Cao X, Broughton ST, Waits GS, Nguyen T, Li Y, Soliman EZ. Interrelations Between Hypertension and Electrocardiographic Left Ventricular Hypertrophy and Their Associations With Cardiovascular Mortality. Am J Cardiol. 2019 Jan 15;123(2):274-283. doi: 10.1016/j.amjcard.2018.10.006. Epub 2018 Oct 18. PubMed [citation] PMID: 30390988

109. Bansal N, Xie D, Sha D, Appel LJ, Deo R, Feldman HI, He J, Jamerson K, Kusek JW, Messe S, Navaneethan SD, Rahman M, Ricardo AC, Soliman EZ, Townsend R, Go AS. Cardiovascular Events after New-Onset Atrial Fibrillation in Adults with CKD: Results from the Chronic Renal Insufficiency Cohort (CRIC) Study. J Am Soc Nephrol. 2018 Dec;29(12):2859-2869. doi: 10.1681/ASN.2018050514. Epub 2018 Oct 30. PubMed [citation] PMID: 30377231, PMCID: PMC6287862

110. Almahmoud MF, Soliman EZ, Bertoni AG, Kestenbaum B, Katz R, Lima JAC, Ouyang P, Miller PE, Michos ED, Herrington DM. Fibroblast Growth Factor-23 and Heart Failure With Reduced Versus Preserved Ejection Fraction: MESA. J Am Heart Assoc. 2018 Sep 18;7(18):e008334. doi: 10.1161/JAHA.117.008334. PubMed [citation] PMID: 30371180, PMCID: PMC6222949

111. Wu KC, Zhang L, Haberlen SA, Ashikaga H, Brown TT, Budoff MJ, D'Souza G, Kingsley LA, Palella FJ, Margolick JB, Martínez-Maza O, Soliman EZ, Post WS. Predictors of electrocardiographic QT interval prolongation in men with HIV. Heart. 2019 Apr;105(7):559-565. doi: 10.1136/heartjnl-2018-313667. Epub 2018 Oct 26. PubMed [citation] PMID: 30366934, PMCID: PMC7366367

112. Hari KJ, Nguyen TP, Soliman EZ. Relationship between P-wave duration and the risk of atrial fibrillation. Expert Rev Cardiovasc Ther. 2018 Nov;16(11):837-843. doi: 10.1080/14779072.2018.1533814. Epub 2018 Oct 11. Review. PubMed [citation] PMID: 30295096

113. Ahmad MI, Chevli PA, Li Y, Soliman EZ. Vitamin D deficiency and electrocardiographic subclinical myocardial injury: Results from National Health and Nutrition Examination Survey-III. Clin Cardiol. 2018 Nov;41(11):1468-1473. doi: 10.1002/clc.23078. Epub 2018 Nov 20. PubMed [citation] PMID: 30239028, PMCID: PMC6489797

114. Costa MD, Redline S, Davis RB, Heckbert SR, Soliman EZ, Goldberger AL. Heart Rate Fragmentation as a Novel Biomarker of Adverse Cardiovascular Events: The Multi-Ethnic Study of Atherosclerosis. Front Physiol. 2018 Sep 3;9:1117. doi: 10.3389/fphys.2018.01117. eCollection 2018. PubMed [citation] PMID: 30233384, PMCID: PMC6129761

115. Soliman EZ. Silent myocardial infarction and risk of heart failure: Current evidence and gaps in knowledge. Trends Cardiovasc Med. 2019 May;29(4):239-244. doi: 10.1016/j.tcm.2018.09.004. Epub 2018 Sep 8. Review. PubMed [citation] PMID: 30224236

116. Kamel H, Longstreth WT Jr, Tirschwell DL, Kronmal RA, Broderick JP, Palesch YY, Meinzer C, Dillon C, Ewing I, Spilker JA, Di Tullio MR, Hod EA, Soliman EZ, Chaturvedi S, Moy CS, Janis S, Elkind MS. The AtRial Cardiopathy and Antithrombotic Drugs In prevention After cryptogenic stroke randomized trial: Rationale and methods. Int J Stroke. 2019 Feb;14(2):207-214. doi: 10.1177/1747493018799981. Epub 2018 Sep 10. PubMed [citation] PMID: 30196789, PMCID: PMC6645380

117. Riley RF, Miller CD, Russell GB, Soliman EZ, Hiestand BC, Herrington DM, Mahler SA. Usefulness of Serial 12-Lead Electrocardiograms in Predicting 30-Day Outcomes in Patients With Undifferentiated Chest Pain (the ASAP CATH Study). Am J Cardiol. 2018 Aug 1;122(3):374-380. doi: 10.1016/j.amjcard.2018.04.031. Epub 2018 May 1. PubMed [citation] PMID: 30196932

118. Ghazi L, Bennett A, Petrov ME, Howard VJ, Safford MM, Soliman EZ, Glasser SP. Race, Sex, Age, and Regional Differences in the Association of Obstructive Sleep Apnea With Atrial Fibrillation: Reasons for Geographic and Racial Differences in Stroke Study. J Clin Sleep Med. 2018 Sep 15;14(9):1485-1493. doi: 10.5664/jcsm.7320. PubMed [citation] PMID: 30176963, PMCID: PMC6134254

119. Irfan A, Li Y, Bhatnagar A, Soliman EZ. Association between serum cotinine levels and electrocardiographic left atrial abnormality. Ann Noninvasive Electrocardiol. 2019 Jan;24(1):e12586. doi: 10.1111/anec.12586. Epub 2018 Aug 27. PubMed [citation] PMID: 30152127, PMCID: PMC6931559

120. Haywood LJ, Davis BR, Piller LB, Simpson LM, Ghosh A, Einhorn PT, Ford CE, Probstfield JL, Soliman EZ, Wright JT Jr; ALLHAT Collaborative Research Group. Risk Factors Influencing Outcomes of Atrial Fibrillation in ALLHAT. J Natl Med Assoc. 2018 Aug;110(4):343-351. doi: 10.1016/j.jnma.2017.07.003. Epub 2017 Jul 24. PubMed [citation] PMID: 30126559, PMCID: PMC6108439

121. Li L, Selvin E, Lutsey PL, Hoogeveen RC, O'Neal WT, Soliman EZ, Chen LY, Alonso A. Association of N-terminal pro B-type natriuretic peptide (NT-proBNP) change with the risk of atrial fibrillation in the ARIC cohort. Am Heart J. 2018 Oct;204:119-127. doi: 10.1016/j.ahj.2018.07.008. Epub 2018 Aug 10. PubMed [citation] PMID: 30099337, PMCID: PMC6214728

122. Norby FL, Chen LY, Soliman EZ, Gottesman RF, Mosley TH, Alonso A. Association of left ventricular hypertrophy with cognitive decline and dementia risk over 20 years: The Atherosclerosis Risk In Communities-Neurocognitive Study (ARIC-NCS). Am Heart J. 2018 Oct;204:58-67. doi: 10.1016/j.ahj.2018.07.007. Epub 2018 Aug 2. PubMed [citation] PMID: 30077834, PMCID: PMC6214738

123. van Setten J, Brody JA, Jamshidi Y, Swenson BR, Butler AM, Campbell H, Del Greco FM, Evans DS, Gibson Q, Gudbjartsson DF, Kerr KF, Krijthe BP, Lyytikäinen LP, Müller C, Müller-Nurasyid M, Nolte IM, Padmanabhan S, Ritchie MD, Robino A, Smith AV, Steri M, Tanaka T, et al. PR interval genome-wide association meta-analysis identifies 50 loci associated with atrial and atrioventricular electrical activity. Nat Commun. 2018 Jul 25;9(1):2904. doi: 10.1038/s41467-018-04766-9. PubMed [citation] PMID: 30046033, PMCID: PMC6060178

124. Prins BP, Mead TJ, Brody JA, Sveinbjornsson G, Ntalla I, Bihlmeyer NA, van den Berg M, Bork-Jensen J, Cappellani S, Van Duijvenboden S, Klena NT, Gabriel GC, Liu X, Gulec C, Grarup N, Haessler J, Hall LM, Iorio A, Isaacs A, Li-Gao R, Lin H, Liu CT, et al. Exome-chip meta-analysis identifies novel loci associated with cardiac conduction, including ADAMTS6. Genome Biol. 2018 Jul 17;19(1):87. doi: 10.1186/s13059-018-1457-6. PubMed [citation] PMID: 30012220, PMCID: PMC6048820

125. Afify HMA, Waits GS, Ghoneum AD, Cao X, Li Y, Soliman EZ. Peguero Electrocardiographic Left Ventricular Hypertrophy Criteria and Risk of Mortality. Front Cardiovasc Med. 2018 Jun 27;5:75. doi: 10.3389/fcvm.2018.00075. eCollection 2018. PubMed [citation] PMID: 30013976, PMCID: PMC6036297

126. Mou L, Norby FL, Chen LY, O'Neal WT, Lewis TT, Loehr LR, Soliman EZ, Alonso A. Lifetime Risk of Atrial Fibrillation by Race and Socioeconomic Status: ARIC Study (Atherosclerosis Risk in Communities). Circ Arrhythm Electrophysiol. 2018 Jul;11(7):e006350. doi: 10.1161/CIRCEP.118.006350. PubMed [citation] PMID: 30002066, PMCID: PMC6053683

127. Klein BEK, Horak KL, Lee KE, Meuer SM, Abramoff MD, Soliman EZ, Rechek M, Klein R. Neural dysfunction and retinopathy in persons with type 1 diabetes. Ophthalmic Epidemiol. 2018 Oct - Dec;25(5-6):373-378. doi: 10.1080/09286586.2018.1489971. Epub 2018 Jul 9. PubMed [citation] PMID: 29985712, PMCID: PMC6411294

128. Kwon Y, Misialek JR, Duprez D, Jacobs DR Jr, Alonso A, Heckbert SR, Zhao YY, Redline S, Soliman EZ. Sleep-disordered breathing and electrocardiographic QRS-T angle: The MESA study. Ann Noninvasive Electrocardiol. 2018 Nov;23(6):e12579. doi: 10.1111/anec.12579. Epub 2018 Jul 2. PubMed [citation] PMID: 29963729, PMCID: PMC6931493

129. Roselli C, Chaffin MD, Weng LC, Aeschbacher S, Ahlberg G, Albert CM, Almgren P, Alonso A, Anderson CD, Aragam KG, Arking DE, Barnard J, Bartz TM, Benjamin EJ, Bihlmeyer NA, Bis JC, Bloom HL, Boerwinkle E, Bottinger EB, Brody JA, Calkins H, Campbell A, et al. Multi-ethnic genome-wide association study for atrial fibrillation. Nat Genet. 2018 Jun 11;50(9):1225-1233. doi: 10.1038/s41588-018-0133-9. PubMed [citation] PMID: 29892015, PMCID: PMC6136836

130. Aeschbacher S, O'Neal WT, Krisai P, Loehr L, Chen LY, Alonso A, Soliman EZ, Conen D. Relationship between QRS duration and incident atrial fibrillation. Int J Cardiol. 2018 Sep 1;266:84-88. doi: 10.1016/j.ijcard.2018.03.050. PubMed [citation] PMID: 29887479, PMCID: PMC6027639

131. Bihlmeyer NA, Brody JA, Smith AV, Warren HR, Lin H, Isaacs A, Liu CT, Marten J, Radmanesh F, Hall LM, Grarup N, Mei H, Müller-Nurasyid M, Huffman JE, Verweij N, Guo X, Yao J, Li-Gao R, van den Berg M, Weiss S, Prins BP, van Setten J, et al. ExomeChip-Wide Analysis of 95 626 Individuals Identifies 10 Novel Loci Associated With QT and JT Intervals. Circ Genom Precis Med. 2018 Jan;11(1):e001758. doi: 10.1161/CIRCGEN.117.001758. Erratum in: Circ Genom Precis Med. 2018 Sep;11(9):e000050. PubMed [citation] PMID: 29874175, PMCID: PMC5992491

132. Kelly JP, Greiner M, Soliman EZ, Randolph TC, Thomas KL, Dunlay SM, Curtis LH, O'Brien EC, Mentz RJ. Relation of Early Repolarization (J Point Elevation) to Mortality in Blacks (from the Jackson Heart Study). Am J Cardiol. 2018 Jul 15;122(2):340-346. doi: 10.1016/j.amjcard.2018.04.004. Epub 2018 Apr 12. PubMed [citation] PMID: 29866580, PMCID: PMC6260825

133. Lin H, van Setten J, Smith AV, Bihlmeyer NA, Warren HR, Brody JA, Radmanesh F, Hall L, Grarup N, Müller-Nurasyid M, Boutin T, Verweij N, Lin HJ, Li-Gao R, van den Berg ME, Marten J, Weiss S, Prins BP, Haessler J, Lyytikäinen LP, Mei H, Harris TB, et al. Common and Rare Coding Genetic Variation Underlying the Electrocardiographic PR Interval. Circ Genom Precis Med. 2018 May;11(5):e002037. doi: 10.1161/CIRCGEN.117.002037. PubMed [citation] PMID: 29748316, PMCID: PMC5951629

134. Navi BB, Howard G, Howard VJ, Zhao H, Judd SE, Elkind MSV, Iadecola C, DeAngelis LM, Kamel H, Okin PM, Gilchrist S, Soliman EZ, Cushman M, Muntner P. New diagnosis of cancer and the risk of subsequent cerebrovascular events. Neurology. 2018 Jun 5;90(23):e2025-e2033. doi: 10.1212/WNL.0000000000005636. Epub 2018 May 4. PubMed [citation] PMID: 29728524, PMCID: PMC5993181

135. Isakadze N, Soliman EZ, Vaccarino V, Whang W, Lampert R, Bremner JD, Shah AJ. Association of positive well-being with reduced cardiac repolarization abnormalities in the First National Health and Nutrition Examination Survey. Int J Cardiol. 2018 Aug 15;265:246-250. doi: 10.1016/j.ijcard.2018.04.135. Epub 2018 May 2. PubMed [citation] PMID: 29735423, PMCID: PMC5994381

136. Wu HT, Soliman EZ. A new approach for analysis of heart rate variability and QT variability in long-term ECG recording. Biomed Eng Online. 2018 May 3;17(1):54. doi: 10.1186/s12938-018-0490-8. PubMed [citation] PMID: 29720178, PMCID: PMC5932763

137. Garg PK, O'Neal WT, Chen LY, Loehr LR, Sotoodehnia N, Soliman EZ, Alonso A. American Heart Association's Life Simple 7 and Risk of Atrial Fibrillation in a Population Without Known Cardiovascular Disease: The ARIC (Atherosclerosis Risk in Communities) Study. J Am Heart Assoc. 2018 Apr 12;7(8). pii: e008424. doi: 10.1161/JAHA.117.008424. PubMed [citation] PMID: 29650711, PMCID: PMC6015412

138. Tereshchenko LG, Sotoodehnia N, Sitlani CM, Ashar FN, Kabir M, Biggs ML, Morley MP, Waks JW, Soliman EZ, Buxton AE, Biering-Sørensen T, Solomon SD, Post WS, Cappola TP, Siscovick DS, Arking DE. Genome-Wide Associations of Global Electrical Heterogeneity ECG Phenotype: The ARIC (Atherosclerosis Risk in Communities) Study and CHS (Cardiovascular Health Study). J Am Heart Assoc. 2018 Apr 5;7(8). pii: e008160. doi: 10.1161/JAHA.117.008160. PubMed [citation] PMID: 29622589, PMCID: PMC6015433

139. Napier MD, Franceschini N, Gondalia R, Stewart JD, Méndez-Giráldez R, Sitlani CM, Seyerle AA, Highland HM, Li Y, Wilhelmsen KC, Yan S, Duan Q, Roach J, Yao J, Guo X, Taylor KD, Heckbert SR, Rotter JI, North KE, Reiner AP, Zhang ZM, Tinker LF, et al. Genome-wide association study and meta-analysis identify loci associated with ventricular and supraventricular ectopy. Sci Rep. 2018 Apr 4;8(1):5675. doi: 10.1038/s41598-018-23843-z. PubMed [citation] PMID: 29618737, PMCID: PMC5884864

140. Hirsch JR, Waits G, Li Y, Soliman EZ. Racial Differences in Heart Age and Impact on Mortality. J Natl Med Assoc. 2018 Apr;110(2):169-175. doi: 10.1016/j.jnma.2017.08.003. Epub 2017 Sep 13. PubMed [citation] PMID: 29580451

141. Wang W, Alonso A, Soliman EZ, O'Neal WT, Calkins H, Chen LY, Diener-West M, Szklo M. Relation of Resting Heart Rate to Incident Atrial Fibrillation (From ARIC [Atherosclerosis Risk in Communities] Study). Am J Cardiol. 2018 May 15;121(10):1169-1176. doi: 10.1016/j.amjcard.2018.01.037. Epub 2018 Feb 21. PubMed [citation] PMID: 29576236

142. Soliman EZ, Ambrosius WT, Lewis CE. Response by Soliman et al to Letters Regarding Article, "Effect of Intensive Blood Pressure Lowering on Left Ventricular Hypertrophy in Patients With Hypertension: SPRINT (Systolic Blood Pressure Intervention Trial)". Circulation. 2018 Mar 20;137(12):1300-1301. doi: 10.1161/CIRCULATIONAHA.117.031849. No abstract available. PubMed [citation] PMID: 29555717, PMCID: PMC5863582

143. Kamel H, Bartz TM, Elkind MSV, Okin PM, Thacker EL, Patton KK, Stein PK, deFilippi CR, Gottesman RF, Heckbert SR, Kronmal RA, Soliman EZ, Longstreth WT Jr. Atrial Cardiopathy and the Risk of Ischemic Stroke in the CHS (Cardiovascular Health Study). Stroke. 2018 Apr;49(4):980-986. doi: 10.1161/STROKEAHA.117.020059. Epub 2018 Mar 13. PubMed [citation] PMID: 29535268, PMCID: PMC5973804

144. Chen LY, Norby FL, Gottesman RF, Mosley TH, Soliman EZ, Agarwal SK, Loehr LR, Folsom AR, Coresh J, Alonso A. Association of Atrial Fibrillation With Cognitive Decline and Dementia Over 20 Years: The ARIC-NCS (Atherosclerosis Risk in Communities Neurocognitive Study). J Am Heart Assoc. 2018 Mar 7;7(6). pii: e007301. doi: 10.1161/JAHA.117.007301. PubMed [citation] PMID: 29514809, PMCID: PMC5907543

145. Biering-Sørensen T, Kabir M, Waks JW, Thomas J, Post WS, Soliman EZ, Buxton AE,Shah AM, Solomon SD, Tereshchenko LG. Global ECG Measures and Cardiac Structure and Function: The ARIC Study (Atherosclerosis Risk in Communities). Circ Arrhythm Electrophysiol. 2018 Mar;11(3):e005961. doi: 10.1161/CIRCEP.117.005961. PubMed [citation] PMID: 29496680, PMCID: PMC5836803

146. Garg PK, Bartz TM, Norby FL, Jorgensen NW, McClelland RL, Ballantyne CM, Chen LY, Gottdiener JS, Greenland P, Hoogeveen R, Jenny NS, Kizer JR, Rosenson RS, Soliman EZ, Cushman M, Alonso A, Heckbert SR. Association of lipoprotein-associated phospholipase A(2) and risk of incident atrial fibrillation: Findings from 3 cohorts. Am Heart J. 2018 Mar;197:62-69. doi: 10.1016/j.ahj.2017.11.010. Epub 2017 Dec 5. PubMed [citation] PMID: 29447785, PMCID: PMC5860682

147. Brinkley TE, Anderson A, Soliman EZ, Bertoni AG, Greenway F, Knowler WC, Glasser SP, Horton ES, Espeland MA; Look AHEAD Research Group.. Long-Term Effects of an Intensive Lifestyle Intervention on Electrocardiographic Criteria for Left Ventricular Hypertrophy: The Look AHEAD Trial. Am J Hypertens. 2018 Apr 13;31(5):541-548. doi: 10.1093/ajh/hpy004. PubMed [citation] PMID: 29324968, PMCID: PMC6074947

148. Qureshi WT, Zhang ZM, Chang PP, Rosamond WD, Kitzman DW, Wagenknecht LE, Soliman EZ. Silent Myocardial Infarction and Long-Term Risk of Heart Failure: The ARIC Study. J Am Coll Cardiol. 2018 Jan 2;71(1):1-8. doi: 10.1016/j.jacc.2017.10.071. PubMed [citation] PMID: 29301615, PMCID: PMC5757248

149. Dixit S, Alonso A, Vittinghoff E, Soliman EZ, Chen LY, Marcus GM. Correction: Past alcohol consumption and incident atrial fibrillation: The Atherosclerosis Risk in Communities (ARIC) Study. PLoS One. 2017 Dec 21;12(12):e0190329. doi: 10.1371/journal.pone.0190329. eCollection 2017. PubMed [citation] PMID: 29267384, PMCID: PMC5739470

150. O'Neal WT, Sandesara PB, Kelli HM, Venkatesh S, Soliman EZ. Urban-rural differences in mortality for atrial fibrillation hospitalizations in the United States. Heart Rhythm. 2018 Feb;15(2):175-179. doi: 10.1016/j.hrthm.2017.10.019. Epub 2017 Dec 11. PubMed [citation] PMID: 29241636, PMCID: PMC5801039

151. Al-Kawaz M, Omran SS, Parikh NS, Elkind MSV, Soliman EZ, Kamel H. Comparative Risks of Ischemic Stroke in Atrial Flutter versus Atrial Fibrillation. J Stroke Cerebrovasc Dis. 2018 Apr;27(4):839-844. doi: 10.1016/j.jstrokecerebrovasdis.2017.10.025. Epub 2017 Dec 6. PubMed [citation] PMID: 29223550

152. Dewland TA, Soliman EZ, Yamal JM, Davis BR, Alonso A, Albert CM, Simpson LM, Haywood LJ, Marcus GM. Pharmacologic Prevention of Incident Atrial Fibrillation: Long-Term Results From the ALLHAT (Antihypertensive and Lipid-Lowering Treatment to Prevent Heart Attack Trial). Circ Arrhythm Electrophysiol. 2017 Dec;10(12). pii: e005463. doi: 10.1161/CIRCEP.117.005463. PubMed [citation] PMID: 29212812, PMCID: PMC5728652

153. Méndez-Giráldez R, Gogarten SM, Below JE, Yao J, Seyerle AA, Highland HM, Kooperberg C, Soliman EZ, Rotter JI, Kerr KF, Ryckman KK, Taylor KD, Petty LE, Shah SJ, Conomos MP, Sotoodehnia N, Cheng S, Heckbert SR, Sofer T, Guo X, Whitsel EA, Lin HJ, et al. GWAS of the electrocardiographic QT interval in Hispanics/Latinos generalizes previously identified loci and identifiespopulation-specific signals. Sci Rep. 2017 Dec 6;7(1):17075. doi: 10.1 038/s41598-017-17136-0. PubMed [citation] PMID: 29213071, PMCID: PMC5719082

154. Moraes DN, Nascimento BR, Beaton AZ, Soliman EZ, Lima-Costa MF, Dos Reis RCP, Ribeiro ALP. Value of the Electrocardiographic (P Wave, T Wave, QRS) Axis as a Predictor of Mortality in 14 Years in a Population With a High Prevalence of Chagas Disease from the Bambuí Cohort Study of Aging. Am J Cardiol. 2018 Feb 1;121(3):364-369. doi: 10.1016/j.amjcard.2017.10.020. Epub 2017 Oct 31. PubMed [citation] PMID: 29191568

155. Waits GS, O'Neal WT, Sandesara PB, Li Y, Shah AJ, Soliman EZ. Association between low diastolic blood pressure and subclinical myocardial injury. Clin Res Cardiol. 2018 Apr;107(4):312-318. doi: 10.1007/s00392 017-1184-0. Epub 2017 Nov 21. PubMed [citation] PMID: 29164391

156. Garg PK, O'Neal WT, Ogunsua A, Thacker EL, Howard G, Soliman EZ, Cushman M. Usefulness of the American Heart Association's Life Simple 7 to Predict the Risk of Atrial Fibrillation (from the REasons for Geographic And Racial Differences in Stroke [REGARDS] Study). Am J Cardiol. 2018 Jan 15;121(2):199-204. doi: 10.1016/j.amjcard.2017.09.033. Epub 2017 Oct 19. PubMed [citation] PMID: 29153246, PMCID: PMC6080623

157. Prineas RJ, Zhang ZM, Stevens CE, Soliman EZ. Distribution and determinants of QRS rotation of black and white persons in the general population. J Electrocardiol. 2018 Mar - Apr;51(2):316-322. doi: 10.1016/j.jelectrocard.2017.10.004. Epub 2017 Oct 18. PubMed [citation] PMID: 29153560

158. Broughton ST, O'Neal WT, Al-Mallah M, Bluemke DA, Heckbert SR, Lima JAC, Soliman EZ. Normal findings on noninvasive cardiac assessment and the prediction of heart failure: The Multi-Ethnic Study of Atherosclerosis (MESA). Int J Cardiol. 2017 Dec 15;249:308-312. doi: 10.1016/j.ijcard.2017.08.078. PubMed [citation] PMID: 29121731, PMCID: PMC5726415

159. Koene RJ, Norby FL, Maheshwari A, Rooney MR, Soliman EZ, Alonso A, Chen LY. Predictors of sudden cardiac death in atrial fibrillation: The Atherosclerosis Risk in Communities (ARIC) study. PLoS One. 2017 Nov 8;12(11):e0187659. doi: 10.1371/journal.pone.0187659. eCollection 2017. PubMed [citation] PMID: 29117224, PMCID: PMC5678684

160. Christensen MA, Nguyen KT, Stein PK, Fohtung RB, Soliman EZ, Dewland TA, Vittinghoff E, Psaty BM, Heckbert SR, Marcus GM. Atrial ectopy as a mediator of the association between race and atrial fibrillation. Heart Rhythm. 2017 Dec;14(12):1856-1861. doi: 10.1016/j.hrthm.2017.09.034. Epub 2017 Oct 27. PubMed [citation] PMID: 29110996, PMCID: PMC5712237

161. Patel S, Kwak L, Agarwal SK, Tereshchenko LG, Coresh J, Soliman EZ, Matsushita K. Counterclockwise and Clockwise Rotation of QRS Transitional Zone: Prospective Correlates of Change and Time-Varying Associations With Cardiovascular Outcomes. J Am Heart Assoc. 2017 Nov 3;6(11). pii: e006281. doi: 10.1161/JAHA.117.006281. PubMed [citation] PMID: 29101116, PMCID: PMC5721743

162. Dixit S, Alonso A, Vittinghoff E, Soliman EZ, Chen LY, Marcus GM. Past alcohol consumption and incident atrial fibrillation: The Atherosclerosis Risk in Communities (ARIC) Study. PLoS One. 2017 Oct 18;12(10):e0185228. doi: 10.1371/journal.pone.0185228. eCollection 2017. Erratum in: PLoS One. 2017 Dec 21;12 (12 ):e0190329. PubMed [citation] PMID: 29045461, PMCID: PMC5646789

163. O'Neal WT, Singleton MJ, Roberts JD, Tereshchenko LG, Sotoodehnia N, Chen LY, Marcus GM, Soliman EZ. Association Between QT-Interval Components and Sudden Cardiac Death: The ARIC Study (Atherosclerosis Risk in Communities). CircArrhythm Electrophysiol. 2017 Oct;10(10). pii: e005485. doi: 10.1161/CIRCEP.117.005485. PubMed [citation] PMID: 29030380, PMCID: PMC5659833

164. Haywood LJ, Davis BR, Piller LB, Cushman WC, Cutler JA, Ford CE, Simpson LM,Ghosh A, Soliman EZ, Wright JT Jr; ALLHAT Collaborative Research Group.. Influence of Prevalent and Incident Atrial Fibrillation on Post-Trial Major Events in ALLHAT. J Natl Med Assoc. 2017 Autumn;109(3):172-181. doi: 10.1016/j.jnma.2017.02.005. Epub 2017 Mar 18. PubMed [citation] PMID: 28987246, PMCID: PMC5635839

165. Fashanu OE, Norby FL, Aguilar D, Ballantyne CM, Hoogeveen RC, Chen LY, Soliman EZ, Alonso A, Folsom AR. Galectin-3 and incidence of atrial fibrillation: The Atherosclerosis Risk in Communities (ARIC) study. Am Heart J. 2017 Oct;192:19-25. doi: 10.1016/j.ahj.2017.07.001. Epub 2017 Jul 8. PubMed [citation] PMID: 28938960, PMCID: PMC5673118

166. Maheshwari A, Norby FL, Soliman EZ, Koene R, Rooney M, O'Neal WT, Alonso A, Chen LY. Refining Prediction of Atrial Fibrillation Risk in the General Population With Analysis of P-Wave Axis (from the Atherosclerosis Risk in Communities Study). Am J Cardiol. 2017 Dec 1;120(11):1980-1984. doi: 10.1016/j.amjcard.2017.08.015. Epub 2017 Aug 30. PubMed [citation] PMID: 28941601

167. Inoue YY, Soliman EZ, Yoneyama K, Ambale-Venkatesh B, Wu CO, Sparapani R, Bluemke DA, Lima JAC, Ashikaga H. Electrocardiographic Strain Pattern Is Associated With Left Ventricular Concentric Remodeling, Scar, and Mortality Over 10 Years: The Multi-Ethnic Study of Atherosclerosis. J Am Heart Assoc. 2017 Sep 20;6(9). pii: e006624. doi: 10.1161/JAHA.117.006624. PubMed [citation] PMID: 28931529, PMCID: PMC5634304

168. Soliman EZ, Prineas RJ. Antihypertensive Therapies and Left Ventricular Hypertrophy. Curr Hypertens Rep. 2017 Sep 19;19(10):79. doi: 10.1007/s11906-017-0777-3. Review. PubMed [citation] PMID: 28929454

169. Tereshchenko LG, Soliman EZ, Davis BR, Oparil S. Risk stratification of sudden cardiac death in hypertension. J Electrocardiol. 2017 Nov - Dec;50(6):798-801. doi: 10.1016/j.jelectrocard.2017.08.012. Epub 2017 Aug 14. Review. PubMed[citation] PMID: 28916176, PMCID: PMC5724934

170. Weng LC, Lunetta KL, Müller-Nurasyid M, Smith AV, Thériault S, Weeke PE, Barnard J, Bis JC, Lyytikäinen LP, Kleber ME, Martinsson A, Lin HJ, Rienstra M, Trompet S, Krijthe BP, Dörr M, Klarin D, Chasman DI, Sinner MF, Waldenberger M, Launer LJ, Harris TB, et al. Genetic Interactions with Age, Sex, Body Mass Index, and Hypertension in Relation to Atrial Fibrillation: The AFGen Consortium. Sci Rep.2017 Sep 12;7(1):11303. doi: 10.1038/s41598-017-09396-7. PubMed [citation] PMID: 28900195, PMCID: PMC5595875

171. Imtiaz Ahmad M, Mosley CD, O'Neal WT, Judd SE, McClure LA, Howard VJ, Howard G, Soliman EZ. Smoking and risk of atrial fibrillation in the REasons for Geographic And Racial Differences in Stroke (REGARDS) study. J Cardiol. 2018 Feb;71(2):113-117. doi: 10.1016/j.jjcc.2017.07.014. Epub 2017 Sep 5. PubMed [citation] PMID: 28886993, PMCID: PMC5735021

172. Cho ME, Craven TE, Cheung AK, Glasser SP, Rahman M, Soliman EZ, Stafford RS, Johnson KC, Bates JT, Burgner A, Taylor AA, Tamariz L, Tang R, Beddhu S; SPRINT Study Research Group. The association between insulin resistance and atrial fibrillation: A cross-sectional analysis from SPRINT (Systolic Blood Pressure Intervention Trial). J Clin Hypertens (Greenwich). 2017 Nov;19(11):1152-1161. doi: 10.1111/jch.13062. Epub 2017 Sep 3. PubMed [citation] PMID: 28866864

173. Soliman EZ. Race and atrial flutter: a needed update to understand the atrial fibrillation race paradox. Future Cardiol. 2017 Sep;13(5):423-427. doi: 10.2217/fca-2017-0049. Epub 2017 Aug 23. No abstract available. PubMed [citation] PMID: 28832187

174. Soliman EZ, Zhang ZM, Judd S, Howard VJ, Howard G. Comparison of Risk of Atrial Fibrillation Among Employed Versus Unemployed (from the REasons for Geographicand Racial Differences in Stroke Study). Am J Cardiol. 2017 Oct15;120(8):1298-1301. doi: 10.1016/j.amjcard.2017.07.001. Epub 2017 Jul 21. PubMed[citation] PMID: 28822561, PMCID: PMC5614836

175. Gomadam P, Shah A, Qureshi W, Yeboah PN, Freedman BI, Bowden D, Soliman EZ, Yeboah J. Blood pressure indices and cardiovascular disease mortality in persons with or without diabetes mellitus. J Hypertens. 2018 Jan;36(1):85-92. doi:10.1097/HJH.0000000000001509. PubMed [citation] PMID: 28800042

176. Snitker S, Doerfler RM, Soliman EZ, Deo R, St Peter WL, Kramlik S, Fischer MJ, Navaneethan S, Delafontaine P, Jaar BG, Ojo A, Makos GK, Slaven A, Weir MR, Zhan M, Fink JC; for CRIC Study Investigators. Association of QT-Prolonging Medication Use in CKD with Electrocardiographic Manifestations. Clin J Am Soc Nephrol. 2017 Sep 7;12(9):1409-1417. doi: 10.2215/CJN.12991216. Epub 2017 Aug 9. PubMed [citation] PMID: 28793999, PMCID: PMC5586585

177. Christophersen IE, Magnani JW, Yin X, Barnard J, Weng LC, Arking DE, Niemeijer MN, Lubitz SA, Avery CL, Duan Q, Felix SB, Bis JC, Kerr KF, Isaacs A, Müller-Nurasyid M, Müller C, North KE, Reiner AP, Tinker LF, Kors JA, Teumer A, Petersmann A, et al. Fifteen Genetic Loci Associated With the Electrocardiographic P Wave. Circ Cardiovasc Genet. 2017 Aug;10(4). pii: e001667.doi: 10.1161/CIRCGENETICS.116.001667. PubMed [citation] PMID: 28794112, PMCID:PMC5567993

178. O'Neal WT, Nazarian S, Alonso A, Heckbert SR, Vaccarino V, Soliman EZ. Sex hormones and the risk of atrial fibrillation: The Multi-Ethnic Study of Atherosclerosis (MESA). Endocrine. 2017 Oct;58(1):91-96. doi:10.1007/s12020-017-1385-3. Epub 2017 Aug 7. PubMed [citation] PMID: 28786078,PMCID: PMC5693706

179. Evans GF, Soliman EZ. Happier countries, longer lives: an ecological study on the relationship between subjective sense of well-being and life expectancy. Glob Health Promot. 2019 Jun;26(2):36-40. doi: 10.1177/1757975917714035. Epub 2017 Aug8. PubMed [citation] PMID: 28786746

180. Ali M, Li Y, O'Neal WT, Soliman EZ. Tobacco Exposure as Determined by Serum Cotinine and Subclinical Myocardial Injury in Individuals Free from Cardiovascular Disease. Am J Cardiol. 2017 Oct 1;120(7):1114-1117. doi:10.1016/j.amjcard.2017.06.050. Epub 2017 Jul 14. PubMed [citation] PMID: 28781027

181. Nguyen KT, Vittinghoff E, Dewland TA, Dukes JW, Soliman EZ, Stein PK, Gottdiener JS, Alonso A, Chen LY, Psaty BM, Heckbert SR, Marcus GM. Ectopy on a Single12-Lead ECG, Incident Cardiac Myopathy, and Death in the Community. J Am Heart Assoc. 2017 Aug 3;6(8). pii: e006028. doi: 10.1161/JAHA.117.006028. PubMed[citation] PMID: 28775064, PMCID: PMC5586444

182. Nolte IM, Munoz ML, Tragante V, Amare AT, Jansen R, Vaez A, von der Heyde B,Avery CL, Bis JC, Dierckx B, van Dongen J, Gogarten SM, Goyette P, Hernesniemi J, Huikari V, Hwang SJ, Jaju D, Kerr KF, Kluttig A, Krijthe BP, Kumar J, van derLaan SW, et al. Erratum: Genetic loci associated with heart rate variability and their effects on cardiac disease risk. Nat Commun. 2017 Aug 2;8:16140. doi:10.1038/ncomms16140. PubMed [citation] PMID: 28767105, PMCID: PMC5543301

183. Christophersen IE, Rienstra M, Roselli C, Yin X, Geelhoed B, Barnard J, Lin H, Arking DE, Smith AV, Albert CM, Chaffin M, Tucker NR, Li M, Klarin D, Bihlmeyer NA, Low SK, Weeke PE, Müller-Nurasyid M, Smith JG, Brody JA, Niemeijer MN, DörrM, et al. Erratum: Large-scale analyses of common and rare variants identify 12new loci associated with atrial fibrillation. Nat Genet. 2017 Jul 27;49(8):1286. doi: 10.1038/ng0817-1286c. No abstract available. PubMed [citation] PMID:28747752

184. Alonso A, Knopman DS, Gottesman RF, Soliman EZ, Shah AJ, O'Neal WT, Norby FL, Mosley TH, Chen LY. Correlates of Dementia and Mild Cognitive Impairment in Patients With Atrial Fibrillation: The Atherosclerosis Risk in Communities Neurocognitive Study (ARIC-NCS). J Am Heart Assoc. 2017 Jul 24;6(7). pii:e006014. doi: 10.1161/JAHA.117.006014. PubMed [citation] PMID: 28739861, PMCID:PMC5586306

185. O'Neal WT, Hammadah M, Sandesara PB, Almuwaqqat Z, Samman-Tahhan A, Gafeer MM, Abdelhadi N, Wilmot K, Al Mheid I, Bremner DJ, Kutner M, Soliman EZ, Shah AJ, Quyyumi AA, Vaccarino V. The association between acute mental stress and abnormal left atrial electrophysiology. J Cardiovasc Electrophysiol. 2017Oct;28(10):1151-1157. doi: 10.1111/jce.13295. Epub 2017 Aug 22. PubMed [citation]PMID: 28727203, PMCID: PMC5638698

186. Seyerle AA, Sitlani CM, Noordam R, Gogarten SM, Li J, Li X, Evans DS, Sun F, Laaksonen MA, Isaacs A, Kristiansson K, Highland HM, Stewart JD, Harris TB, Trompet S, Bis JC, Peloso GM, Brody JA, Broer L, Busch EL, Duan Q, Stilp AM, et al. Pharmacogenomics study of thiazide diuretics and QT interval in multi-ethnic populations: the cohorts for heart and aging research in genomic epidemiology. Pharmacogenomics J. 2018 Apr;18(2):215-226. doi: 10.1038/tpj.2017.10. Epub 2017Jul 18. PubMed [citation] PMID: 28719597, PMCID: PMC5773415

187. O'Neal WT, Kamel H, Judd SE, Safford MM, Vaccarino V, Howard VJ, Howard G, Soliman EZ. Usefulness of Atrial Premature Complexes on Routine Electrocardiogram to Determine the Risk of Atrial Fibrillation (from the REGARDS Study). Am J Cardiol. 2017 Sep 1;120(5):782-785. doi: 10.1016/j.amjcard.2017.06.007. Epub 2017Jun 15. PubMed [citation] PMID: 28705381, PMCID: PMC5557661

188. Alburikan KA, Aldemerdash A, Savitz ST, Tisdale JE, Whitsel EA, Soliman EZ, Thudium EM, Sueta CA, Kucharska-Newton AM, Stearns SC, Rodgers JE. Contribution of medications and risk factors to QTc interval lengthening in the atherosclerosis risk in communities (ARIC) study. J Eval Clin Pract. 2017Dec;23(6):1274-1280. doi: 10.1111/jep.12776. Epub 2017 Jul 10. PubMed [citation] PMID: 28695724, PMCID: PMC5741511

189. Colantonio LD, Gamboa CM, Richman JS, Levitan EB, Soliman EZ, Howard G, Safford MM. Black-White Differences in Incident Fatal, Nonfatal, and Total Coronary Heart Disease. Circulation. 2017 Jul 11;136(2):152-166. doi:10.1161/CIRCULATIONAHA.116.025848. PubMed [citation] PMID: 28696265, PMCID:PMC5551431

190. Patel N, O'Neal WT, Whalen SP, Soliman EZ. The association of QT interval components with atrial fibrillation. Ann Noninvasive Electrocardiol. 2018Mar;23(2):e12467. doi: 10.1111/anec.12467. Epub 2017 Jun 29. PubMed [citation]PMID: 28660734, PMCID: PMC5747556

191. Aro AL, Reinier K, Rusinaru C, Uy-Evanado A, Darouian N, Phan D, Mack WJ, Jui J, Soliman EZ, Tereshchenko LG, Chugh SS. Electrical risk score beyond the left ventricular ejection fraction: prediction of sudden cardiac death in the Oregon Sudden Unexpected Death Study and the Atherosclerosis Risk in Communities Study. Eur Heart J. 2017 Oct 21;38(40):3017-3025. doi: 10.1093/eurheartj/ehx331. PubMed [citation] PMID: 28662567, PMCID: PMC5837238

192. Mulrooney DA, Soliman EZ, Ehrhardt MJ, Lu L, Duprez DA, Luepker RV, Armstrong GT,Joshi VM, Green DM, Srivastava D, Krasin MJ, Morris GS, Robison LL, Hudson MM, Ness KK. Electrocardiographic abnormalities and mortality in aging survivors of childhood cancer: A report from the St Jude Lifetime Cohort Study. Am Heart J.2017 Jul;189:19-27. doi: 10.1016/j.ahj.2017.03.023. Epub 2017 Apr 4. PubMed[citation] PMID: 28625376, PMCID: PMC5477639

193. Maheshwari A, Norby FL, Soliman EZ, Koene RJ, Rooney MR, O'Neal WT, Alonso A, Chen LY. Abnormal P-Wave Axis and Ischemic Stroke: The ARIC Study(Atherosclerosis Risk In Communities). Stroke. 2017 Aug;48(8):2060-2065. doi:10.1161/STROKEAHA.117.017226. Epub 2017 Jun 16. PubMed [citation] PMID: 28626057,PMCID: PMC5534350

194. Kerr KF, Avery CL, Lin HJ, Raffield LM, Zhang QS, Browning BL, Browning SR, Conomos MP, Gogarten SM, Laurie CC, Sofer T, Thornton TA, Hohensee C, Jackson RD, Kooperberg C, Li Y, Méndez-Giráldez R, Perez MV, Peters U, Reiner AP, Zhang ZM, Yao J, et al. Genome-wide association study of heart rate and its variability in Hispanic/Latino cohorts. Heart Rhythm. 2017 Nov;14(11):1675-1684. doi:10.1016/j.hrthm.2017.06.018. Epub 2017 Jun 10. PubMed [citation] PMID: 28610988, PMCID: PMC5671896

195. Nolte IM, Munoz ML, Tragante V, Amare AT, Jansen R, Vaez A, von der Heyde B,Avery CL, Bis JC, Dierckx B, van Dongen J, Gogarten SM, Goyette P, Hernesniemi J, Huikari V, Hwang SJ, Jaju D, Kerr KF, Kluttig A, Krijthe BP, Kumar J, van derLaan SW, et al. Genetic loci associated with heart rate variability and their effects on cardiac disease risk. Nat Commun. 2017 Jun 14;8:15805. doi:10.1038/ncomms15805. Erratum in: Nat Commun. 2017 Aug 02;8:16140. PubMed[citation] PMID: 28613276, PMCID: PMC5474732

196. O'Neal WT, Mazur M, Bertoni AG, Bluemke DA, Al-Mallah MH, Lima JAC, Kitzman D, Soliman EZ. Electrocardiographic Predictors of Heart Failure With Reduced Versus Preserved Ejection Fraction: The Multi-Ethnic Study of Atherosclerosis. J Am Heart Assoc. 2017 May 25;6(6). pii: e006023. doi: 10.1161/JAHA.117.006023. PubMed[citation] PMID: 28546456, PMCID: PMC5669197

197. Baker JV, Sharma S, Achhra AC, Bernardino JI, Bogner JR, Duprez D, Emery S, Gazzard B, Gordin J, Grandits G, Phillips AN, Schwarze S, Soliman EZ, Spector SA, Tambussi G, Lundgren J; INSIGHT (International Network for Strategic Initiatives in Global HIV Trials) START (Strategic Timing of Antiretroviral Treatment) Study Group.. Changes in Cardiovascular Disease Risk Factors With Immediate Versus Deferred Antiretroviral Therapy Initiation Among HIV-Positive Participants in the START (Strategic Timing of Antiretroviral Treatment) Trial. J Am Heart Assoc.2017 May 22;6(5). pii: e004987. doi: 10.1161/JAHA.116.004987. PubMed [citation]PMID: 28533305, PMCID: PMC5524070

198. Zhang ZM, Rautaharju PM, Prineas RJ, Tereshchenko L, Soliman EZ. Electrocardiographic QRS-T angle and the risk of incident silent myocardial infarction in the Atherosclerosis Risk in Communities study. J Electrocardiol.2017 Sep - Oct;50(5):661-666. doi: 10.1016/j.jelectrocard.2017.05.001. Epub 2017 May 4. PubMed [citation] PMID: 28515002, PMCID: PMC5612427

199. He J, Shlipak M, Anderson A, Roy JA, Feldman HI, Kallem RR, Kanthety R, Kusek JW, Ojo A, Rahman M, Ricardo AC, Soliman EZ, Wolf M, Zhang X, Raj D, Hamm L; CRIC(Chronic Renal Insufficiency Cohort) Investigators.. Risk Factors for Heart Failure in Patients With Chronic Kidney Disease: The CRIC (Chronic Renal Insufficiency Cohort) Study. J Am Heart Assoc. 2017 May 17;6(5). pii: e005336.doi: 10.1161/JAHA.116.005336. PubMed [citation] PMID: 28515118, PMCID: PMC5524087

200. Soliman EZ, Ambrosius WT, Cushman WC, Zhang ZM, Bates JT, Neyra JA, Carson TY, Tamariz L, Ghazi L, Cho ME, Shapiro BP, He J, Fine LJ, Lewis CE; SPRINT Research Study Group.. Effect of Intensive Blood Pressure Lowering on Left Ventricular Hypertrophy in Patients With Hypertension: SPRINT (Systolic Blood Pressure Intervention Trial). Circulation. 2017 Aug 1;136(5):440-450. doi:10.1161/CIRCULATIONAHA.117.028441. Epub 2017 May 16. Erratum in: Circulation.2017 Aug 1;136(5):e136. PubMed [citation] PMID: 28512184, PMCID: PMC5538944

201. O'Neal WT, Sandesara PB, Samman-Tahhan A, Kelli HM, Hammadah M, Soliman EZ. Heartrate and the risk of adverse outcomes in patients with heart failure with preserved ejection fraction. Eur J Prev Cardiol. 2017 Jul;24(11):1212-1219. doi: 10.1177/2047487317708676. Epub 2017 May 9. PubMed [citation] PMID: 28482692,PMCID: PMC5577984

202. O'Neal WT, Efird JT, Nazarian S, Alonso A, Michos ED, Szklo M, Heckbert SR, Soliman EZ. Mitral annular calcification progression and the risk of atrial fibrillation: results from MESA. Eur Heart J Cardiovasc Imaging. 2018 Mar1;19(3):279-284. doi: 10.1093/ehjci/jex093. PubMed [citation] PMID: 28460029,PMCID: PMC5837370

203. O'Neal WT, Qureshi WT, Blaha MJ, Dardari ZA, Ehrman JK, Brawner CA, Soliman EZ, Al-Mallah MH. Chronotropic Incompetence and Risk of Atrial Fibrillation: The Henry Ford ExercIse Testing (FIT) Project. JACC Clin Electrophysiol. 2016Nov;2(6):645-652. doi: 10.1016/j.jacep.2016.03.013. PubMed [citation] PMID:28451646, PMCID: PMC5403158

204. Arenas de Larriva AP, Norby FL, Chen LY, Soliman EZ, Hoogeveen RC, Arking DE, Loehr LR, Alonso A. Circulating ceruloplasmin, ceruloplasmin-associated genes, and the incidence of atrial fibrillation in the atherosclerosis risk in communities study. Int J Cardiol. 2017 Aug 15;241:223-228. doi:10.1016/j.ijcard.2017.04.005. Epub 2017 Apr 6. PubMed [citation] PMID: 28427851, PMCID: PMC5515669

205. Bang CN, Soliman EZ, Simpson LM, Davis BR, Devereux RB, Okin PM; ALLHAT Collaborative Research Group. Electrocardiographic Left Ventricular Hypertrophy Predicts Cardiovascular Morbidity and Mortality in Hypertensive Patients: The ALLHAT Study. Am J Hypertens. 2017 Sep 1;30(9):914-922. doi: 10.1093/ajh/hpx067. PubMed [citation] PMID: 28430947, PMCID: PMC5861536

206. Christophersen IE, Rienstra M, Roselli C, Yin X, Geelhoed B, Barnard J, Lin H,Arking DE, Smith AV, Albert CM, Chaffin M, Tucker NR, Li M, Klarin D, Bihlmeyer NA, Low SK, Weeke PE, Müller-Nurasyid M, Smith JG, Brody JA, Niemeijer MN, Dörr M, et al. Large-scale analyses of common and rare variants identify 12 new loci associated with atrial fibrillation. Nat Genet. 2017 Jun;49(6):946-952. doi:10.1038/ng.3843. Epub 2017 Apr 17. Erratum in: Nat Genet. 2017 Jul 27;49(8):1286.PubMed [citation] PMID: 28416818, PMCID: PMC5585859

207. O'Neal WT, Sandesara P, Hammadah M, Venkatesh S, Samman-Tahhan A, Kelli HM, Soliman EZ. Gender Differences in the Risk of Adverse Outcomes in Patients With Atrial Fibrillation and Heart Failure With Preserved Ejection Fraction. Am J Cardiol. 2017 Jun 1;119(11):1785-1790. doi: 10.1016/j.amjcard.2017.02.045. Epub2017 Mar 16. PubMed [citation] PMID: 28395886, PMCID: PMC5423833

208. Bose A, O'Neal WT, Bennett A, Judd SE, Qureshi WT, Sui X, Howard VJ, Howard G, Soliman EZ. Relation Between Estimated Cardiorespiratory Fitness and Atrial Fibrillation (from the Reasons for Geographic and Racial Differences in Stroke Study). Am J Cardiol. 2017 Jun 1;119(11):1776-1780. doi:10.1016/j.amjcard.2017.03.008. Epub 2017 Mar 16. PubMed [citation] PMID:28390681, PMCID: PMC7576689

209. O'Neal WT, Sandesara P, Patel N, Venkatesh S, Samman-Tahhan A, Hammadah M, Kelli HM, Soliman EZ. Echocardiographic predictors of atrial fibrillation in patients with heart failure with preserved ejection fraction. Eur Heart J Cardiovasc Imaging. 2017 Jul 1;18(7):725-729. doi: 10.1093/ehjci/jex038. PubMed [citation]PMID: 28379310, PMCID: PMC5837728

210. van den Berg ME, Warren HR, Cabrera CP, Verweij N, Mifsud B, Haessler J, Bihlmeyer NA, Fu YP, Weiss S, Lin HJ, Grarup N, Li-Gao R, Pistis G, Shah N, Brody JA, Müller-Nurasyid M, Lin H, Mei H, Smith AV, Lyytikäinen LP, Hall LM, van Setten J, et al. Discovery of novel heart rate-associated loci using the Exome Chip. Hum Mol Genet. 2017 Jun 15;26(12):2346-2363. doi: 10.1093/hmg/ddx113.PubMed [citation] PMID: 28379579, PMCID: PMC5458336

211. Chen J, Budoff MJ, Reilly MP, Yang W, Rosas SE, Rahman M, Zhang X, Roy JA, Lustigova E, Nessel L, Ford V, Raj D, Porter AC, Soliman EZ, Wright JT Jr, Wolf M, He J; CRIC Investigators. Coronary Artery Calcification and Risk of Cardiovascular Disease and Death Among Patients With Chronic Kidney Disease. JAMA Cardiol. 2017 Jun 1;2(6):635-643. doi: 10.1001/jamacardio.2017.0363. PubMed[citation] PMID: 28329057, PMCID: PMC5798875

212. Evans GF, Shirk A, Muturi P, Soliman EZ. Feasibility of Using Mobile ECG Recording Technology to Detect Atrial Fibrillation in Low-Resource Settings. Glob Heart. 2017 Dec;12(4):285-289. doi: 10.1016/j.gheart.2016.12.003. Epub 2017 Mar13. PubMed [citation] PMID: 28302547213. Soliman EZ, Backlund JC, Bebu I, Orchard TJ, Zinman B, Lachin JM; DCCT/EDIC Research Group. Electrocardiographic Abnormalities and Cardiovascular Disease Risk in Type 1 Diabetes: The Epidemiology of Diabetes Interventions and Complications (EDIC) Study. Diabetes Care. 2017 Jun;40(6):793-799. doi:10.2337/dc16-2050. Epub 2017 Mar 16. PubMed [citation] PMID: 28302651, PMCID:PMC5439417

214. Maheshwari A, Norby FL, Soliman EZ, Alraies MC, Adabag S, O'Neal WT, Alonso A, Chen LY. Relation of Prolonged P-Wave Duration to Risk of Sudden Cardiac Death inthe General Population (from the Atherosclerosis Risk in Communities Study). Am J Cardiol. 2017 May 1;119(9):1302-1306. doi: 10.1016/j.amjcard.2017.01.012. Epub2017 Feb 9. PubMed [citation] PMID: 28267962, PMCID: PMC5444665

215. Venkatesh S, O'Neal WT, Broughton ST, Shah AJ, Soliman EZ. The clinical utility of normal findings on noninvasive cardiac assessment in the prediction of atrial fibrillation. Clin Cardiol. 2017 Apr;40(4):200-204. doi: 10.1002/clc.22644. Epub 2017 Feb 13. PubMed [citation] PMID: 28191912, PMCID: PMC5461947

216. Roberts JD, Soliman EZ, Alonso A, Vittinghoff E, Chen LY, Loehr L, Marcus GM. Electrocardiographic intervals associated with incident atrial fibrillation: Dissecting the QT interval. Heart Rhythm. 2017 May;14(5):654-660. doi:10.1016/j.hrthm.2017.02.005. Epub 2017 Feb 9. PubMed [citation] PMID: 28189824,PMCID: PMC6317898

217. Armstrong HF, Lovasi GS, Soliman EZ, Heckbert SR, Psaty BM, Austin JH, KrishnanJA, Hoffman EA, Johnson C, Budoff MJ, Watson KE, Barr RG. Lung function, percent emphysema, and QT duration: The Multi-Ethnic Study of Atherosclerosis (MESA) lung study. Respir Med. 2017 Feb;123:1-7. doi: 10.1016/j.rmed.2016.12.003. Epub 2016Dec 8. PubMed [citation] PMID: 28137484, PMCID: PMC5302224

218. Alhalabi L, Singleton MJ, Oseni AO, Shah AJ, Zhang ZM, Soliman EZ. Relation of Higher Resting Heart Rate to Risk of Cardiovascular Versus Noncardiovascular Death. Am J Cardiol. 2017 Apr 1;119(7):1003-1007. doi:10.1016/j.amjcard.2016.11.059. Epub 2017 Jan 5. PubMed [citation] PMID: 28132682

219. Soliman EZ, Zhang ZM, Chen LY, Tereshchenko LG, Arking D, Alonso A. Usefulness of Maintaining a Normal Electrocardiogram Over Time for Predicting Cardiovascular Health. Am J Cardiol. 2017 Jan 15;119(2):249-255. doi:10.1016/j.amjcard.2016.09.051. Epub 2016 Oct 8. PubMed [citation] PMID: 28126148,PMCID: PMC5283845

220. Agarwal SK, Norby FL, Whitsel EA, Soliman EZ, Chen LY, Loehr LR, Fuster V, Heiss G, Coresh J, Alonso A. Cardiac Autonomic Dysfunction and Incidence of Atrial Fibrillation: Results From 20 Years Follow-Up. J Am Coll Cardiol. 2017 Jan24;69(3):291-299. doi: 10.1016/j.jacc.2016.10.059. PubMed [citation] PMID:28104071, PMCID: PMC5260487

221. Venkatesh S, O'Neal WT, Broughton ST, Shah AJ, Soliman EZ. Utility of Normal Findings on Electrocardiogram and Echocardiogram in Subjects ≥65 Years. Am J Cardiol. 2017 Mar 15;119(6):856-861. doi: 10.1016/j.amjcard.2016.11.039. Epub2016 Dec 18. PubMed [citation] PMID: 28065488, PMCID: PMC5467874

222. Meyer ML, Soliman EZ, Wruck LM, Mosley TH, Wagenknecht LE, Poon AK, Whitsel EA, Alonso A, Heiss G, Loehr LR. Repeatability of ectopic beats from 48-hr ambulatory electrocardiography: The Atherosclerosis Risk in Communities (ARIC) Study. Ann Noninvasive Electrocardiol. 2017 Jul;22(4). doi: 10.1111/anec.12426. Epub 2017Jan 6. PubMed [citation] PMID: 28058808, PMCID: PMC5500442

223. O'Neal WT, Soliman EZ, Efird JT, Howard VJ, Howard G, McClure LA. Fine particulate air pollution and premature ventricular contractions: The REasons for Geographic And Racial Differences in Stroke (REGARDS) Study. Environ Res. 2017Apr;154:115-119. doi: 10.1016/j.envres.2016.12.031. Epub 2017 Jan 3. PubMed[citation] PMID: 28061370, PMCID: PMC5354125

224. Noordam R, Sitlani CM, Avery CL, Stewart JD, Gogarten SM, Wiggins KL, Trompet S, Warren HR, Sun F, Evans DS, Li X, Li J, Smith AV, Bis JC, Brody JA, Busch EL, Caulfield MJ, Chen YI, Cummings SR, Cupples LA, Duan Q, Franco OH, et al. Agenome-wide interaction analysis of tricyclic/tetracyclic antidepressants and RR and QT intervals: a pharmacogenomics study from the Cohorts for Heart and Aging Research in Genomic Epidemiology (CHARGE) consortium. J Med Genet. 2017May;54(5):313-323. doi: 10.1136/jmedgenet-2016-104112. Epub 2016 Dec 30. PubMed[citation] PMID: 28039329, PMCID: PMC5406254

225. Kwon Y, Misialek JR, Duprez D, Alonso A, Jacobs DR Jr, Heckbert SR, Redline S, Soliman EZ. Association between sleep disordered breathing and electrocardiographic markers of atrial abnormalities: the MESA study. Europace.2017 Nov 1;19(11):1759-1766. doi: 10.1093/europace/euw328. PubMed [citation]PMID: 28017934, PMCID: PMC6279118

226. Patel N, O'Neal WT, Whalen SP, Soliman EZ. Electrocardiographic left ventricular hypertrophy predicts atrial fibrillation independent of left ventricular mass. Ann Noninvasive Electrocardiol. 2017 May;22(3):1-5. doi: 10.1111/anec.12419. Epub2016 Dec 25. PubMed [citation] PMID: 28019050, PMCID: PMC6931533

227. Avery CL, Wassel CL, Richard MA, Highland HM, Bien S, Zubair N, Soliman EZ, Fornage M, Bielinski SJ, Tao R, Seyerle AA, Shah SJ, Lloyd-Jones DM, Buyske S, Rotter JI, Post WS, Rich SS, Hindorff LA, Jeff JM, Shohet RV, Sotoodehnia N, Lin DY, et al. Fine mapping of QT interval regions in global populations refines previously identified QT interval loci and identifies signals unique to African and Hispanic descent populations. Heart Rhythm. 2017 Apr;14(4):572-580. doi:10.1016/j.hrthm.2016.12.021. Epub 2016 Dec 14. PubMed [citation] PMID: 27988371, PMCID: PMC5448160

228. Chatterjee NA, Giulianini F, Geelhoed B, Lunetta KL, Misialek JR, Niemeijer MN, Rienstra M, Rose LM, Smith AV, Arking DE, Ellinor PT, Heeringa J, Lin H, Lubitz SA, Soliman EZ, Verweij N, Alonso A, Benjamin EJ, Gudnason V, Stricker BHC, VanDer Harst P, Chasman DI, et al. Genetic Obesity and the Risk of Atrial Fibrillation: Causal Estimates from Mendelian Randomization. Circulation. 2017Feb 21;135(8):741-754. doi: 10.1161/CIRCULATIONAHA.116.024921. Epub 2016 Dec 14. PubMed [citation] PMID: 27974350, PMCID: PMC5322057
Research Interest
Cardiovascular Epidemiology and Prevention

Population Electrocardiography

Global Health

Public Health