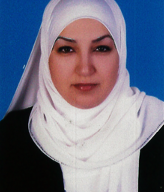 Duaa
Dakhlallah
Position
Assistant Professor
Department
School of Sciences and Engineering
Profile
Brief Biography
Duaa Dakhlallah is an assistant professor at the School of Sciences and Engineering (ESS), The American University in Cairo (AUC). As an undergraduate student in Jordan at Mutah University, She had the opportunity to conduct research and found her passion in basic biomedical research. She held the highest GPA with a full scholarship in the sciences for four consecutive years. Her desire to become an independent research investigator in biomedical and molecular biology research motivated her to obtain a PhD at The Ohio State University (OSU) in Columbus Ohio, USA. She was accepted into the graduate program of the Department of Molecular, Cellular and Developmental Biology where her dissertation research identified an epigenetic role of micro-RNAs, specifically in miR-17-92 cluster, in the etiology and molecular regulation of pulmonary fibrosis. Her graduate mentor at OSU was Clay Marsh Doctor of Medicine, who was at that time a senior associate vice president for research at the Office of Health Sciences, vice dean for research in the College of Medicine and executive director of the OSU Center for Personalized Health Care. Marsh has a wealth of expertise in studies of inflammation including lung fibrosis, sepsis, epigenetics, and aging. She also worked with Tim Huang, a world-renowned expert in epigenetics who used high-throughput technologies and investigated the molecular interactions of DNA methylation during tumorigenesis.
Dakhlallah continued her postdoctoral training at OSU with Marsh; he is a highly supportive mentor and advocate for her research career. Dakhlallah's postdoctoral training focused on extracellular vesicles (EVs) and their role in inflammatory and immune-mediated responses. She discovered that plasma EVs from septic patients have a high copy number of DNA Methyl Transferases (DNMTs) and Histone Deacetylases (HDACs) compared to controls. In acute inflammatory diseases, including sepsis, EVs epigenetically repress the autophagy pathway in recipient cells. Amal Amer at OSU provided her with state-of-the-art training in autophagy pathway analysis and was a mentor. She gained expertise in the application of live imaging, electron microscopy and measurement of autophagy physiological parameters. This collaboration resulted in the publication of many manuscripts. She also collaborated with other members at Marsh laboratory, including Timothy Eubank, investigating the role of EVs produced from M1/M2 macrophages. She was awarded a NIH T32 postdoctoral training fellowship in oncology from OSU. This research contributed to a successful patent application submitted by OSU and licensed by Akebia Therapeutics. Throughout her graduate and postdoctoral training, she generated results that supported awarding of multiple R01s, foundation grants and many patents.
In 2014-2015, Dakhlallah accepted a faculty appointment as an assistant professor of biology and chemistry at the Department of Science at the American University of Middle East in Kuwait. She established a curriculum in biology and was the course director. During this period, Marsh accepted a leadership position as vice president and executive dean for the West Virginia University (WVU) School of Medicine and Health Sciences Center in Morgantown, West Virginia. Due to our common research interests and record of successful collaboration Marsh recruited Dakhlallah as a research assistant professor. During the past four years at WVU her research has focused on investigating the molecular mechanism regulating immune suppression with sepsis and septic shock.
Recently, in collaboration with Candice Brown at WVU, they identified that tissue injury resulting from sepsis accelerates stroke-induced and Alzheimer's Disease (AD) like pathology while increasing mortality rates. These research findings have contributed to her interest in studying molecular mechanisms of sepsis-EVs function in the brain and neurodegenerative disorders, including AD.
Dakhlallah expanded her collaborative ambitious and worked with James Simpkins, professor of the Highland Chair of Stroke Neurology, Physiology, and Pharmacology Department, and director of the Center for Basic and Translational Stroke Research at WVU School of Medicine. Simpkins is an expert in molecular biological approaches and the convergence of the nervous and immune systems in diseased brain states. They found that intermittent lipopolysaccharide exposure significantly increases cortical infarct size and impairs autophagy. They also found that Medroxyprogesterone Acetate Impairs Amyloid Beta Degradation in a Matrix Metalloproteinase-9 Dependent Manner.
Lately, In collaboration with Mark Olfert, Paul Chandler and Eric Kelley (WVU), Dakhlallah studied the toxicology and vascular dysfunction in offspring exposed to maternal vaping to determine the effect of maternal e-cig vapor at varying wattage setting and nicotine levels at three levels; vascular function, epigenetic responses in regulating inflammation pathway and mechanisms underpinning elevation of oxidative stress in off spring exposed to maternal vaping.
Porter KN, Sarkar SN, Dakhlallah DA, Vannoy ME, Quintana DD, Simpkins JW.(2020) Medroxyprogesterone Acetate Impairs Amyloid Beta Degradation in a Matrix Metalloproteinase-9 Dependent Manner. Front Aging Neuroscidoi: 10.3389/ fnagi.2020.00092 PMID: 32317959

Brichacek AL, Benkovic SA, Chakraborty S, Nwafor DC, Wang W, Jun S, Dakhlallah D, Geldenhuys WJ, Pinkerton AB, Millán JL, Brown CM. (2019) Systemic inhibition of tissue-nonspecific alkaline phosphatase alters the brain-immune axis in experimental sepsis. Sci Rep. doi: 10.1038/s41598-019-55154-2.. PMID: 31827139

Dakhlallah D, Wisler J, Gencheva M, Brown C, Leatherman E, Singh K, Brundage K, Karsies T, Dakhlallah A, Witwer K, Sen C, Eubank T and Marsh C (2019) Circulating extracellular vesicle content reveals de novo DNA methyltransferase expression as a molecular method to predict septic shock, Journal of Extracellular Vesicles, 8:1, doi: 10.1080/20013078.2019.1669881. PMID: 31632618

Caution K, Young N, Avila F, Krause K, Khweek A, Hamilton K, Badr A, Vaidya A, Daily K, Gosu H, Anne M, Eltobgy M, Dakhlallah D, Argwal S, Estfanous S, Zhang X, Sanchez S, Gavrilin M,

Jarjour W, Amer A. (2019) Caspase-11 mediates neutrophil chemotaxis and extracellular trap formation during acute gouty arthritis through alteration of cofilin phosphorylation. Front Immunol doi: 10.3389/fimmu.2019.02519. PMID: 31803174

Dakhlallah D, Wang Y, Bobo T, Ellis E, Mo X, Piper M, Eubank T, Marsh C. (2019). Constitutive AKT Activity Predisposes Lung Fibrosis by Regulating Macrophage, Myofibroblast and Fibrocyte Recruitment and Changes in Autophagy. Advances in Bioscience and Biotechnology, doi: 10.4236/abb.2019.1010027. PMID: 31750010

Nwafor D, Chakraborty S, Brichacek A, Jun S, Gambill C, Wei Wang, Engler-Chiurazzi L, Dakhlallah D, Benkovic S, Brown C. (2019) Loss of tissue non-specific alkaline phosphatase (TNAP) enzyme activity in cerebral microvessels is coupled to persistent neuroinflammation and behavioral deficits in late sepsis. Brain Behav Immun.

Caution K, Pan A, Krause K, Badr A, Hamilton K, Vaidy A, Gosu H, Daily K, Gavrilin M, Drew M, Cormet-Boyaka E, Chen X, Frankhouser D, Yan P, Dakhlallah D*, and Amer A*. (2019) Methylomic correlates of autophagy activity in cystic fibrosis. Journal of Cystic Fibrosis. doi: 10.1016/j.jcf.2019.01.011. PMID: 30737168. * Co-corresponding authors

Krause K, Kopp BT, Tazi MF, Caution K, Hamilton K, Badr A, Shrestha C, Tumin D, Hayes D Jr, Robledo-Avila F, Hall-Stoodley L, Klamer BG, Zhang X, Partida-Sanchez S, Parinandi NL, Kirkby SE, Dakhlallah D, McCoy KS, Cormet-Boyaka E, Amer AO (2018). The expression of Mirc1/Mir17-92 cluster in sputum samples correlates with pulmonary exacerbations in cystic fibrosis patients. Journal of Cystic Fibrosis. doi:10.1016/j.jcf.2017.11.005. PMID: 29241629

Tazi M*, Dakhlallah D*, Caution K, Gerber M, Kopp S, Ahmed A, Khalil H, Davis I, Marsh C, Schlesinger L, Cormet-Boyaka E, and Amer A (2016). Elevated miR-17~92 cluster expression negatively regulates autophagy and cystic fibrosis transmembrane conductance regulator (CFTR) function in CF macrophages. Autophagy. doi: 10.1080/15548627.2016.1217370 PMID: 27541364. * Co-first author.

Robbins M*, Dakhlallah D*, Marsh C, Rogers L, Tipple T (2016). Of Mice and Men: Correlations Between microRNA-17~92 Cluster Expression and Promoter Methylation in Severe Bronchopulmonary Dysplasia. American Journal of Physiology-Lung Cellular and Molecular Physiology. doi: 10.1152/ajplung.00390. PMID: 27694474. * Co-first author

Khalil H, Tazi M, Caution K, Ahmed A, Kanneganti A, Assani K, Kopp B, Marsh C, Dakhlallah D, Amer AO (2016). Aging is associated with hypermethylation of autophagy genes in macrophages. Epigenetics: doi: 10.1080/15592294.2016.1144007. PMID: 26909551

Rogers L, Robbins M, Dakhlallah D, Yang Z, Lee L, Mikhail M, Nuovo G, Pryhuber G, McGwin G, Marsh C, Tipple T (2015). Attenuation of miR-17∼92 Cluster in Bronchopulmonary Dysplasia. Annals of the American Thoracic Society. doi: 10.1513/AnnalsATS.201501-058OC. PMID: 26291337

Dakhlallah D, Zhang J, Yu L, Marsh CB, Angelos MG, Khan M (2015). MicroRNA-133a engineered mesenchymal stem cells augment cardiac function and cell survival in the infarct heart. Journal of Cardiovascular Pharmacology. doi: 10.1097/FJC.0000000000000183. PMID: 25658461

Dakhlallah D, Batte K, Wang Y, Cantemir-Stone C, Yan P, Nuovo G, Mikhail A, Hitchcock C, Wright V, Nana-Sinkam S, Piper M, Marsh C. (2013). "Epigenetic Regulation of miR-17-92 Contributes to the Pathogenesis of Pulmonary Fibrosis", American Journal of Respiratory and Critical Care Medicine, doi: 10.1164/ rccm.201205-0888OC. PMID: 23306545

Kabbout M, Dakhlallah D, Sharma S, Bronisz A, Srinivasan R, Piper M, Marsh CB, Ostrowski MC. (2014) MicroRNA 17-92 cluster mediates ETS1 and ETS2-dependent RAS-oncogenic transformation. PLoS One. doi: 10.1371/journal.pone.0100693. PMCID: PMC4072627

Ismail N, Piper M, Dakhlallah D, Batte K, Zhang X, Zhang J, Moldovan L, Marsh C (2012). Macrophage microvesicles induce macrophage differentiation and miR-223 transfer. Blood. doi: 10.1371/journal.pone.0098623. PMID: 24892425

Elnakish MT, Hassan F, Dakhlallah D, Marsh CB, Alhaider IA, Khan M 2012. Mesenchymal stem cells for cardiac regeneration: translation to bedside reality. Stem Cells Int.;2012:646038. doi: 10.1155/2012/646038. Epub 2012 Jun 7 PMID: 22754578

Cho JH1, Gelinas R, Wang K, Etheridge A, Piper MG, Batte K, Dakhlallah D, Price J, Bornman D, Zhang S, Marsh C, Galas D. 2011 "Systems biology of interstitial lung diseases: integration of mRNA and microRNA expression changes" BMC Medical Genomics. doi: 10.1186/1755-8794-4-8. PMID: 21241464.

Ayupova DA, Singh M, Leonard EC, Basile DP, Lee BS. Expression of the RNA-stabilizing protein HuR in ischemia-reperfusion injury of rat kidney. Am J Physiol Renal Physiol. 2009 Jul; 297(1):F95-F105. doi: 10.1152/ajprenal.90632.2008. Epub 2009 May 6.PMID: 19420108

Jeyaraj SC, Dakhlallah D, Hill SR, Lee BS. Expression and distribution of HuR during ATP depletion and recovery in proximal tubule cells. Am J Physiol - Ren Physiol. 2006; 291(6). doi:10.1152/ajprenal.00440.2005

Jeyaraj S, Dakhlallah D, Hill SR, Lee BS. HuR Stabilizes Vacuolar H + -translocating ATPase mRNA during Cellular Energy Depletion. J Biol Chem. 2005; 280(45):37957-37964. doi:10.1074/jbc.M502883200

Book chapter

1. Wang Y, Dakhlallah D, Moldovan L, Anderson T, Ezzie M, Nana-Sinkam P, Mohler P, Trgovich J, Cook C, Piper M, Marsh C. MicroRNA in Regenerative Medicine, Circulating miRNA as Biomarkers 2014

2. Cormet-Boyaka E, Caution K, Dakhlallah D and Amer A. The Role of p62 in Aggregopathies, Autophagy: Cancer, Other pathologies, Inflammation, Immunity, Infection and Aging. Volume 12, 2017

3. Dakhallah, D., Piper, M. and Nana-Sinkam, S.P., Translational Implications for ncRNA in Cancer, Non-Coding RNAs and Cancer Springer 2013.

Patents and Invention Disclosures

U.S. Patent Application No.: 61/867,000 Compositions and Methods for Modulating DNA Methylation Inventors: Tim Eubank, PhD; Clay Marsh, MD; Duaa Dakhlallah, PhD

United States Patent U.S. Patent Application No.: 61/867,000 Issued August 2013 Inventors: Tim Eubank, Clay Marsh, Duaa Dakhlallah

Described herein are methods and compositions for the diagnosis, prognosis and treatment of various adaptive and/or disease pathways by examining samples containing one or more miRs therein, and by formulating therapeutic agents therefrom. Inventors: Clay B. Marsh, Melissa G. Piper, Duaa A. Dakhlallah (The Ohio State University)

Compositions and Methods for Modulating DNA Methylation Using plasma microvesicles and their contents from patients with sepsis as a companion diagnostic and prognostic and therapeutic tool in sepsis and organ system failure OSU TCO Ref: IDF166470. Inventors: Tim Eubank, Clay Marsh, Duaa Dakhlallah

Promoter methylation of genes regulating autophagy as a diagnostic and therapeutic target to slow aging and cellular senescence. OSU TCO Ref: IDF503421. Inventors: Tim Eubank, Clay Marsh, Duaa Dakhlallah

Determining the miR17~92 cluster expression as a companion diagnostic and treatment for IPF OSU TCO Ref: IDF139364. Inventors: Tim Eubank, Clay Marsh, Duaa Dakhlallah

Dual treatment of IPF and other chronic fibrotic diseases with targeted treatment using epigenetic regulatory drugs like Rapamycin and Decitabine. OSU TCO Ref: IDF671807. Inventors: Tim Eubank, Clay Marsh, Duaa Dakhlallah

Methylation of Telomerase Promoter As a Mechanism to Maintain Reduced Telomere Length as Well as a Diagnostic and Therapeutic Application to Slow Aging. OSU TCO Ref: IDF675479. Inventors: Tim Eubank, Clay Marsh, Duaa Dakhlallah prepared, and graded assignments

Doctor of Philosophy in molecular, cellular and developmental biology, USA. The Ohio State University

Master of Science in molecular biology.

California State University, Sacramento, California

Master of Science in biotechnology. AL-Bayt University, Jordan

Bachelor of Science in biology.

Mu'tah University, Jordan

Journal club 799, immunology, graduate students, Ohio State University

Journal club 785, oncology, graduate students, Ohio State University

Biology 115, American University of the Middle East, 4 credit, 18 students per section. 5 sections. Course moderator. Prepared syllabus taught all lectures. Prepared and taught labs, ordered supplies, supervised TAs, prepared, and graded assignments.
Research Interest
The theme of Dakhlallah research is to identify epigenetic mechanisms by which prolonged cell survival can amplify the immune response and regulate aging pathways. She found that extracellular vesicles (EVs) secreted from macrophages and other cells contain miRNA and mRNAs that code the epigenetic processes responsible for repression of important pro- and anti-inflammatory gene expression, including autophagy. Autophagy is a basic lysosomal cellular degradation pathway that maintains healthy homeostasis in cells. Aberrant regulation of autophagy affects many human diseases including aging, fibrosis, inflammation, and cancer. Recently in aging-related disorders and acute inflammatory diseases (sepsis, IPF, cystic fibrosis) Dakhlallah found that dysfunctional autophagy increases severity of different inflammatory diseases. She is currently conducting research with my collaborators (Candice Brown, Ann Murray and Amal Amer) to understand the epigenetic regulation of autophagy pathways to identify novel mechanisms that contribute to the onset and progression of Alzheimer's Disease. Therefore, she is well poised to undertake this innovative project focused on sepsis and Alzheimer's Disease (AD). Dakhlallah's studies build on her prior work on sepsis, epigenetics, innate immunity, and inflammation. She has several ongoing collaborations with colleagues within WVU, including Candice Brown and James Simpkins to develop a large collection of tools and animal models to investigate signaling pathways affecting AD, aging, and neurodegeneration with respect to innate immunity and inflammation.

Microvesicle trafficking of miRNAs in idiopathic lung fibrosis, and sepsis. The importance and function of microvesicles in the immune response, other than within the confines of the tumor microenvironment has not been investigated. One of the major focus of Dakhlallah's research is to identify mechanisms by which prolonged macrophage survival amplifies immune responses and contributes to abnormal wound repair and chronic lung inflammation in idiopathic pulmonary fibrosis (IPF) and sepsis. Dakhlallah's expertise had provided her with an in-depth understanding of both the acquired and innate immune systems through projects involving purification and characterization of macrophage microvesicles. She observed that microvesicles derived from platelets and mononuclear phagocytes are the most abundant in the peripheral blood. She also identified over 100 unique miRNAs contained in peripheral blood microvesicles that play important roles in the immune response. These diverse miRNAs are functionally active and taken up by different cell types. Her findings demonstrate that the mRNA of epigenetic regulators in plasma changes depending on disease type and severity.

Epigenetic engineered mesenchymal stem cells augment cardiac function and cell survival in the infarct heart. Dakhlallah's knowledge on miRNA regulation of gene expression and their aberrant regulation in disease is rapidly expanding. Her project, with Mahmood Khan in reprogramming immature stem cells (Mesenchymal stem cells) by miRNAs, which showed a promising treatment in cell-based therapy for repair and regeneration of infracted myocardium in heart failure. While cardiomyoplasty using Mesenchymal heart cells is not new, they proposed use of miRNA to enhance survivability of the cells following transplantation is a novel idea; this novel target has the potential to provide a critical breakthrough for therapeutic stem-cell intervention. Success in this endeavor could lead to further study of additional cardiac-specific miRNAs, and their potential in further enhancing survivability of the transplanted cells. This would have significant impact upon clinical cardiomyoplasty as a means to treat heart attack patients in the future.

Epigenetic regulation of microvesicle-mediated epigenetic signaling pathways in cancer. In collaboration with Tim Eubank, Dakhlallah is investigating how macrophages communicate via secreted extracellular vesicles (EVs) which are taken up by the neighboring epithelium. She had obtained data demonstrating that EVs contain mRNAs that code the epigenetic regulating machinery, DNA methyltransferases (DNMTs) and histone deacetylases (HDACs). These enzymes regulate promoter CpG island methylation and resultant gene expression of both tumor suppressor genes (TSGs) and genes that drive the epithelial-to-mesenchymal transition (EMT) in epithelial cells. These findings were presented as both a poster and short talk format for the 2014 AACR Cellular Heterogeneity in the Tumor Microenvironment in San Diego, CA.