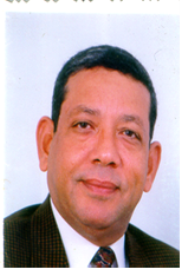 Awad
Khalil
Department
Department of Computer Science and Engineering
Profile
Brief Biography
Awad Khalil is a professor of computer science and engineering. He received his BSc in electrical engineering from the Military Technical College (MTC) of Cairo in 1970. He received his MSc and PhD degrees in computer engineering from Rennes-I University of France, in 1979 and 1981, respectively. 
Khalil contributed in developing many computer engineering and computer science programs at several national and private universities in Egypt and in the Arabic region. He organized several local conferences and workshops and he is an active member in many international societies and program committees of several international scientific conferences.
Khalil started teaching at AUC as a part-time faculty in 1984 and in 1998 he joined the computer science department of AUC as a full-time faculty member. Over these long years of teaching at AUC, he has been very active in developing and upgrading the curriculum of computer science and computer engineering programs. 
Since he joined the Department of Computer Science and Engineering, Dr. Khalil has served actively in the process of accrediting the computer science program and computer engineering program over several cycles of accreditation and re-accreditation.
Publications 
Khalil, A., El Kafrawy, P, Multi-Label Classification for Mining Big Data, The 15th International Conference on Advances in Big Data Analytics, Las-Vegas, USA, July 2015
Khedr, A., Khalil, A., and Osman, M., Enhanced Liver Tumor Diagnosis Using Data Mining and Computed Tomography(CT), The International Conference on Computing Technology and Information Management "ICCTIM2014", The Society of Digital Information and Wireless Communications "SDIWC", Dubai, April 2014.
Wassef, R. , Khalil, A. ,. (2011), "Increasing Game Immersion Through Randomizing Game Characters' Appearance in Crowded Scenes Using Inexpensive Pixel Shader Operations", IEEE Computer Society -  IEEE Xplore Digital Library. http://ieeexplore.ieee.org/xpl/freeabs_all.jsp?tp=&arnumber=6000350
CP: Fares, T. and Khalil, A., (2007), "Usage of HMM-based Speech Synthesis System for Intelligent Arabic Voice," 23rd International Conference on Computers and their Applications (CATA-2008), Cancun, Mexico, April 9 -11, 2008.
RJ: Fares, T. and Khalil, A., (2007), "An HMM-based Speech Synthesis System Applied to Arabic," International Journal of Intelligent Computing and Information Sciences, In Press Vol 8, July 2007.
RJ: Fares, T. and Khalil, A., (2007), "Investigating an Arabic Text to Speech System Based on Diphone Concatenation,"  International Journal of Intelligent Computing and Information Sciences. Vol 7, July 2007, pp. 49 – 69.
CP: Sobh, T. and Khalil, A., (2006), "Mobile Architecture for Discovering and Reacting to System Threats," The ISCA 19th International Conference on Parallel and Distributed Computing Systems (PDCS-2006), San Francisco, CA, USA, Sept. 20-22, 2006.
CP: Sobh, T., Khalil A.,   (2005), "Neuro Fuzzy Techniques Using MATLAB/SIMULINK Applied to Real Process," The 14th International Conference on Intelligent and Adaptive Systems and Software Engineering (IASSE-2005), Toronto – Canada, July 2005. 
Honors and Awards
First Class Honors for BEng Degree in Electrical Engineering, 1970.
Award of Duty, MTC, 1970.
Honors for PhD Degree in Computer Networks, 1981.
Received award of Long and Distinguished Service, The Egyptian Armed Forces, 1995
Received prestigious award of the Republic, granted by the President of the Arab Republic of Egypt, 1998.
Research Interest
Large Database Systems
Data Mining and Knowledge Discovery
Information Storag and Retrieval
Data Security
Web-based systems and applications