AUC in Action
AUC in Action
The University is actively monitoring the local and global health situation and is taking precautionary measures in an effort to help limit the spread of infection.
Coronavirus Protocol and Procedures
The flowchart specifies proper actions to take whether or not you have symptoms. 
Click here for the downloadable pdf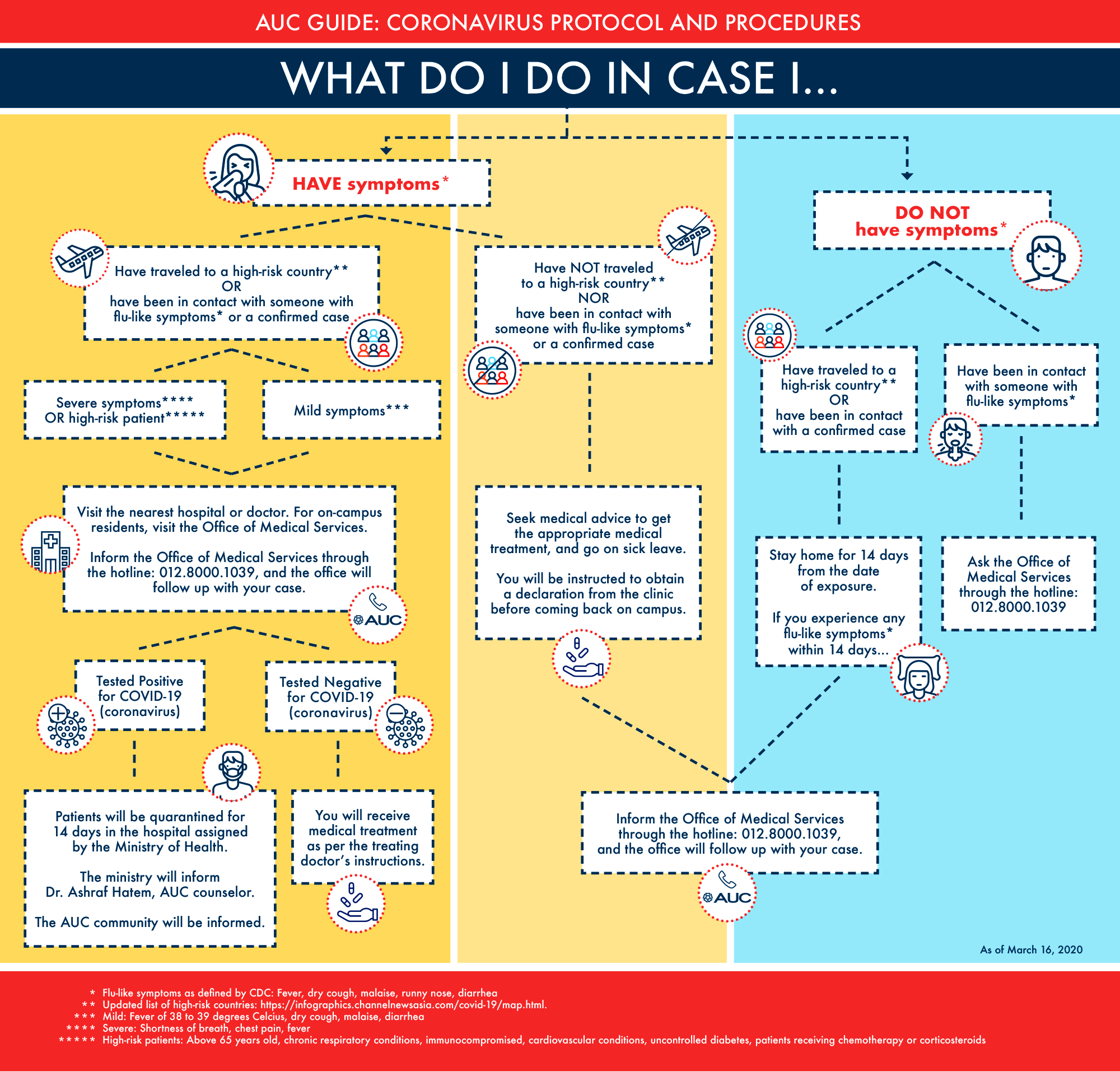 Click here for the downloadable pdf
Plans on Campus
The Office of Medical Services is closely monitoring the situation and will provide regular updates.

As a precautionary measure, the Office of Medical Services has designated a specific examination room to serve as a flu clinic for any suspected cases of the flu. The examination room is continuously disinfected. All physicians and nurses are trained to follow international protocols in dealing with suspected cases. 

In case of experiencing any symptoms, the person should go to the nearest medical physician and inform the medical office of his or her health condition.  Signs and symptoms of infection include fever, cough, sore throat, difficulty breathing, and pneumonia. 

Hand sanitizer dispensers have been installed all around the New Cairo and Tahrir Square campuses. While washing your hands is the most effective prevention method, sanitizing is a good alternative when you can't do that. 

All AUC buses have hand sanitizers installed on the bus.

The frequency of disinfecting surfaces as part of our daily cleaning routine is increased.
Moving Online
AUC begins a two-week test of online instruction starting Sunday, March 22 t

o April 2.

 During this period, faculty will deliver all of their courses online with no face-to-face classes (either on or off-campus). This window will allow us to fully test our online teaching capabilities to help us enhance and strengthen our skills in this area. Not only will this test of our system be useful in combating the current COVID-19 outbreak, but it will also position us to better respond to any future conditions that may necessitate the utilization of online instruction. During this period faculty will also be conducting all office hours online.
Read More about Online Instruction
AUC Library
The library hours have been reduced. Click here for details.
Events at AUC
All public events are canceled or postponed until further notice. All meetings are expected to take place online.
Visitors on Campus
Campus access is restricted to staff whose physical presence is absolutely necessary to support online operations.
Food Outlets
All found outlets on campus will be closed for the next two weeks. To accommodate a limited number of students in the dorms, the main cafeteria will operate from 9 am to 11 pm and Seoudi will open from 9 am to 5 pm. For more information, check the food outlets webpage for more details.
Buses
In support of reduced campus access, the bus service will operate a minimal schedule to accommodate the limited number of staff who must be physically present on campus. For more information, visit the bus webpage.
Campus Access
Campus access is restricted to staff whose physical presence is absolutely necessary to support online operations. We ask all other members of the AUC community not to come to either campus to mitigate the spread of the coronavirus.
Remote Work for Staff
The Office of Human Resources has provided guidelines for staff for the next two weeks. To read the message from HR, click here.
Travel Advisories
How to Protect Against Hackers Exploiting Coronavirus/COVID
Stay alert and vigilant as some hackers and scammers use the CoronaVirus/ COVID-19 incidents for malicious reasons. As a real example, currently, some hackers use Coronavirus/COVID-19 maps to infect devices and steal information.