Branding and Visual Identity Manual
Branding and Visual Identity Manual
University Nameplate
The American University in Cairo nameplate is based on the font Chisel Wide Bold. The letterforms are horizontally scaled and custom-kerned for optimum visual appeal, and then converted to paths in Illustrator. This nameplate exists only as artwork. It must not be recreated or typed using the Chisel Wide Bold font.

University Nameplate with Icon
The AUC icon should appear with the nameplate, as shown below. It is crucial that the relationship between the icon and the nameplate remains consistent. Do not alter the size or the position of the icon in proportion to the nameplate.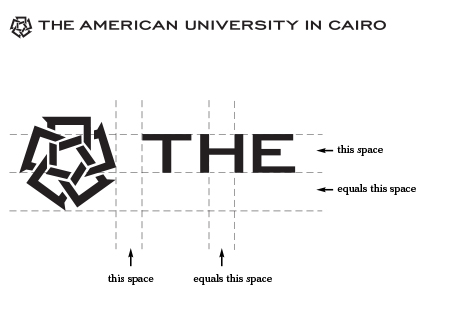 Secondary Nameplate
Use the primary nameplate whenever possible. If special circumstances introduce spatial restrictions that prohibit the wide horizontal shape, use the two-line version below. The nameplate should not be set in more than two lines.

Regulations for Correct Usage of University Nameplate
The University nameplate must appear on all publications (print, web and mobile apps) material. For high-resolution nameplate files, contact the Office of Marketing Communication and Public Affairs or email publications@aucegypt.edu.
The "star" icon and University name MAY NOT appear separately at any time.  
The nameplate must always appear in a horizontal position (never vertically). 
The nameplate must always be of comparable size to the publication's title font. 
No text may be added to the nameplate
For nameplates, colors, and fonts, check the following:
Image Regulations
Only AUC photos are allowed on all publications (print and online) (ie. clip art, stock image, non-AUC photos). Images uploaded on the website should be resized to the correct size and resolution.
AUC's Stock Image/Clipart Policy
All people photos must be of the AUC community (no stock image of people).
Clipart/cartoon-like images are not acceptable on any AUC publications (print or web).
Outer space-related photos and certain science photos are acceptable to use, provided there is proper photo credit and no copyright issues are being violated.
Generic photos like charts, keyboards, piles of a book, for example, are acceptable to use, provided there is proper photo credit and there is no violation of copyright issues.
All stock images must be bought and proper photo credit must be written. A copy of the high-resolution photo must be sent to the Office of Marketing Communication and Public Affairs along with its proper credit so that it is accessible to the rest of the university.
All photos bought must be royalty-free and carefully checked that there is no limit on photo usage/reprinting.
Concept Images/Concept Messages
Concept advertising will be reviewed case-by-case keeping in mind AUC's integrity and branding policy.
General Photo Guidelines
AUC logo must be clearly visible.
A clear message tying the photo with AUC (campus, students, alumni, program, event).
Standard branding guidelines apply (fonts, colors, copyrights and photo credit issues).