Sustainable Campus
Office of Sustainability
Established in September 2011, the Office of Sustainability is responsible for addressing AUC's environmental challenges, including climate change, resource scarcity, pollution, and waste management. The office portfolio consists of the biennial Carbon Footprint Report, energy reduction programs, water consumption reduction, and management, waste management, and efforts to raise campus awareness of environmental concerns affecting AUC and the community at large. The Office of Sustainability is a division of the Office of the Vice President for Management and Operations.
The Office of Sustainability's objective is to integrate environmental and social sustainability into the culture and structure of the University. The office strives to reduce the University's use of natural resources and operating costs and to instill a mindset of sustainability in the AUC community by supporting University programs in education, research, and operations. It seeks to weave sustainability into the culture, mission, and activities of the University and to gain international recognition for its successes.
Sustainability Initiatives
April 2021: AUC Publishes New Carbon Footprint Report Showing Trends for Past 9 Years
In the wake of the COVID-19 pandemic, the world faces parallel threats of health, economic, and social crises. The COVID-19 pandemic illustrates how shocks reinforce the inequalities that exist within our systems, undermining our ability to be resilient. The devastating impacts of COVID-19 parallel many of the existing issues within the climate change discussion, providing a wake-up call in the face of increasing crises. It is widely expected that climate change will exacerbate the likelihood of pandemics around the world. Climate change also poses additional risks to our public health by impacting our clean air, safe drinking water, and food supply. Given its harsh climate, growing population, and limited natural resources, the Middle East and North Africa region is among the most vulnerable to the impacts of climate change and global health crises. Egypt in particular, faces threats of increased air pollution, water scarcity and pollution, and food security. Despite the major societal implications of climate change, Egypt is among the top countries with the fastest rates of greenhouse gas emissions and is projected to double its current rate of emissions by 2030.
AUC is committed to reducing its carbon emissions and convincing others to do so as well in order to help sustain the long-term viability and health of Egyptian society. In April 2021 AUC published the Carbon Footprint Report 2021, showing trends for the past nine years. A carbon footprint is a widely accepted method of measuring the impact of human activity on global warming. A University's carbon footprint is the annual total of Carbon Dioxide (CO2e) and other significant greenhouse gases emitted into the atmosphere as a result of daily activities and campus operations. AUC is one of the first higher education institutions in the Middle East and North Africa to conduct such a comprehensive study of its own impact on climate change.
The main components of AUC's AY 20 carbon footprint are heating, ventilation and air conditioning (HVAC) and domestic hot water (41%), transportation (25%), electricity for lighting and other equipment (20%), natural gas (7%), paper use (4%), and water supply (1.6%).
From AY 12 and AY 20, AUC's carbon footprint decreased by 8,145 MT CO2e (from 42,536 MT CO2e to 34,391 MT CO2e) or by approximately 19%. The reductions and increases for each major category of emissions from AY 12 and AY 20 are as follows:
Reductions Increases
HVAC (-31%) Transportation (+3%)
Electricity (Non-HVAC) (-29%)
Paper (-40%)*
Water (-22%)
Solid Waste Disposal (-42%)
Fertilizers (-44%)
Refrigerants (-51%)**

*The Emissions Factor (EF) for paper drastically increased in AY 18. Therefore, the report team retroactively applied the new EF to date from AY 12-17, showing a reduction from AY 12-18. Further explanation is available in Section 7.2 of the Carbon Footprint Report 2021.
The energy use and water supply at AUC are interconnected. The New Cairo Campus is located on an elevated desert plain east of central Cairo. In order to supply domestic (drinking quality) water to AUC from the Ismailiya Canal northeast of Cairo, water must be purified and pumped across a distance of 54 kilometers. Given Egypt's harsh desert climate, there is less water per capita than the global average. Projected population growth from 80 million to 97.8 million by 2025 will only put further stress on the fixed water output of the Nile River. Egypt is in a constant state of water scarcity, and sustainable water management is one of the most important environmental issues the country faces.
To combat water shortage at AUC, the Office of Sustainability convened the Energy and Resource Conservation and Efficiency (ERCE) Task Force in 2012. The task force, comprised of staff and faculty, created a multi-part plan to study the University's water needs and develop recommendations for increasing the supply of water available while simultaneously reducing demand. The ERCE has replaced faulty bathroom flush valves, installed low flow showerheads in dorms, introduced efficient managing of the heating, ventilation and air conditioning (HVAC) system, and uses treated wastewater to irrigate campus landscaping.
The Office of Sustainability and the Office of Facilities and Operations collect and analyze data monthly about on-campus water consumption, which is divided into three categories: air conditioning cooling towers, landscaping irrigation, and building use. This data is discussed within the ERCE to pilot or initiate new ideas to reduce both water consumption and corresponding CO2 emissions.
In order to maintain daily operations, AUC consumes a significant amount of energy. In Academic Year 2020, approximately 61% of AUC's total carbon footprint was attributed to heating, ventilation and air conditioning (HVAC) and domestic hot water, and electricity for lighting and other equipment (Non-HVAC). Given that the New Cairo Campus is located in a desert climate where air conditioning is needed for more than half the year, the vast majority of CO2 emissions result from the consumption of energy for the HVAC system. Not to mention, equipment such as office desktop computers, printers, scanners and lighting consume large quantities of energy given the campus is heavily populated during the Academic Year.
The Energy and Resource Conservation and Efficiency (ERCE) Task Force is responsible for various initiatives to reduce energy consumption and subsequent CO2 emissions. These initiatives include improving the management of the HVAC system and chilled and hot water production, as well as reducing lighting consumption. In response to the COVID-19 pandemic, the use of the HVAC system in AY 20 was limited to essential locations, resulting in a 31% decrease in emissions from HVAC and domestic hot water from AY 12 (September 1, 2011, through August 31, 2012) to AY 20 (September 1, 2019, through August 31, 2020). Non-HVAC emissions also saw a 29% decrease within the same period.
The Office of Facilities and Operations collects data about AUC's energy consumption at both the AUC New Cairo and AUC Tahrir Square campuses daily. Currently, the Office is looking into multiple options regarding the increase of renewable energy sources to meet AUC's energy demands.
AUC is actively developing a more sustainable trash management system with the ultimate goal of reducing the overall waste generated on campus. To aid this effort, the Clean and Green Committee was established. The Committee consists of faculty, staff, and maintenance personnel, and is co-chaired by Dina Rateb, Associate Professor in the Department of Management, and Yasmin Mansour Sustainability Director. In February 2013, the Clean and Green Committee launched a recycling program that installed 13 sorting stations in the most frequented locations on AUC's campus. Each station contained receptacles for the six different kinds of trash AUCians produce each day: glass, plastic, cans, paper, food and other trash. By March 2014, the University had also installed 30 mini sorting stations for plastic, cans, and trash.
However, by 2016 the Committee realized that the 13 sorting stations were inefficient. Following various surveys, the Committee concluded that the stations were too large, too confusing, and maintenance intensive. In an effort to streamline waste management, the bin system was changed from a 6-bin station to a 4-bin station. The 4-bin station contained receptacles for plastic, cans, food, and other trash. It was realized that the glass bins were hardly used due to the lack of glass products available on campus and that the paper bins were collecting non-recyclable paper-based products.
After 4-6 months of use, it was evident that the bins for food were too contaminated with non-food items to be used for composting efforts. Therefore, the Committee decided to remove them and transform them into more plastic, can, and other trash bins to make more sorting stations in high-traffic areas. At this point in time, the Clean and Green team decided to fuse both the mini sorting stations and the larger sorting stations to create the 48 sorting stations that are on the New Cairo Campus today.
In the spring of 2017, the Committee shifted its paper recycling efforts to smaller, cardboard recycling receptacles in various office suites. A total of 242 bins were given out, and the Office of Sustainability is in the midst of revamping the program to be more automated and expanded to classroom buildings.
In all, sorting the trash creates more efficient and potentially profitable use of AUC's waste. The Office of Sustainability has constructed an on-campus compacting station to compress the separated plastic, cans, and paper. Once these valuable materials are compressed, AUC can sell them to commercial recyclers and use the profits to fund sustainability-related projects. Presently, AUC donates most of the used paper to a recycling NGO and the rest to the Zabaleen, the trash-collecting community in Cairo.
In an effort to reduce plastic water bottle usage on campus, the Office of Sustainability has installed 35 chilled water dispensers for students, faculty, and staff to use reusable bottles at. The Office plans to add more chilled water dispensers in high-traffic areas of campus to decrease AUC's solid waste emissions. Click here to view the map of where current water dispensers are located.
Like water and energy consumption, the Office of Facilities and Operations collects data about the sorted trash weights each day at the New Cairo Campus. The COVID-19 pandemic reduced the number of densely populated days on campus and decreased the population density on the lightly populated days compared to previous years. Both of these factors decreased the amount of solid waste produced in AY 20. From AY 12 (September 1, 2011, through August 31, 2012) to AY 20 (September 1, 2019, through August 31, 2020), solid waste emissions decreased by 42%.
Carpooling Support
Carpooling is a well-known method for reducing the number of cars on the road, air pollution and carbon emissions. It essentially enables one car to do the work of multiple cars and also helps to reduce the traffic congestion that is ubiquitous in Greater Cairo. In late 2012, the University adopted a policy of waiving on-campus parking fees for carpoolers.
In February 2016, the Office of Sustainability started a database of students, faculty, and staff who were interested in carpooling. However, the University is currently looking for a more formal introduction of a carpooling or transportation mobile application to connect carpoolers with one another. A transportation mobile application, complete with an interactive bus schedule and route map, is one of the many recommendations put forth in the Carbon Footprint Report 2021 to reduce overall emissions.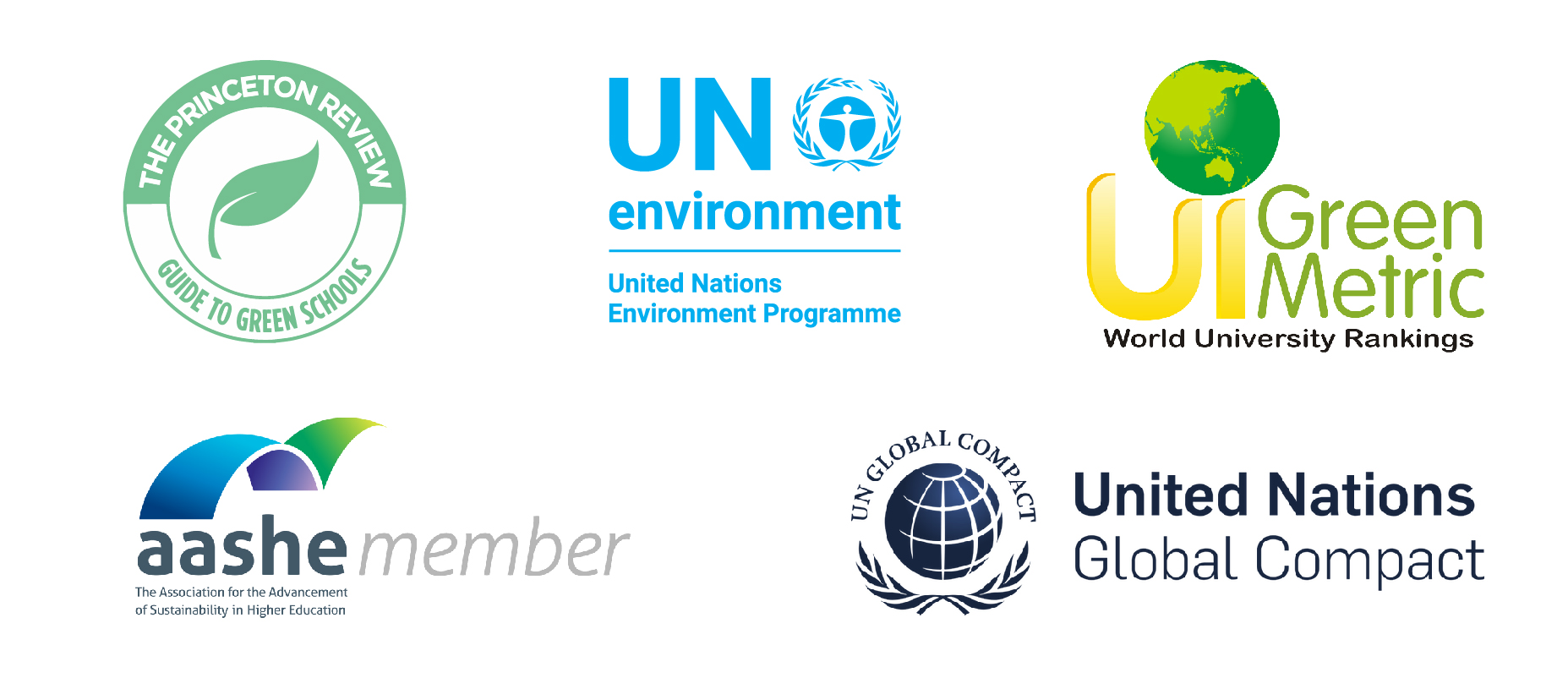 EARTH DAY GREEN TIPS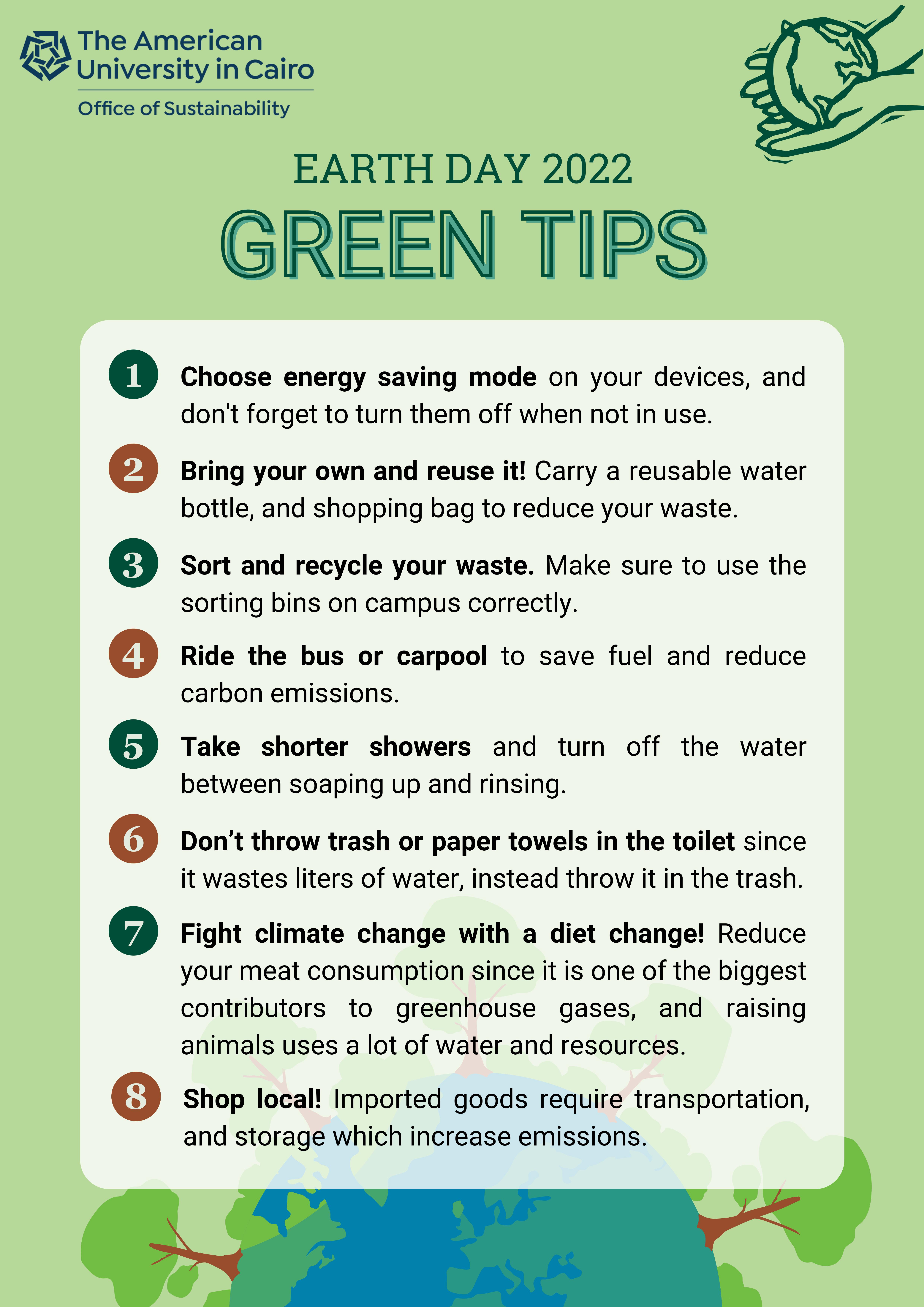 On the occasion of celebrating Earth Day this year, the Office of Sustainability has released eight tips to stay sustainable.