University Finances 2014-2015
Budget
What is the size of AUC's budget? 
This year the AUC budget is approximately $190 million (FY15 budget). 
What are our main sources of income?
How do we spend our budget?
Tuition
How is tuition determined? 
The University considers general cost increases, like utilities and the effect of inflation, as well as its strategic priorities when determining tuition. The impact tuition rates have on students and their families is carefully considered before the University recommends a tuition rate to the Board of Trustees.
Why does tuition increase?
Rising costs, particularly those driven by inflation, are the largest cause for tuition increase.
Endowment
What is an endowment?   
An endowment is a permanent source of funding for a nonprofit institution. The fund's assets are invested and each year a portion of the returns from this investment is paid to support the mission of the institution it supports and a portion is used to increase the value of the endowment fund over time to ensure intergenerational sustainability.
How large is our endowment?   
As of December 2014, our endowment is valued at $553 million. 
How do we spend from our endowment?
The University spends annually up to 5 percent of the rolling, historical three-year average market value of its endowments, calculated at the end of each year. In 2015, the University is budgeted to spend $24.5 million from the return on its endowment.
Why do we follow a "5 percent" spending rule?
We derive our spending rule from best practices of American university endowments.
Costs
How have AUC's costs changed over time? 
*Due to a change in the fiscal year, FY 2013 included only 10 months.
Please note that 2014 - 2015 figures represent actual financial year results.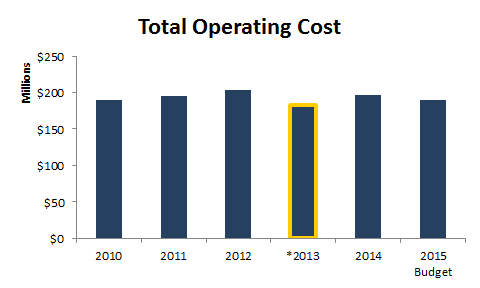 How have human resource costs changed?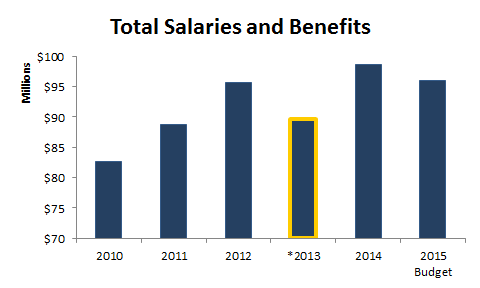 The drop in salary costs in 2015 is a product of a staff planning initiative instituted in 2014. 
In which areas have costs fallen?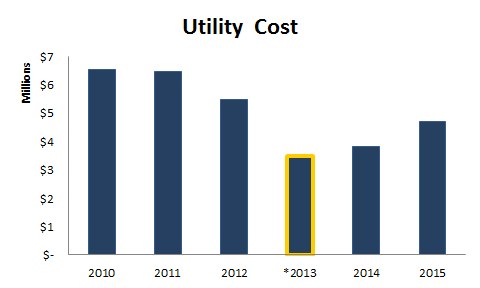 The University made sustainability a priority and has significantly decreased its energy use. However, recent increases in energy costs have raised utility expenditure.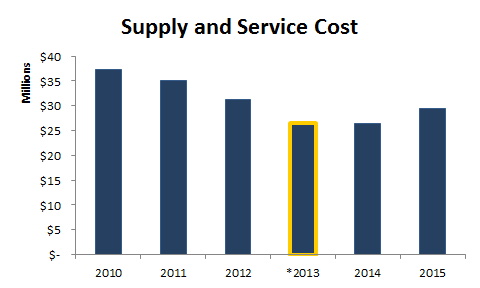 AUC has made significant progress in increasing the efficiency of supply chain management, reflecting in decreased cost.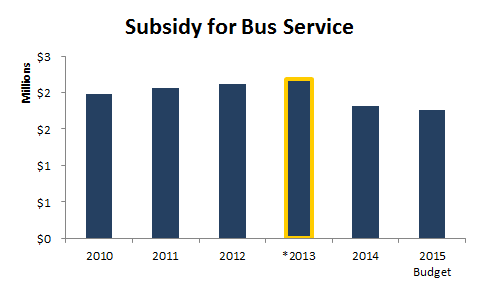 The University subsidy for bus services remains a significant expenses since moving to New Cairo. However, Transportation Services has worked to control these costs in recent years. 
Change in Revenue
How has revenue changed at AUC?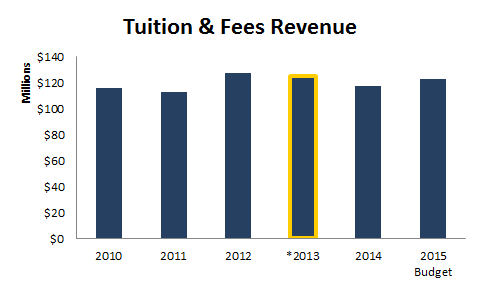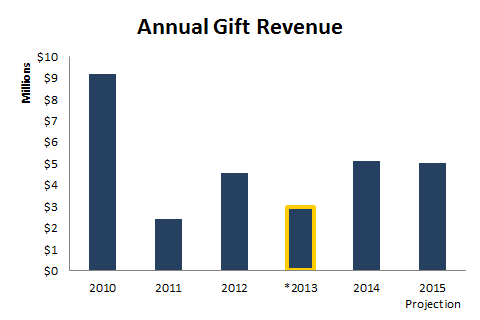 Budget Cuts
Why have there been budget cuts at AUC?
AUC has experienced budget cuts in recent years because of falling revenues, principally tuition and gift income, and rising costs, principally faculty and staff compensation. Also, the devaluation of the Egyptian pound has had a significant adverse effect on the spending power of the University.
What measures has AUC taken to reduce cost?
Since the move to the New Cairo campus, AUC made significant progress in controlling its supplies and utility costs. Additionally, in 2014, the AUC administration announced plans to reduce the number of staff working at the University. These reductions will be gradually introduced until 2017.
What measures has AUC taken to increase revenue?
The size of our endowment has grown in recent years, allowing the University to draw more money for its operations. Also, planning for a capital campaign began in 2014 and gift revenue is starting to increase.  
Challenges at AUC
What challenges has AUC experienced as a result of recent political and economic instability in Egypt?
The Egyptian pound has depreciated in value by over 25 percent since the Egyptian revolution of 2011. The country has similarly experienced double-digit inflation in recent years. 
What effect does exchange rate depreciation have on AUC?
The University incurs a significant portion of its expenses in U.S. dollars, particularly in faculty salaries. Thus, a depreciation in the Egyptian pound make these costs more expensive. To alleviate this risk, AUC started to denominate tuition payments in both Egyptian pounds and U.S. dollars. 
How does inflation affect AUC's finances?
The University must purchase a diverse set of goods for its operations. Inflation reflects an increase in the price of these goods, making it more expensive to make important purchases.