Education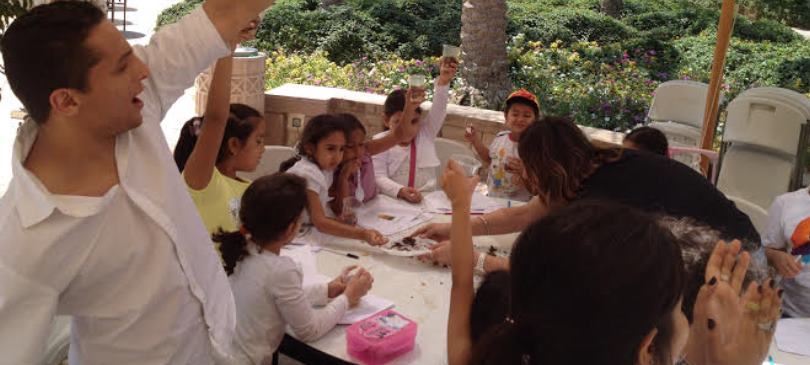 RISE education programs focus on environmental issues of importance to Egypt and the Middle East and North African region. RISE education programs are offered to both members of the AUC community and members of the broader community who are not directly related to AUC. In either case, RISE educational activities are designed to communicate the findings of research and the knowledge gained through recognized educational formats. The RISE staff serves as the principal instructors and trainers in these programs.
RISE educational programs offered to the broader community build upon prior DDC training programs, which represent more than three decades of experience in offering different types of training and education to a variety of stakeholders, including technical training for desert agriculturalists, practical research with students in degree programs, specialized short courses and study visits for partner institutions, and environmental awareness programs for young school children.
While qualified DDC staff taught standard catalog-listed courses within the AUC graduate and undergraduate curriculum in the past, RISE plans to substantially increase its involvement with on-campus education and curricular programs over the coming years, specifically through linkages to academic programs that stress the importance of "hands-on" practical learning experiences in the campus environment. Presently, RISE has taken the lead and become the focal point, with its on-campus partners, in developing the campus as a "living laboratory" for student research and learning.
Current Education Projects
Kids' Environmental Education Program (KEEP)
This year-round program teaches children about different parts of the environment. It is available for ages 6 to 12. For more information, please click here. 
Living Learning Lab (LLL)
AUC's campus-based research model engages the students from different disciplines
in various research projects. The "living lab" is a concept that encompasses a range of practical on-campus applications, providing students with hands-on experience, while also benefiting operations or facilities and enhancing campus sustainability. The Living Learning Laboratory is offered in blocks of certain hours throughout the semester. Labs frequently utilize RISE's waste water analysis laboratory, green roof with a connected aquaponics system, climate-controlled greenhouses and solar panels.
Past Living Learning Labs have included:
The Green Roof Experiment:

Five individual experiments to test sustainable

solutions to utilization of roof space on campus. One experiment includes

irrigation using wastewater from a fish tank.

The Campus Water Quality Monitoring Project: Tests of water quality from five sources on campus, including domestic potable water supplies, secondary treated waste water at the point of entry to campus, tertiary water for irrigation after treatment in the on-campus treatment plant, and two other marginal water sources associated with the green roof project.

Students measuring water consumption in campus buildings and toilets

GPS-mapping of trees and groundcovers in the AUC garden

A survey of students' attitudes toward recycling bins

Data collection of the lighting system on campus

A survey on the number of carpoolers among AUC faculty, staff and students
Set up through the Office of Student Financial Affairs and Scholarships, students have the opportunity to gain on-campus work experience. In exchange for dedicating 120 hours per semester to RISE projects, participants are given money to contribute to their educational expenses.
In an effort to showcase the biodiversity of AUC New Cairo, the Desert Development Center created a Campus Tree Walk, maintined today by RISE. The tree walk is a 2.5 kilometer walk, which includes 59 different tree species, a map and an explanatory brochure. Each tree has a label with its scientific name and its common name in Arabic and English, as well as other relevant information. The walk enourages participants to learn about the value of conservation and reflect on environmental and sustainability issues facing Egypt. To view the Campus Tree Walk, please click here. 
Completed Education Projects
South Tahrir Training:
Settler Program
Summer University Program
Technical Program
Day Long Program