Student Online Learning Success
Student Online Learning Success
There are differences between face-to-face study and taking a course online. Here are some guidelines to help you to complete your courses successfully. These guidelines will be constantly updated.
Online Instruction Feedback: Tips for Students
We hope the tips we offer here can help you manage the workload in the online modality. We recognize that each one of you has different circumstances and challenges through this difficult situation. We hope you find these tips useful, as they are built on the experiences of faculty and students at AUC last week as well as good practices from all over the world. We are also sharing a set of useful tips for faculty after our first week. Read More
Common Student Challenges and How to Overcome Them
Guidelines for Successful Transition to Online Classes
Academic Integrity
Academic integrity is a commitment, even in the face of adversity, to five fundamental values: honesty, trust, fairness, respect, and responsibility. Read more on academic integrity at AUC.
What to Expect when Learning Online
Learning in Real-Time
As part of your online learning experience, you may be learning in different ways such as virtually attending a class session, meetings with your instructors, and/or tutorials via a videoconference tool such as Zoom.
Participate in an Online Class Via Zoom
Your instructor may use Zoom to conduct a live lesson or a meeting online. In this case, you will need to have a microphone and webcam (built-in or connected to your computer) if the instructor requires audio and video participation.
Learning at Your Own Pace
During these challenging times, you could take the opportunity of learning at your own pace. Setting your study schedule is more flexible with online learning while having access to content, resources, and other useful material provided by your instructors. Learning Management Systems (LMS) facilitate having access to all material shared by your instructor and also facilitate communication.
Blackboard Quick Guide
Stay Connected
Access your AUC email frequently for notifications and all course correspondence. Instructors will send announcements and notifications to your AUC email
Make sure you can access Blackboard
Blackboard is the learning management system that AUC uses to host all academic courses. It is important that you know how to navigate your course to make sure that your assignments are turned in on time, you know how to communicate with your instructor and classmates, and you know where to go to keep up to date on class requirements.
Check the Turnitin support center if you are facing any difficulty submitting your work on Turnitin. If you have more questions after looking at the FAQs, email eda@aucegypt.edu (Turnitin issues only), providing your name, the name of the class you are having Turnitin issues with and the name of the instructor teaching this class.
Other Resources
Students Guidelines for Taking Monitored Online Assessments and Respondus
This guide will help you understand what to expect when you will be given an online exam that will be monitored using Respondus Monitor.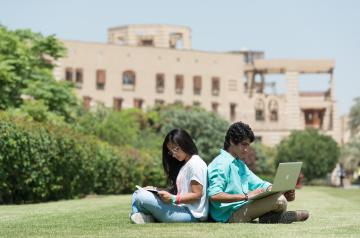 Online Learning Tips and Technology Requirements