Sustainable Campus
Sustainable Campus
Office of Sustainability
Established in September 2011, the Office of Sustainability is responsible for addressing AUC's environmental challenges, including climate change, resource scarcity, pollution, and waste management. The office portfolio consists of the biennial Carbon Footprint Report, energy reduction programs, water consumption reduction, and management, waste management and efforts to raise campus awareness of environmental concerns affecting AUC and the community at large. The Office of Sustainability is a division of the Office of the Associate Vice President for Campus Services.
The Office of Sustainability's objective is to integrate environmental and social sustainability into the culture and structure of the university. The office strives to reduce the university's use of natural resources and operating costs and to instill a mindset of sustainability in the AUC community by supporting university programs in education, research, and operations. It seeks to weave sustainability into the culture, mission, and activities of the university and to gain international recognition for its successes.
Sustainability Initiatives
April 2017: AUC Publishes New Carbon Footprint Report Showing Trends for Past 5 Years
Historically, Egypt's annual emissions have contributed about 0.6% to the global stock of greenhouse gases, yet it is presently recognized as one of the most vulnerable countries to the disruptions of climate change. The anticipated effects of climate change threaten several aspects of Egyptians' livelihood, including water availability, food security, and energy supply. Egypt's long shoreline puts its coastal communities at risk for sea level rise in the coming century, while inland areas will likely be affected by rainfall disruptions in highland Ethiopia, the source of over 80% of the Nile River water. Meanwhile, higher temperatures and faster evaporation rates are projected to raise the water requirements of key Egyptian crops by 12-18%. Egypt's large agricultural sector will likely be affected by a hotter, drier climate coupled with worsening water scarcity. This may weaken the country's ability to feed its growing population as well as negatively affect its export economy, of which agricultural products are a key component.
AUC is committed to reducing its carbon emissions and convincing others to do so as well in order to help sustain the long-term viability of Egyptian society. In April 2017, AUC published the new carbon footprint report, showing trends for the past five years. A carbon footprint is a widely accepted method of measuring the impact of human activity on global warming. A university's carbon footprint is the annual total of carbon dioxide (CO2) and other significant greenhouse gases emitted into the atmosphere as a result of daily activities and campus operations. AUC is the first higher education institution in the Middle East and North Africa to conduct such a comprehensive study of its own impact on climate change.
At AUC, the main contributors to greenhouse gas emissions are HVAC and domestic hot water (40%), transportation (32%), lighting and electrical equipment (19%), refrigerants (2%), paper use (1.12%), and water supply (1.34%).
Between AY 12 and AY 16, AUC's carbon footprint increased by 5,250 MT CO2e (from 41,031 MT CO2e to 46,282 MT CO2e) or by approximately 13%. The reductions and increases for each major category of emissions between AY 12 and AY 16 are approximately as follows:
Reductions                                      Increases
HVAC (-9%)                                        Transportation (+82%)
Electricity (Non-HVAC) (-13%)         Refrigerants (+41%)             
Paper (-25%)
Water (-14%)
Solid Waste Disposal (-25%)
In the Carbon Footprint Report for April 2017, we set forth the methodology, data sources, and assumptions that underlay our findings, and describe specific, concrete steps that we are already taking, or can take in the future, to further reduce our carbon footprint. It also presents the AUC emissions forecast until 2030.
AUC's Carbon Footprint Report for 2019 will be completed in April 2019 and will encompass data from both AY 2017 and AY 2018.
To view the Carbon Footprint Brochure for July 2018, click here
To view the full Carbon Footprint Report for April 2017, click here
To view the Carbon Footprint Brochure for May 2016, click here
To view the full Carbon Footprint Report for April 2015, click here 
Egypt is an arid country with minimal rainfall. It has significantly less water per capita than the global scarcity benchmark of 1,000 m3 per capita per annum. Though its population continues to grow, Egypt's annual allocation of water from the Nile remains fixed. Egypt is in a situation of constant water scarcity, and sustainable water management is one of the most important issues that Egypt faces.
New Cairo has a limited supply of water; there is only one water line serving New Cairo and the water is pumped from the Ismailia Canal 54 kilometers away. The municipal water supply has not always been enough to meet New Cairo's demand, particularly during the hotter months when demand is higher because of increased air conditioning and irrigation needs. There were occasions in the 2012-2013 academic year when no water at all was available to AUC from the municipal water supply during the day.
To combat water shortage, the Office of Sustainability convened an emergency task force. The task force created a multi-part plan to study the University's water needs and develop recommendations for both increasing the supply of water available to the campus and reducing demand. The work of the emergency task force continues through the Energy and Resource Conservation and Efficiency Task Force (ERCE). The University aims to decrease water use by 60 percent and to increase water storage capacity by 80 percent. The ERCE has replaced faulty bathroom flush valves, installed low flow shower heads in dorms, introduced efficient managing of the air conditioning system, installed a new 2,000-cubic meter water tank on campus and uses treated water to irrigate landscaping.
The Office of Sustainability and the Office of Facilities and Operations collect and analyze data about the water consumption of each building in the New Cairo campus, as well as the water consumed by irrigation and the cooling towers that maintain our HVAC system.
In an effort to reduce plastic water bottle usage on campus, the Office of Sustainability has installed ten chilled water dispensers for students, faculty, and staff to use reusable bottles at. The office plans to add more chilled water dispensers in high-traffic areas of campus to decrease AUC's solid waste emissions. Click here to view the map of where current water dispensers are located.
In order to maintain daily operations, AUC consumes a significant amount of energy. Most of this energy is used for air-conditioning and heating, as well as the lighting system and other equipment.
Through the efforts of the Energy and Resource Conservation and Efficiency Task Force (ERCE), run by AUC's Former sustainability director Marc Rauch, and the new sustainability officer, Yasmin Mansour, the Office of Sustainability has developed a number of initiatives to reduce energy use. These initiatives include improving the management of the air-conditioning system and chilled water, reducing lighting consumption and developing a focused approach to overall energy use. These combined efforts have led to a 35 percent reduction in overall energy from Y5 (September 2015 to August 31, 2016) to the base year (September 1, 2011, to August 31, 2012). The ERCE task force met this goal a year earlier than the target date. The task force is comprised of members of the facilities office, administrators and faculty experts.
The Office of Facilities and Operations collects daily data about AUC's energy consumption at both the AUC New Cairo and AUC Tahrir Square campuses. 
AUC is actively developing a sustainable trash management system with the ultimate goal of reducing the overall waste generated on campus. One such effort is the establishment of the Clean and Green committee, a working group made up of faculty, staff, professors, and maintenance personnel, and chaired by Dina Rateb, Associate Professor in the Department of Management.
In February 2013, the Clean and Green committee launched a recycling program that installed 13 sorting stations in the most frequented locations on AUC's campus. Each station contains receptacles for the different kinds of trash AUCians produce each day: glass, plastic, cans, paper, food and other trash. By March 2014, the university had also installed 30 mini sorting stations for plastic, cans, and trash.
Sorting the trash creates a more efficient and potentially profitable use of AUC's waste. The Office of Sustainability has constructed an on-campus compacting station to compress the separated plastic, cans, and paper. Once these valuable materials are compressed, AUC can sell them to commercial recyclers and use the profit to fund other sustainability-related projects. Presently, AUC donates most of the used paper to a recycling NGO and the rest to the Zabaleen community.
The Office of Facilities and Operations collects data about the sorted trash weights each day at the New Cairo campus. This data, updated every month, is available for download below.
In February 2016, the Office of Sustainability started a database of students, faculty, and staff who are interested in carpooling. Please email sustainability@aucegypt.edu if you would like to be added to the database and/or notified of updates on AUC carpooling initiatives.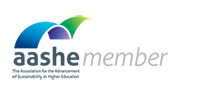 Total Water Consumption (m3)
⬇
Jan. 2018 – 23,070
Jan. 2013 – 28,033
Jan. 2014 – 20,708
Jan. 2015 – 20,554
Jan. 2016 – 18,637
Jan. 2017 – 28,004
AUC Wide Energy Consumption (kWh)
⬇
Jan. 2018 – 5,168,643
Jan. 2013 – 5,320,660
Jan. 2014 – 4,471,067
Jan. 2015 – 5,516,564
Jan. 2016 – 4,794,548
Jan. 2017 – 5,444,535
Yasmin Mahmoud
Sustainability Officer
ext.: 4441 
y.mansour@aucegypt.edu
Brandon Rothrock
Presidential Intern
ext.: 4486