Sustainable Campus
Sustainable Campus

Office of Sustainability

The Office of Sustainability at AUC was established in 2011. The office is responsible for addressing AUC's environmental challenges, including climate change, resource scarcity, pollution, and waste management. The office's objective is to integrate environmental and social sustainability into the culture and structure of the University. It strives to reduce the University's use of natural resources and operating costs and to instill a mindset of sustainability in the AUC community by supporting University programs in education, research, and operations. It also seeks to weave sustainability into the University's culture, mission and activities, and gain international recognition for its successes.
The office portfolio consists of issuing the biennial carbon footprint report, biennial sustainability report, AUC green guide; the responsible management of the University's natural resources, including energy, water and natural gas reduction programs, waste management, campus outreach, and awareness of the environmental concerns through various channels, such as celebrating international sustainability and ecological events on-campus, including earth week, campus sustainability month and other events, and issuing the monthly sustainability e-newsletter; and it maintains a global focus by positioning the AUC at the forefront of green, sustainable universities according to international rankings. The Office of Sustainability is a division of the Office of the Vice President for Management and Operations.
---
Resources Management and Initiatives
Water
The energy use and water supply at AUC are interconnected. The New Cairo campus is located on an elevated desert plain east of central Cairo. To supply domestic (drinking quality) water to AUC from the Ismailia Canal northeast of Cairo, water must be purified and pumped across a distance of 54 kilometers. Given Egypt's harsh desert climate, there is less water per capita than the global average. Projected population growth will only put further stress on the fixed water output of the Nile River. Egypt is in a constant state of water scarcity, and sustainable water management is one of the most important environmental issues the country faces.
At AUC, the Office of Sustainability established the Energy and Resource Conservation and Efficiency (ERCE) Task Force in 2012. The ERCE task force, comprised of staff and faculty members, created a multi-part plan to study the University's water needs and develop recommendations for increasing the supply of water available while simultaneously reducing demand. The ERCE has replaced faulty bathrooms' flush valves, installed low-flow faucets in bathrooms, installed low-flow showerheads in dorms and sports center, introduced efficient management of the heating, ventilation and air conditioning (HVAC) system, and used treated wastewater to irrigate campus landscaping.
The Office of Sustainability and the Office of Facilities and Operations collect and analyze data monthly about on-campus water consumption, which is divided into three categories: air conditioning cooling towers, landscaping irrigation and building use. This data is discussed within the ERCE to pilot or initiate new ideas to responsibly manage and reduce water consumption on-campus and its corresponding CO2 emissions.
Energy
At AUC, the Office of Sustainability established the Energy and Resource Conservation and Efficiency (ERCE) Task Force in 2012. The ERCE energy task force, headed by the Office of Sustainability and comprised of staff and faculty members, is responsible for various initiatives to reduce energy consumption and subsequent CO2 emissions. These initiatives include improving the management of the HVAC system and chilled and hot water production, as well as reducing lighting consumption. Data about AUC's energy consumption at both the New Cairo and Tahrir Square campuses are collected daily to monitor and track the University's consumption pattern.
Given that the New Cairo Campus is located in a desert climate where air conditioning is needed for more than half the year, the vast majority of CO2 emissions result from the consumption of energy from the HVAC system. In addition, equipment such as office desktop computers, printers, scanners and lighting consume large quantities of energy given that the campus is heavily populated during the academic year. Currently, the Office of Sustainability is looking into multiple options regarding the increase of renewable energy sources to meet AUC's energy demands.
Waste
AUC is actively developing a more sustainable trash management system with the ultimate goal of reducing the overall waste generated on campus. To aid this effort, the Clean and Green Committee was established. The committee consists of faculty, staff and maintenance personnel, and is co-chaired by Dina Rateb, associate professor in the Department of Management, and Yasmin Mansour, sustainability director.
In February 2013, the Clean and Green Committee launched a recycling program that installed 13 sorting stations in the most frequently visited locations on campus. Each station contained receptacles for the six different kinds of trash produced each day: Glass, plastic, cans, paper, food and other trash. By March 2014, the University had also installed 30 mini-sorting stations for plastic, cans and trash. However, by 2016, the committee realized that the 13 sorting stations were inefficient. Following various surveys, the committee concluded that the stations were too large, too confusing and required intensive maintenance. To streamline waste management, the bin system was changed from a 6-bin station to a 4-bin station. The 4-bin station contained receptacles for plastic, cans, food and other trash. It was realized that the glass bins were hardly used due to the lack of glass products available on campus and that the paper bins were collecting non-recyclable paper-based products.
After 4-6 months of use, it was evident that the bins for food were too contaminated with non-food items to be used for composting efforts. Therefore, the committee decided to remove them and transform them into more plastic, cans and other trash bins to make more sorting stations in high-traffic areas. At this point, the Clean and Green team decided to fuse both the mini sorting stations and the larger sorting stations to create the 48 sorting stations that are on the New Cairo campus today with only cans, plastic and collective trash.
In the spring of 2017, the committee shifted its paper recycling efforts to smaller, cardboard recycling receptacles in various office suites. A total of 242 bins were given out, and the Office of Sustainability is revamping the program to be more automated and expanded to classroom buildings.
In all, sorting the trash creates more efficient and potentially profitable use of AUC's waste. The Office of Sustainability has constructed an on-campus compacting station to compress the separated plastic, cans and paper. Once these valuable materials are compressed, the sorted trash weights at the New Cairo campus are calculated each day. AUC sells the compacted sorted and weighted trash to commercial recyclers and uses the profits to fund sustainability-related projects. Presently, AUC donates most of the used paper to a recycling NGO and the rest to the Zabaleen, the trash-collecting community in Cairo.
To reduce plastic water bottle usage on campus, the Office of Sustainability has installed chilled water dispensers for students, faculty and staff to use reusable bottles. The office plans to add more chilled water dispensers in high-traffic areas on campus to decrease AUC's solid waste emissions. Click here to view the map of current water dispensers on campus.
Carpooling Support
Carpooling is a well-known method for reducing the number of cars on the road, air pollution and carbon emissions. It essentially enables one car to do the work of multiple cars and also helps to reduce the traffic congestion that is ubiquitous in Greater Cairo. In late 2012, the University adopted a policy of waiving on-campus parking fees for carpoolers.
In February 2016, the Office of Sustainability started a database of students, faculty and staff who were interested in carpooling. However, the University is currently looking for a more formal introduction of carpooling mobile application as a sustainable transportation alternative to connect AUC community carpoolers.

Publications
Carbon Footprint Report
A carbon footprint is a widely accepted method of measuring the impact of human activity on global warming. A University's carbon footprint is the annual total of carbon dioxide (CO2) and other significant greenhouse gases emitted into the atmosphere due to daily activities and campus operations.
At AUC, the three main contributors to greenhouse gas emissions include heating, ventilation, and air conditioning (HVAC) and domestic hot water; transportation; and electricity for lighting and other equipment (non-HVAC). Other minor contributors are emissions from refrigerants, paper use, water supply, solid waste disposal, natural gas for domestic and lab use, and fertilizers. The University's carbon footprint estimates the quantities of greenhouse gases that are emitted into the atmosphere as a result of its operations, such as providing water and electricity needed for faculty, staff, and student usage on campus. The carbon footprint is expressed in metric tons of carbon dioxide (MTCO2e).
AUC is committed to reducing its carbon emissions and convincing others to do so as well to help sustain the long-term viability and health of the Egyptian society. AUC is one of the first higher education institutions in the Middle East and North Africa to conduct a comprehensive study of its impact on climate change.
AUC issued its first carbon footprint report in 2012. In April 2021, AUC published its sixth carbon footprint report, showing trends for the past nine years. It is a biennial report; however, the carbon footprint brochure is issued annually reflecting a quick view of data on the University's annual total of carbon dioxide (CO2) and other significant greenhouse gases (GHGs) emitted into the atmosphere as a result of campus daily activities and operations.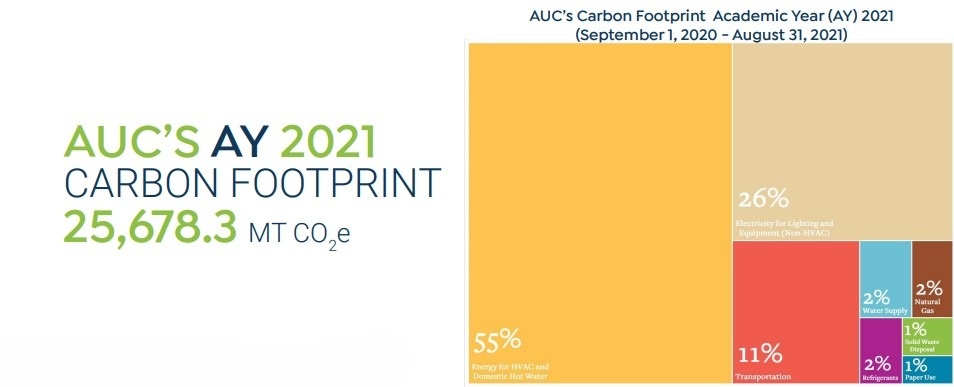 Sustainability Report
In alignment with international, well-established universities, AUC has launched its inaugural sustainability report in 2020 as a benchmark for its sustainability performance. The sustainability report aims to give a holistic view of the campus' sustainability culture by summarizing the University's commitment to environmental, social, and economic aspects. This report recognizes AUC's pledge to sustainable practices and identifies areas of strength and areas of improvement which the University can develop to lead sustainability in higher education institutions locally, regionally and globally.
This report is organized around the University's different forms of engagement with sustainability, including education, research, campus operations, campus community and public engagement. Each chapter of the report presents a comprehensive picture of one category, including data, historical information, and specific achievements and projects. This report also highlights AUC's engagement with the 2030 UN Sustainable Development Goals (SDGs). All these goals are linked to at least one of the chapters of the report to showcase AUC's commitment to global sustainability efforts. This correspondence examines the critical role of higher education in achieving and implementing the SDGs.
The sustainability report is biennial, released in alternating years with the University's carbon footprint report. Thus, most of the quantitative data in this report are presented over a period of two consecutive years. In some sections, information is presented outside of this period to provide a broader historical context. By issuing our sustainability report, we hope AUC can serve as a model to follow for similar institutions in the Middle East and North Africa (MENA).
Green Guide Brochure
In the face of global climate change, AUC seeks to be a regional and global leader in reducing our impact on the planet. Thus, AUC is committed to applying sustainable practices through a variety of global measures. It's sustainability efforts are geared towards reducing the use of natural resources and operating costs and instilling a mindset of integrating environmental and social sustainability in the community by supporting University programs in education, research and operations.
The Office of Sustainability has issued a green guide brochure that introduces information about our sustainable campus concisely to attract the attention of AUC community members towards their sustainable campus, especially from new students, faculty, and staff, in addition to AUC alumni, and even visitors.
Throughout this green guide, the diverse sustainability projects that AUC is working on are categorized under energy, waste, transportation, water, wellness, campus outreach and awareness, academics and research, and global focus. This publication is one of the efforts that help in engaging AUC members in the University's mission to make our campus, community, and our planet at large, happier and healthier.
Sustainability e-Newsletter
The Office of Sustainability has launched a monthly sustainability e-newsletter targeting the AUC community. This tool aims at educating the AUC community members and raising their awareness of sustainability practices, events, and achievements on campus. In addition, the sustainability e-newsletter is a platform that provides members of AUC with general knowledge on sustainability-related issues besides sharing a global environmental calendar celebrating sustainability and environmental events and green tips on how to become eco-conscious in our daily life. The sustainability e-newsletter is sent out once per month directly to AUC community members who subscribed through the Office of Sustainability e-mail sustainability@aucegypt.edu. In addition, the monthly sustainability e-newsletter is announced on News@AUC.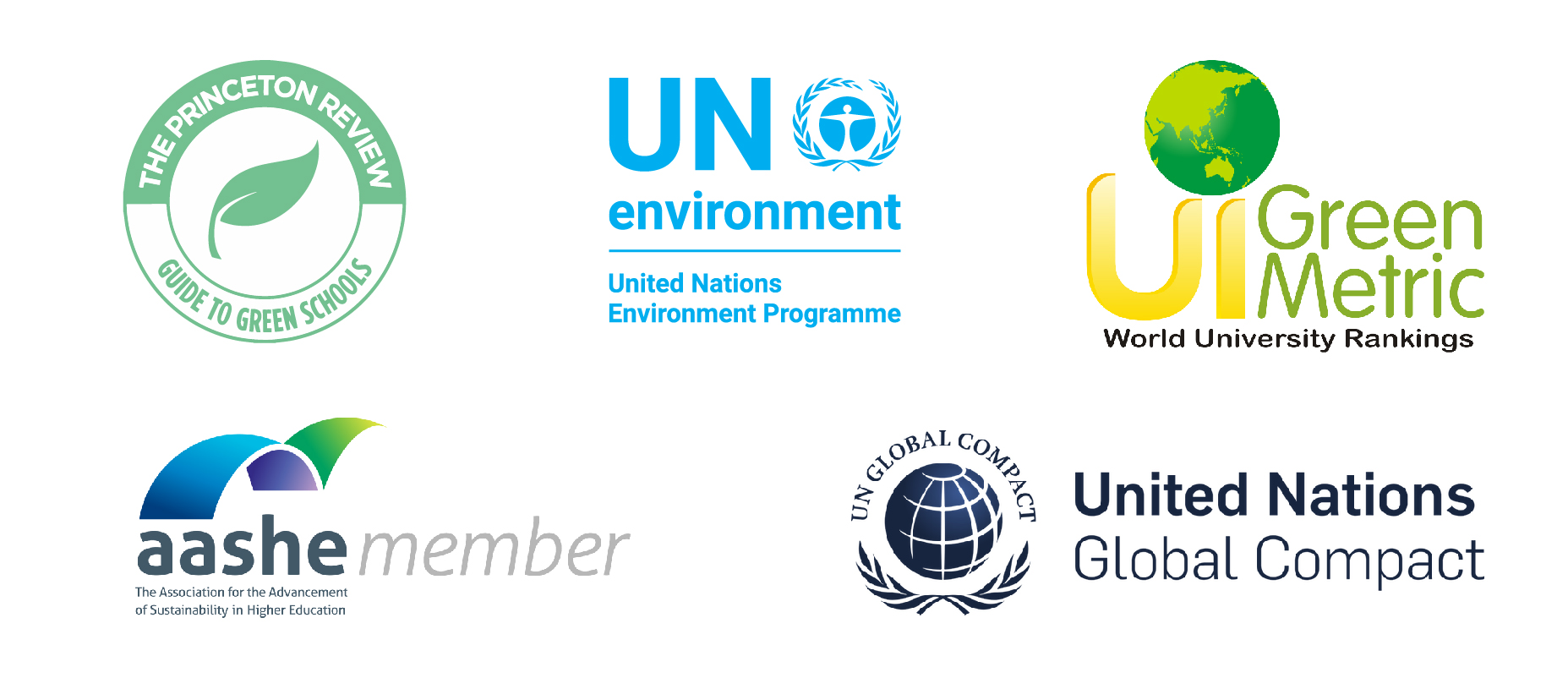 AUC's Journey Towards Sustainability